News > Crime/Public Safety
Wrong-way I-90 driver arrested in Liberty Lake after hitting state trooper's car
UPDATED: Thu., May 7, 2020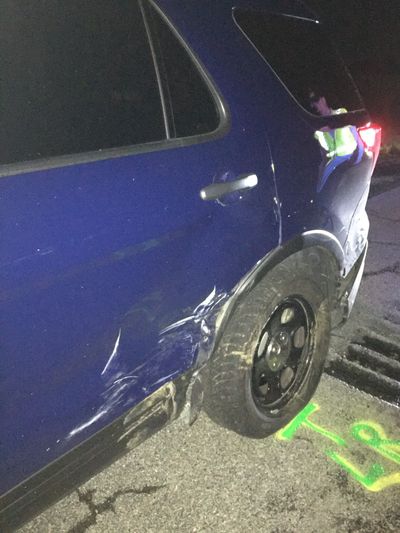 A 44-year-old Hayden, Idaho, woman was arrested early Thursday morning after she drove the wrong way on Interstate 90 from Spokane to Liberty Lake and struck a Washington State Patrol trooper's vehicle.
The wrong-way driver, later identified as Amber L. Karns, was first reported just before midnight traveling east in the westbound lanes near the South Freya Street exit, according to WSP. Troopers caught up to the vehicle on I-90 near the Sullivan Road exit in Spokane Valley but could not get the driver to stop while driving parallel on the opposite side of the highway.
As the vehicle continued at highway speeds, a trooper responding from near the Idaho border worked to slow westbound traffic, according to WSP. The car then drove past the patrol vehicle at Barker Road.
In Liberty Lake, police deployed spike strips, but the car still did not stop, according to WSP.
Just west of the city, a trooper was able to spin and disable the suspect's vehicle, according to WSP. The driver then accelerated again and hit the trooper's car, along with a Spokane County sheriff's patrol vehicle.
The car began driving west on westbound I-90 and took the Liberty Lake exit, according to WSP.
Troops arrested Karns, the driver, without incident when her car stopped at a gas station at North Liberty Lake Road and East Mission Avenue, according to WSP.
Karns was not injured and was booked into Spokane County Jail on suspicion of hit-and-run and eluding police, according to WSP. Jail records show she also is suspected of driving under the influence.
The trooper sustained minor injuries that were treated at a local hospital, according to WSP. He has since been released.
"This could have ended much worse," WSP spokesperson Trooper Jeff Sevigney wrote in a tweet.
Sheriff's office spokesperson Cpl. Mark Gregory said he was not aware of any injuries to deputies during the crash.
WSP detectives are investigating the incident.
Local journalism is essential.
Give directly to The Spokesman-Review's Northwest Passages community forums series -- which helps to offset the costs of several reporter and editor positions at the newspaper -- by using the easy options below. Gifts processed in this system are not tax deductible, but are predominately used to help meet the local financial requirements needed to receive national matching-grant funds.
Subscribe to the Coronavirus newsletter
Get the day's latest Coronavirus news delivered to your inbox by subscribing to our newsletter.
---