News > Washington
Weathercatch: Anatomy of a 1-day cold front
Wed., May 13, 2020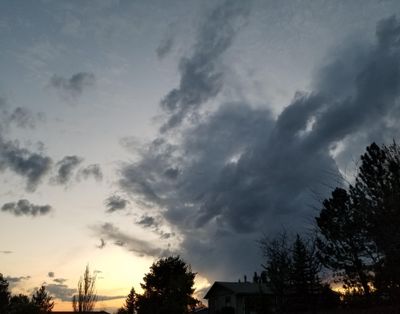 Do you remember May 5, just nine days ago? It was an extraordinary day. Marked by the start of Phase 1 of Gov. Jay Inslee's plan to reopen the state, people could once again visit state parks, go fishing and play golf. With the sun shining and temperatures in the 70s across the Inland Northwest, the weather couldn't have been nicer as many of us ventured into the great outdoors for the first time in months.
Then, on May 6, we awoke to a dramatic weather change of high winds, dark clouds, rain, sleet and even some snow. A burst of high winds that swept in overnight produced gusts of 46 mph in Spokane, 47 mph in Moscow-Pullman and a fierce 65 mph in Clarkston – all before 9 a.m. We closed windows, brought potted plants inside and put on raincoats if we bothered to go outdoors.
And talk about a temperature drop. All in all, Spokane experienced a 15-degree drop from the day before. At 1 p.m., where Anchorage, Alaska, enjoyed sunshine and a mild temperature of 54 degrees, we were huddled against rain showers, a cool temperature of 47 degrees, and widespread sustained winds from 20 to 35 mph. Thunder was reported in some areas, as were sleet and snow flurries. An estimated 6-8 inches of snow fell at Sherman Pass located in the Colville National Forest, according to the National Weather Service-Spokane.
The sudden weather shift from one day to the next was incited by a cold front that swept through the region from the Pacific Ocean.
A cold front is the boundary of a cool air mass advancing toward warmer air. Because cool air is denser than warm air, the advancing cool air lifts the warmer air out of the way. This dynamic lift can create clouds, wind, rain and other forms of precipitation. Sometimes it generates severe thunderstorms.
Occasionally, the advancing motion of a cold front slows and stalls – thus becoming a stationary front. Fortunately, that's not what happened here on May 6. The cold front's impact was short-lived due to a warm high-pressure ridge that quickly blossomed in its wake. As quickly as the cold front moved in, another weather system shoved it out.
Although the front helped generate crummy weather that day, it's no match for the extreme cold front that plowed over the Midwest more than a century ago. Known as the "Great Blue Norther," temperatures plummeted by 70 degrees in 10 hours and spawned multiple tornadoes followed by blizzard conditions.
By comparison, when Mother's Day arrived a few days after our cold front, skies were clear and temperatures ran in the low to upper 70s.
And it felt good to be outside again.
Nic Loyd is a meteorologist in Washington state. Linda Weiford is a writer in Moscow, Idaho, who's also a weather geek. Contact: ldweiford@gmail.com.
Local journalism is essential.
Give directly to The Spokesman-Review's Northwest Passages community forums series -- which helps to offset the costs of several reporter and editor positions at the newspaper -- by using the easy options below. Gifts processed in this system are not tax deductible, but are predominately used to help meet the local financial requirements needed to receive national matching-grant funds.
Subscribe to the Coronavirus newsletter
Get the day's latest Coronavirus news delivered to your inbox by subscribing to our newsletter.
---