News > Washington
Newport begins to return to 'normalcy' as rural counties cautiously reopen for business
May 15, 2020 Updated Fri., May 15, 2020 at 7:46 a.m. NEWPORT, Wash. – While Jan Lesnikowski's typical pedicure appointment is mostly about being pampered, her appointment on Thursday meant much more.
It was a chance to chat with a friend, relax in a massage chair and take a brief break from the stress of isolation and living through a pandemic.
It was also one of the first pedicures allowed in the state since businesses were ordered to close down to stop the spread of COVID-19.
"People are going to be so jealous," she joked, as Shannon Castillo finished giving her a foot massage and painting her nails.
Eight counties, including Pend Oreille, have received variances to move more quickly to the second phase of Gov. Jay Inslee's "Stay Home, Stay Safe" order and reopen some businesses if they follow state guidance.
Those counties all have fewer than 75,000 people and haven't had a new case of COVID-19 for three weeks or more.
While many locals are excited about being able to shop and eat out again, local health officials have asked people not to flock to communities like Newport that have looser restrictions. In a press call earlier this week, officials from the Northeast Tri-County Health District, which covers Ferry, Pend Oreille and Stevens counties, urged people to wait until their own county has a green light before coming to those that have one now.
Phase 2 rules for restaurants and retailers were released early this week, and the beauty and service industry received its guidance late Wednesday.
Castillo, who owns and operates Nails by Shannon in downtown Newport, said her customers were ecstatic when she called them to set up appointments.
While some clients are excited to get a sense of routine, Castillo knows that many are older, unable to do their own foot care and may only have an animal for a companion.
"They're all looking forward for that human interaction and to be with people again," she said.
Her salon was one of a few that was ready to reopen Thursday morning.
Castillo, who had been through financial hardship after closing for months, had researched how other states instructed the beauty industry to prepare and had already installed glass sneeze screens and deep cleaned her business. She also requires customers to wear some personal protective equipment inside the shop, wears a mask herself and makes sure to have 15 to 20 minutes between each client to sanitize the entire salon.
On Thursday, many Newport businesses were opening their doors to the public for the first time in months. Downtown, which had been mostly silent since March, saw some activity as vehicles slowed to peer into newly opened businesses, and customers filtered in and out of others.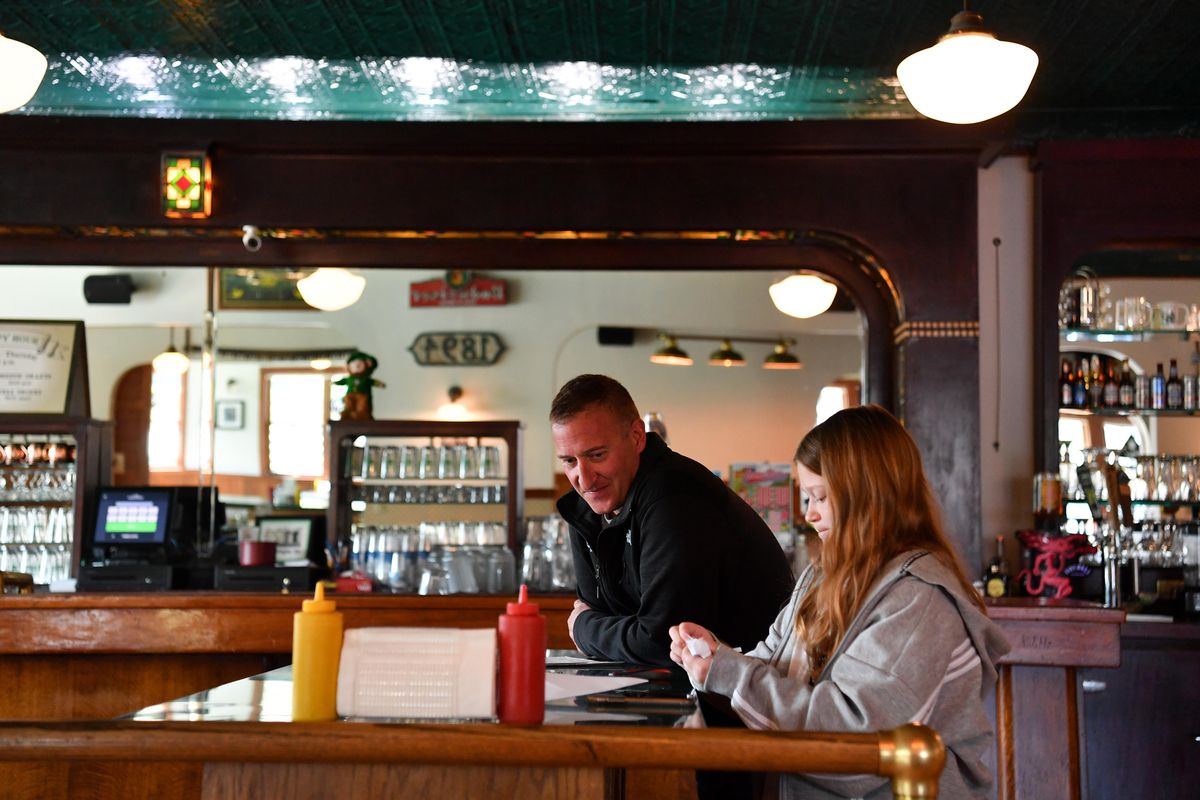 Kenny Arthur, co-owner of Kelly's Bar & Grill chats with his daughter Kenna, 10, before the restaurant opened on Thursday, May 14, 2020, in Newport, Wash. (Tyler Tjomsland / The Spokesman-Review)Buy a print of this photo
Some, such as Audrey's Restaurant, had been serving takeout during the stay-home order, while others, such as antique and gift shop Treasures A to Z, have been completely closed.
Christi Lipp, owner and operator of Treasures A to Z, said she knows the virus is still spreading in other areas of the state and was nervous to reopen. But she said some of the vendors who sell antiques or homemade goods in the store are dependent on the income from their booths and she couldn't allow them to continue to lose money.
"If it wasn't for them, I would probably still be closed," she said. "People are paying for me to get their stuff sold for them, and people are counting on me. It's not just my life, I have to think of others."
Lipp said she's trying to encourage behaviors that slow the spread of the virus by offering a 10% discount on regularly priced items to all customers who wear masks. She is also reducing her regular store hours to allow time for appointment-only shopping so those who are medically vulnerable or elderly can have a chance to shop comfortably and safely.
Lipp wears a mask in the store, has installed a Plexiglas screen in front of the cash register and has signs throughout the shop encouraging social distancing.
The first hour she opened, she sold a cast-iron lantern and had a steady trickle of customers shopping for knickknacks later in the day.
Shanty Boutique and Tan Linez Sunshine Tanning Salon were also serving some of their first customers.
Just around the corner from Treasures A to Z, Kelly's Bar and Grill resumed business as well. The bar has been closed since the stay-home order took effect, only offering takeout on St. Patrick's Day. But it opened this week. Co-owner Kenny Arthur said the bar survived Prohibition and hadn't been closed for this long in over a century.
Clare Clark, restaurant manager and co-owner with Arthur, said Kelly's was following all of the state's requirements to the best of its ability – and that every other business in town was as well.
"The whole county is counting on all of us to do it correctly," she said.
Arthur said the last few days of business have gone fairly smoothly. Customers have only objected to one of the state's requirements for reopening: Restaurants must keep a list of dine-in customers' contact information, so it can be used for contact tracing if someone shows symptoms.
While most customers were willing to go along with the requirement, a few walked out when told they would have to provide their name and contact information, fearing they would be tracked.
Arthur said he understood both the need for contact tracing and the fear and frustration of having to provide private information just to sit down and eat a meal.
"I didn't ask them personally, but I think that they just don't like the idea of being told what to do in America when you're not doing anything wrong," he said.
He said people who aren't comfortable with the new requirements can still do curbside pickup without leaving their information.
Larry Bennett, owner of Audrey's Restaurant at the edge of town, said he's also had a few customers who were afraid of sharing private information. No customers have refused, however, and most are reassured after Bennett tells them he only keeps a paper copy, which he will shred after 30 days.
Otherwise, customers seemed happy to be back and the restaurant seemed to be at about 50% capacity, the maximum amount allowed under the state's current guidelines.
Dana Kelley, a public defender in Pend Oreille County, is one of the restaurant's many regulars who returned for its first day open. He said the measures required to prevent the spread of COVID-19 seemed reasonable.
"It was nice to come back, see some normalcy going on," he said. "I try to support local businesses."
Employees were also glad to have customers back at the restaurant.
Jossette Standre, a prep cook, baker and waitress at Audrey's, said she has worried about some customers while the dining room was closed. She said there is a group of older customers in particular who eat at the restaurant every day and with whom she hasn't had an in-person conversation in months.
"When they don't come in and they are regulars, you worry, do they not come in because of quarantine, or are they well?" she said.
She said some of those customers have at least been calling to ask when their favorite special will be available, so she's hoping to see some of them in the next couple of weeks.
"You have your regulars that you really miss when you don't see them," she said. "It's been an adjustment for everyone."
Local journalism is essential.
Give directly to The Spokesman-Review's Northwest Passages community forums series -- which helps to offset the costs of several reporter and editor positions at the newspaper -- by using the easy options below. Gifts processed in this system are not tax deductible, but are predominately used to help meet the local financial requirements needed to receive national matching-grant funds.
Subscribe now to get breaking news alerts in your email inbox
Get breaking news delivered to your inbox as it happens.
---