A&E
Locally Writ: Trace Kerr finds inspiration in Monroe Street Bridge for her first novel, 'The Names We Take'
UPDATED: Sun., May 17, 2020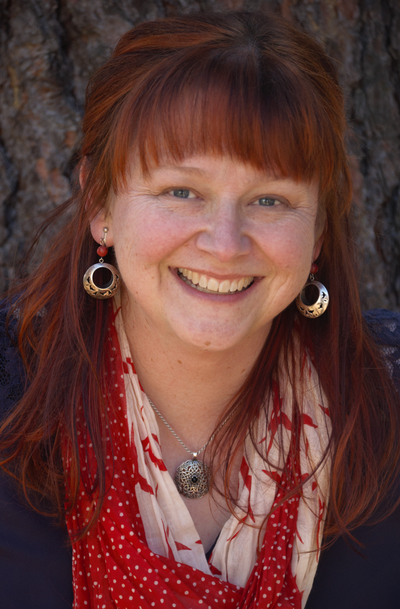 A few years after moving to Spokane, local author Trace Kerr started to realize it was only a matter of time before she would break down and write a post-apocalyptic young adult novel. Driving downtown one day, the image of the Monroe Street Bridge suddenly grabbed her attention.
"I parked the car and walked out on it, looked toward the water power plant and the falls and I thought, "This is it,' " Kerr said. "This is where the story starts, and I don't know why, but the main character is going to have to run across this bridge."
She had her setting, her characters were materializing, all she had left to do was sit down, plan it out and write.
Kerr's writing career started years before that day on the bridge. She majored in English at WSU, wrote short stories for a time and then started thinking about novels.
After she and her husband graduated from WSU – she with an English degree, he with a doctorate in organic chemistry – the couple began moving around the country for work. They eventually settled in Spokane, a convenient distance from their parents in Bainbridge Island and Boise.
When their youngest child hit fifth grade, Kerr decided it was time for her to start writing again in earnest and quickly wrote her first story in a rush of inspiration.
"At the time, you think, 'That's genius,' " Kerr said. "But then you look back later and go, 'Wow, that's a disaster.' "
Shelving her first book, Kerr started a second. This time around, Kerr outlined, researched and rewrote until she finally believed the novel could stand up to her own critical revision even after months away from writing.
"That's a crucial part of the learning process," Kerr said. "When you think you're done, you just need to leave it alone and for a longer time than you'd think."
Now, after years of writing and working with her publishers at Portland State University's Ooligan Press, Kerr's debut novel, "The Names We Take" is set for release on Tuesday.
A worldwide outbreak of "One Mile Cough" leaves apocalyptic percentages dead. Frightened but capable, 17-year-old Pip tries to survive in the ashes of a still-burning Spokane, and after rescuing 12-year-old Iris, Pip attempts to keep the young girl safe from roving slave traders and cruel gangs. Pip and Iris meet Fly, a brave older girl, and as the three steadily become a chosen family, they struggle to find themselves in this dangerous new world.
Throughout the work, Kerr aims to inject a gritty realism that she believes is perhaps most appropriate for young adult fiction.
"There's this gritty kind of honesty that comes along with young adults," Kerr said. "We're talking about a time when all experiences are new. It's exciting and it's scary, and I love that."
Having always been drawn to the themes of young adult novels, the "rawness" and "honesty" that comes with writing about characters at that age, Kerr knew that her first novel would fall into the genre.
But, Kerr explained, the subject of this work also is particularly close to her heart. Kerr could see early on that her youngest child, Dane, was going to identify somewhere on the gender spectrum that was "not just black and white, male or female." So, along the way, "The Names We Take" also became a tool she could use to start the conversation about gender identity.
The question at the heart of the book, she explained, is, "Who are you when everyone you've ever known is gone?"
"I think the most important part of this whole process is … Dane. Through the whole process of writing this book and pretty much anything I write now, we talk it out, and they tell me where I'm taking shortcuts and they tell me where it sounds true," Kerr said. "They are my first reader."
Kerr had many words of advice for aspiring authors.
First, read as much and as widely as you can. "The more exposure you can give yourself to the way other people create will help your own writing," she said. "It's so important to not just get down into this trench of what you're doing. You've got to see what's happening around you."
Second, allow as much time between revisions as possible, and find a group of people who will read your work and not be nice about it.
And, lastly, she recommends having a second outlet. She is a writer now, but her first love, she says, was always science. So, Kerr also produces and co-hosts "Brain Junk," a podcast that celebrates "fun, fast, interesting facts" about science, culture and history.
Kerr will celebrate the release of "The Names We Take" on Tuesday in a virtual book launch hosted by Auntie's Bookstore via Zoom. The event will include a reading from the book, followed by an author Q&A session. Visit auntiesbooks.com for details.
Also this week
On Saturday, Auntie's will host a virtual event promoting Aaron Bobrow-Strain's "The Death and Life of Aida Hernandez: A Border Story." The work, which earned Bobrow-Strain a 2019 Pacific Northwest Book Award, follows Aida Hernandez and the journey she undertook moving to the U.S. as a child before being deported back to Mexico, as well as her later struggle to return to the U.S. with her young son.
Local journalism is essential.
Give directly to The Spokesman-Review's Northwest Passages community forums series -- which helps to offset the costs of several reporter and editor positions at the newspaper -- by using the easy options below. Gifts processed in this system are not tax deductible, but are predominately used to help meet the local financial requirements needed to receive national matching-grant funds.
Subscribe to the Spokane7 email newsletter
Get the day's top entertainment headlines delivered to your inbox every morning.
---