News > Spokane
The Dizzy Chronicles: Legendary jazz musician trapped in Spokane by Mount St. Helens eruption
Sun., May 17, 2020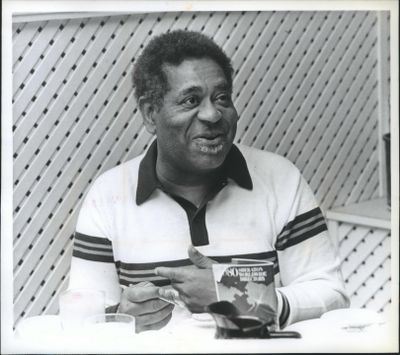 The legendary jazz trumpeter John Birks "Dizzy" Gillespie came to Spokane in May 1980 to play a gig at the Spokane Opera House (now the First Interstate Center for the Arts) with the Spokane Jazz Orchestra.
That concert on May 18 would be canceled, thanks to Mount St. Helens, and Gillespie would be forced to hang around town for a few days as fallen ash shut down the airport and Interstate 90.
In a story in the next afternoon's edition of The Spokane Daily Chronicle, Gillespie quipped, "I'm scared." The reporter noted Gillespie seemed to be taking the delay in stride, writing that the musician was "sitting in his motel room looking for a backgammon partner. His bags were packed, he said, and is ready to leave the moment air traffic returns."
Gillespie, famous for playing a bent horn and for his cheeks that pouched when he played, was among the leading lights of bebop, along with Charlie Parker. He also famously once stabbed bandleader Cab Calloway in the leg.
While there is zero indication in the public record that anything remotely violent happened while Gillespie was in town, his stay in the Lilac City would not be uneventful.
Jazzman continues to chill at Spokane hotel as city remains shut down
The Spokane Daily Chronicle, the former afternoon daily in Spokane, was sticking with the Dizzy Gillespie story.
In the May 20 edition, our unnamed reporter told readers that Gillespie was still looking for a backgammon partner, and was passing the time watching TV in his room at the Sheraton-Spokane Hotel, which is now the DoubleTree by Hilton Hotel Spokane City Center.
He also informed folks that the May 18 concert called off because of Mount St. Helens had been rescheduled for October. Gillespie indicated he wasn't up for rehearsing for it right at that moment.
Gillespie, with a laugh, told the reporter he'd been asked to "entertain the others (in the hotel) who are stranded, but I said, 'Oh, man, shoot! I am just going to enjoy this monk's retreat.' "
Seems this was the first "forced vacation" he'd had in a while, and he was enjoying "just lying there," he said before adding, "I'm just glad the hotel's got such a nice restaurant."
He said he was expecting to be on a United Airlines flight the next morning to head home to New Jersey, but there was some doubt the airport would be open.
That's a dizzying divorce tale
By day three, things were getting tense on the Dizzy Gillespie beat.
Our intrepid Chronicle reporter – still not identified with a byline – reached out to the jazz legend on his third day in Spokane after the eruption of Mount St. Helens.
Gillespie then dropped a bombshell: His wife of 40 years, Lorraine, was filing for divorce.
"How would you like an exclusive?" Gillespie told the Chronicle reporter. "My wife filed for divorce. … That is the truth."
The reason? She'd apparently just gotten around to reading the jazz icon's autobiography, "To Be or Not to Bop: Memoirs," published the year before, and was none too pleased.
"She was too busy. Too busy with my business and didn't find time to read it," he is quoted in the article headlined "Gillespie marriage crumbling? Another reason to get moving." "There were several things she didn't like. I don't know what exactly.
"I can't be more specific because I haven't read the (divorce) papers yet."
The Chronicle reporter called the county courthouse in Trenton, New Jersey, where the Gillespies lived, to inquire about a filing. Nothing had been filed, but the clerk said the papers could still be in the mail.
When told that reports of divorce filings might be premature, Gillespie replied, "Well, maybe she's changed her mind, maybe she won't file." He added he hoped they could "straighten things out" when he got home. Divorce, he said, "would be the end of me."
Not so fast, Mr. Gillespie
As it turned out, divorce was not the end of him. There wasn't even a divorce.
After jazz great Dizzy Gillespie told a Spokane Daily Chronicle reporter that his wife was divorcing him because of something she read in his autobiography, the story went national.
But in the afternoon edition of May 23, 1980, the story took a different turn: "Hubby spouts nonsense, declares Mrs. Gillespie" was the headline that day.
As the story reports:
"John B. Gillespie was living up to his nickname – Dizzy – Wednesday when he said in Spokane his wife was divorcing him.
"His spouse says so.
" 'He's always rattling off at the mouth,' his wife, Lorriane, told the Chronicle by phone today from her home in New Jersey.
" 'He's got people looking for him, thinking he is his twin brother,' she said, laughing."
She was in good humor about the whole situation.
"I guess maybe the volcano wasn't too good for him," she is quoted as saying.
"I haven't even read the book yet," she continued. "I've been working too hard. I'm so busy spending his money and he's too cheap to get one (a divorce) himself, as much as that would cost him." She reportedly laughed as she said it.
Lorraine Willis Gillespie was not only Gillespie's wife, she was his business manager.
She speculated about what was going on with her husband, who had been in Spokane for a concert the day Mount St. Helens erupted and he ended up trapped here. The fact that he wasn't interested in playing his famous bent trumpet while stuck at the Sheraton Spokane Hotel clued her in that her husband might be getting a bit stir crazy.
"He earned that name – Dizzy. He's always got something crazy going on. It's just like him," she said. "It's the first time in his life he couldn't move around. He called (home) two or three times a day. It was really getting on his nerves."
The Gillespies remained married until Dizzy's 1993 death from pancreatic cancer at age 75.
A big yellow taxi took away the jazzman
He'd come here for a concert on a Sunday night. It was Wednesday afternoon when he finally left town.
The United Airlines flight from Spokane to New Jersey wasn't going to happen, so Dizzy Gillespie did what more than one desperate person did. He caught a cab.
To Seattle.
He apparently was inspired by Oregon Sen. Mark Hatfield, who also had been stuck in Spokane after Mount St. Helens erupted and buried much of Eastern Washington in ash. Hatfield had been in town to be the commencement speaker at Whitworth College (now Whitworth University) and was marooned here. Early on May 19, according to the Spokane Daily Chronicle, Hatfield called a taxi to take him to the bus station, apparently planning to catch a Greyhound out of town. Good thing he never made it the bus station, as the buses were canceled and Interstate 90 shut down. Instead, while en route to the station, Hatfield asked the cab driver if he and his legislative aide could get a ride to Seattle. The cab company agreed, and sent a husband-and-wife team of drivers, along with extra air filters, fan belts and masks, to drive Hatfield to Seattle via Highway 2. The fare? $425.
(By the way, according to the inflation calculator at savings.org, that $425 would be $1,423.91 today.)
A couple days later, Gillespie followed Hatfield's lead and took a cab to Seattle, where he then caught a flight to Charlotte, N.C., for a concert Thursday, May 23.
He told Jet magazine in the June 12, 1980 issue that the whole divorce story had been a bad joke. "My wife is pretty mad about it," he said. "She may put me out of the house because it's hers."
Despite the chuckles, he later added that he and his wife were again on speaking terms.
"After 40 years, it is too late to throw it away over a joke."
Local journalism is essential.
Give directly to The Spokesman-Review's Northwest Passages community forums series -- which helps to offset the costs of several reporter and editor positions at the newspaper -- by using the easy options below. Gifts processed in this system are not tax deductible, but are predominately used to help meet the local financial requirements needed to receive national matching-grant funds.
Subscribe now to get breaking news alerts in your email inbox
Get breaking news delivered to your inbox as it happens.
---