News > Nation
Tropical Storm Arthur becomes the first named storm of the 2020 hurricane season
Sun., May 17, 2020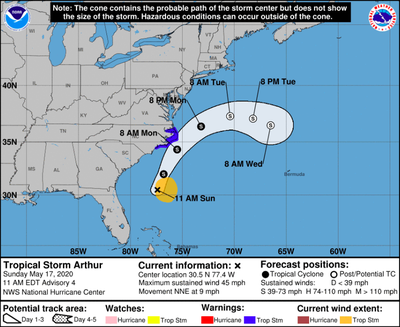 FORT LAUDERDALE, Fla. – Tropical Storm Arthur formed Saturday night off the east coast of Florida, becoming the first named storm of the 2020 hurricane season.
A tropical storm warning has been issued for most of the North Carolina coast, a region that juts into the Atlantic and receives an outsized share of hits from tropical storms and hurricanes. At 8 a.m. Sunday, the storm was 355 miles south-southwest of Cape Hatteras, N.C., moving north-northeast at 9 mph.
The storm, which took shape 16 days before the season's official June 1 start date, produced winds of 40 mph as it held to a track that could threaten North Carolina, the National Hurricane Center said in its 8 a.m. Sunday update. The storm is expected to strengthen over the next few days, peaking at 60 mph by the middle of next week.
Arthur formed from a broad cluster of clouds around an area of low pressure that drifted through the Florida Straits, subjecting South Florida to a day of rainy, windy weather Friday before heading up the coast.
This will be the sixth year in a row to see a named storm form before the official June 1 start of hurricane season, a trend that has led to discussions on whether the season's start date should be moved into May.
Virtually all early estimates for this hurricane season predict an above-average number of storms, due to unusually warm ocean temperatures and global climate factors that are likely to reduce the high-altitude winds that can prevent the formation of hurricanes.
An average season produces seven hurricanes. The Weather Company predicts nine, with four reaching major hurricane strength with wind speeds of at least 111 mph. Colorado State University predicts eight, including four major ones. AccuWeather predicts seven to 11, with four to six reaching major strength.
The official forecast from the National Oceanic and Atmospheric Administration will be released Thursday.
Local journalism is essential.
Give directly to The Spokesman-Review's Northwest Passages community forums series -- which helps to offset the costs of several reporter and editor positions at the newspaper -- by using the easy options below. Gifts processed in this system are not tax deductible, but are predominately used to help meet the local financial requirements needed to receive national matching-grant funds.
Subscribe to the Coronavirus newsletter
Get the day's latest Coronavirus news delivered to your inbox by subscribing to our newsletter.
---