News > Spokane
100 years ago in Spokane: Great Northern Express robbery revealed as inside job
Mon., May 18, 2020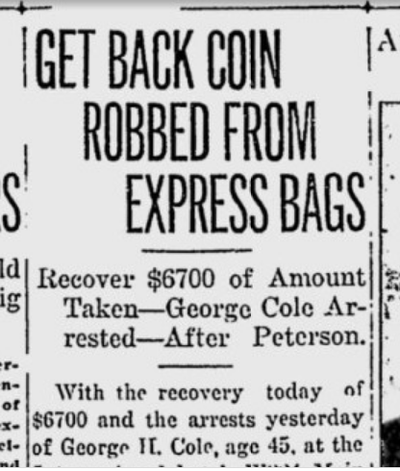 Harry A. Peterson, Great Northern Depot express agent, told police he was sitting in his cashier's cage at the depot, when two robbers walked in, knocked him to the floor and made off with more than $10,000 in cash.
A few days later the Great Northern Express Robbery was solved —with the arrest of two miscreants and the pending arrest of none other than Harry A. Peterson.
Investigators were always suspicious that it might have been an inside job. The break in the case came when a man named A.B. McGirth made the mistake of flashing a large roll of bills at the station while awaiting a train to Yakima. Investigators tailed him on the train and he was arrested by Yakima police when he arrived.
McGirth then spilled the beans. He implicated another man, George H. Cole, as one of his partners in the robbery. Spokane police then searched Cole's room at the International Hotel and found $6,000 in cash. They arrested Cole, who then led police to another cache, near Dishman, where he had buried $718 in silver coins.
He and McGirth also implicated Peterson as the apparent ringleader, although police were not giving out any details. Peterson had vanished in the meantime, and a warrant was out for his arrest.
Both Cole and McGirth had police records. Cole had previously been arrested on liquor charges at the Velox station and subsequently got in a fight with the arresting officers. He served three months in jail.
McGirth spent a term in the county jail on vagrancy charges.
Local journalism is essential.
Give directly to The Spokesman-Review's Northwest Passages community forums series -- which helps to offset the costs of several reporter and editor positions at the newspaper -- by using the easy options below. Gifts processed in this system are not tax deductible, but are predominately used to help meet the local financial requirements needed to receive national matching-grant funds.
Subscribe to the Coronavirus newsletter
Get the day's latest Coronavirus news delivered to your inbox by subscribing to our newsletter.
---