On this date 110 years ago, the Earth passed through the tail of Halley's comet. A French astronomer noticed that a spectroanalysis of the comet suggested the presence of cyanogen, a toxic gas. So, naturally, he announced the gas would "impregnate the atmosphere and possibly snuff out all life on the planet."
It didn't.
The science ...
First of all, Halley's comet is no different from most comets. It's nothing but a big, icy ball of dust, rambling around the sun in an orbit that takes it waaaay out into space and then back close to the sun – over a span of decades.
The ice in a comet contains several frozen substances: Water, carbon dioxide and ammonia.
And a comet's tail is simply the dust and ice vaporized and blown away by the force of solar radiation. The closer it gets to the sun, the brighter the tail of the comet appears. When Halley passed by Earth 110 years ago, its tail was 24 million miles long.
Yes, the Earth can pass through the field of debris that's been outgassed by a comet. But most of that debris would be extremely fine grains of material – the result would be a meteor shower.
In fact, some of the more spectacular meteor showers we see every year are the result of Earth passing through an area where a comet had traveled. The annual Perseid meteor shower in August, for example, is caused by debris from comet Swift-Tuttle. The Orionid meteor shower in October is caused by debris from Halley's comet.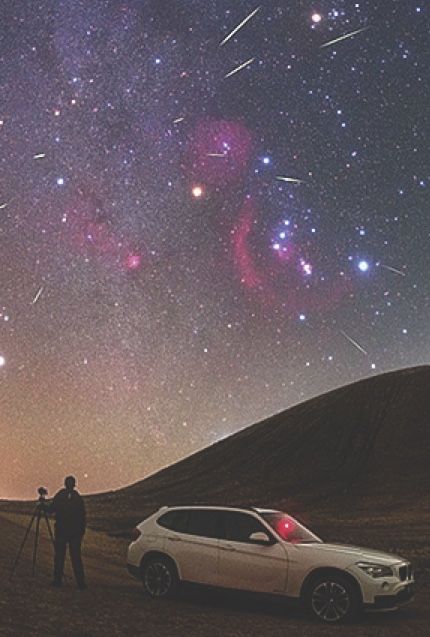 But at no point in 1910 was the Earth in danger of incineration: A comet is not burning, so there is no heat. Nor was there any danger of poisonous gas from a comet "impregnating" the atmosphere. Earth spent a total of six hours in the tail of Halley's comet.
The worst case scenario: if a comet smacked directly into the Earth. If that happened, now, things might get nasty.
... and the scares
This certainly wasn't the first time that an authoritative-sounding figure set off a "sky is falling"-type of panic. And it won't be the last. Here are 15 other notable mass freakouts. Spoiler: None of these actually resulted in the extinction of life on Earth.
1524
WHO: German mathematician Johannes Stöffler
WHAT THEY PREDICTED ...
Stöffler predicted an alignment of all the planets with the constellation Pisces, the water sign, meant a great flood would cover the world on Feb. 25, 1524. Panic ensued. A German nobleman built a three-story ark.
... AND HOW IT CAME OUT
On the appointed day, it began to rain – leading to rioting in which hundreds were killed. Then the rain stopped. No flooding.
---
1666
WHAT: The Great Fire of London
WHAT THEY PREDICTED ...
The Great Fire of London of Sept. 2-6, 1666, destroyed 87 parish churches and the homes of 70,000 of London's 80,000 residents. Many thought it was the end of the world. However, only 10 people died.
... AND HOW IT CAME OUT
The previous winter, a fifth of London's population had been wiped out by bubonic plague. So the panic is understandable.
---
1814
WHO: Self-described prophet Joanna Southcott
WHAT THEY PREDICTED ...
Southcott, who claimed to be the Woman of the Apocalypse mentioned in the book of Revelation, announced she was pregnant and would deliver the new Messiah. She was 64 at the time.
... AND HOW IT CAME OUT
The date passed and no Messiah. Weeks later, Southcott died but her followers kept her around in hopes she would rise from the dead.
---
1844
WHO: William Miller and Millerism
WHAT THEY PREDICTED ...
Miller began preaching in 1831 that Jesus Christ would return in 1843 to carry Miller's tens of thousands of followers to heaven. When that didn't happen, he pushed the date back a year, to Oct. 22, 1844.
... AND HOW IT CAME OUT
After "the Great Disappointment," Miller's followers would regroup into what is today the Seventh-day Adventist church.
---
1910
WHAT: The panic over Halley's Comet
WHAT THEY PREDICTED ...
French astronomer Camille Flammarion claimed toxic gasses from Halley's comet could "snuff out" all life on Earth. This set off a worldwide panic. Hucksters sold anti-comet pills, gas masks and "anti-comet umbrellas."
... AND HOW IT CAME OUT
The Earth was not incinerated, nor did anyone die from cyanogen poisoning. Halley's comet would return in 1986.
---
1914
WHO: Zion's Watch Tower founder Charles Taze Russell
WHAT THEY PREDICTED ...
Russell predicted Jesus would return in 1874. When that didn't happen, he revised the date to 1914. So when World War I broke out in Europe in the late summer of 1914, Russell announced it was the start of Armageddon.
... AND HOW IT CAME OUT
The world didn't end. Russell died in 1916 and the members of his society would adopt the name Jehovah's Witnesses in 1931.
---
1977
WHO: Pentecostal pastor William Branham
WHAT THEY PREDICTED ...
Branham told his followers in 1963 that seven angels had revealed to him the meaning of the book of Revelation. Jesus would return to Earth in 1977, Branham told them.
... AND HOW IT CAME OUT
Branham was killed in a car crash two years later involving a drunken driver. And no, Jesus didn't return in 1977.
---
1982
WHO: John Gribbin and Stephen Plagemann
WHAT THEY PREDICTED ...
Gribbin and Plagemann's 1974 best-selling book "The Jupiter Effect" claimed that all of the planets lining up on the same side of the sun in March 1982 would create tidal forces that would trigger a series of earthquakes.
... AND HOW IT CAME OUT
No giant earthquake. Gribbin and Plagemann would then publish "The Jupiter Effect Reconsidered," which would also be a best-seller.
---
1988
WHO: Evangelist and author Hal Lindsey
WHAT THEY PREDICTED ...
Lindsey wrote a popular series of books that predicted the world would end with the Battle of Armageddon sometime before Dec. 31, 1988, triggered by a takeover of the U.S. by Communists or the European community.
... AND HOW IT CAME OUT
The world did not end in the 1980s, despite Communists, Europeans, big hair, video games or heavy metal music.
---
1994
WHO: Radio preacher Harold Camping
WHAT THEY PREDICTED ...
Camping announced the apocalypse would begin on Sept. 6, 1994, based on his studies of scripture. He also taught that churches had gone astray and everyone should instead listen to his radio broadcasts.
... AND HOW IT CAME OUT
When it didn't happen, Camping pushed back the date. And again. And again. For a total of six times, though 2011.
---
1998
WHO: Chen Hong-min and his "True Way" cult
WHAT THEY PREDICTED ...
The founder of a Taiwanese cult moved to Garland, Texas, where he said God would appear on TV channel 18 to announce his plans to end the world and rescue the cult memebers in a flying saucer.
... AND HOW IT CAME OUT
After it didn't happen, Chen held a news conference and admitted his predictions "can be considered nonsense."
---
2000
WHAT: The "Y2K Bug"
WHAT THEY PREDICTED ...
Word on the street was that a programming bug – two digits instead of four for the year – would lead to a worldwide meltdown of computers, the internet and, by extention, all of civilization.
... AND HOW IT CAME OUT
Only a few minor computer glitches were noted and most were fixed with no ill effects. The world went on.
---
2008
WHAT: The Large Hadron Collider
WHAT THEY PREDICTED ...
When the world's most powerful particle accelerator opened near Geneva in 2008, some were convinced the sudden movement of subatomic particles would open a black hole that would then swallow the Earth.
... AND HOW IT CAME OUT
The collider continues to operate. No black hole has opened yet.
---
2012
WHAT: The Mayan calendar
WHAT THEY PREDICTED ...
Dec. 21, 2012, was the end of the first "great cycle" of the Mayan "Long Count" calendar, drawn up 5,125 years before. Some – 10% of the world's population, according to a poll – took this as a sign that the world would end.
... AND HOW IT CAME OUT
The world didn't end. NASA even set up a special website where the public could ask questions. More than 5,000 did.
---
2017
WHO: 'Christian numerologist' David Meade
WHAT THEY PREDICTED ...
Meade published a book in which he claimed a hidden planet called Nibiru would collide with the Earth on Sept. 23, 2017. Proof was in the way the ancident pyramids of Giza were laid out, Meade wrote.
... AND HOW IT CAME OUT
No planet X appeared. There was no collision. Meade would update his predictions – and the dates – in a subsequent book.