News > Idaho
Kootenai sheriff, candidate each claim the other is misleading public on contact tracing. Public health says law enforcement isn't involved
UPDATED: Wed., May 20, 2020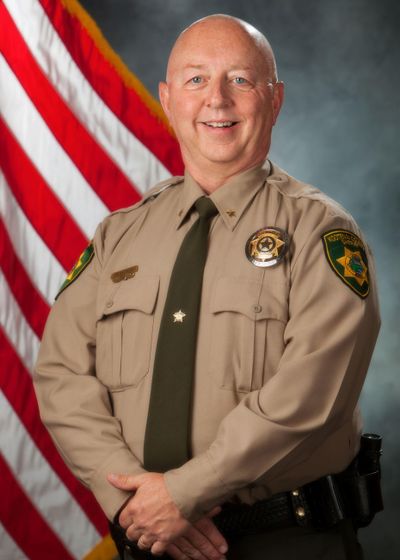 The Kootenai County Sheriff's Office and sheriff candidate John Grimm traded claims that the other is misleading residents about contact tracing efforts through cellphone data on Wednesday, but the Panhandle Health District was the one to set the record straight.
The health district has no plans to collaborate with law enforcement on contact tracing or use cellphone data to track patient movements, according to Katherine Hoyer, a health district spokesperson.
Grimm, who appeared to mischaracterize the purpose of contact tracing in a YouTube video on Tuesday, has published misinformation about COVID-19 pandemic response efforts on social media accounts affiliated with his campaign for months.
While agencies in both Washington and Idaho addressed rumors related to travel restrictions circulating on social media in mid-March without naming Grimm specifically, the Kootenai County Sheriff's Office responded on Wednesday directly to Grimm's video about contact tracing.
Contact tracing is the process of determining whom a person with COVID-19 came into close contact with while contagious. In Washington, that process is being conducted by individuals hired through public health agencies.
Some countries and local U.S. governments have issued voluntary, government-designed apps that make cellphone location information directly available to public health authorities, raising some concerns about privacy, the Associated Press reported. Utah was the first U.S. state to do so.
Grimm's comments about federal funds "with strings attached" and contact tracing infringing on North Idaho resident's personal freedoms, the Kootenai County Sheriff's Office said in a statement, were "significantly misleading."
The sheriff's office is requesting permission from the Board of County Commissioners to apply for a pandemic-related federal grant to purchase a forensic program called "Cellebrite," which allows law enforcement investigators to access cellphone data, to use it for contact tracing, according to a statement from the sheriff's office.
Grimm said in an email statement to The Spokesman-Review that contact tracing is not within the sheriff's office's jurisdiction and claimed Sheriff Ben Wolfinger may be the one misleading people.
Hoyer said state public health officials are looking into a system to assist with contact tracing in Idaho and the Panhandle Health District would use that rather than law enforcement technology.
"The system the state is looking at does not track patient's movements, does not retain information about contacts and doesn't use involuntary processes such as turning on location services," Hoyer said in a text message. "Patient privacy is our priority as well as keeping the public safe and healthy."
The sheriff's office did not immediately respond to a request for comment regarding the federal grant and its purpose.
The department said in a statement that it had been looking to buy the Cellebrite program before the pandemic to analyze cellphone data for criminal investigations in-house rather than through a third-party office or service. The process still would require a search warrant to be used in a criminal investigation or for contact tracing.
It remains unclear how the sheriff's office would use that technology for contact tracing without cooperation from health officials.
The sheriff's office statement clarified that the federal grant it is seeking "has no match and there are no strings attached to it, as Mr. Grimm would have you believe."
"This grant just puts the tool in our hands, which makes it more affordable for you, the taxpayer," the statement continued.
In mid-March, days after his official candidate filing, Grimm also posted a video suggesting he had information from a federal government source that interstate highway travel would be restricted and Washington's border would close for a statewide quarantine.
"Despite what you may have read or heard on social media, we would like to let the public know that we are not closing the border between Idaho and Washington nor are we planning to at this time," Idaho State Police wrote on Twitter on March 14.
Gov. Jay Inslee addressed the rumors via Twitter a few hours later, saying "While fighting COVID-19, we must also fight against rumors and false information."
"Let me be clear: Neither me nor my staff are engaged in conversations to quarantine or seal off any part of Washington state," Inslee's tweet continued.
He added that the topic had not come up during regular communication with Vice President Mike Pence either.
Wolfinger, who did not file for re-election, addressed the issue in a March 16 news conference as well without naming Grimm, who owns a machining shop in Hayden.
"There have been people putting videos out there saying things that just aren't true," Wolfinger said. "We know there is no plan to close the state border. It's not going to happen."
Grimm has since removed his video from social media, as well as an update on the video which was posted to his website on March 25.
"Disregard the stuff on social media that you see is one person here, one person there" circulating rumors, Wolfinger continued. "Rely on us."
Local journalism is essential.
Give directly to The Spokesman-Review's Northwest Passages community forums series -- which helps to offset the costs of several reporter and editor positions at the newspaper -- by using the easy options below. Gifts processed in this system are not tax deductible, but are predominately used to help meet the local financial requirements needed to receive national matching-grant funds.
Subscribe to the Coronavirus newsletter
Get the day's latest Coronavirus news delivered to your inbox by subscribing to our newsletter.
---