Marketing > EVERCANNABIS
Model Behavior
Photo shoots featuring cannabis show personality, attitude
Thu., May 21, 2020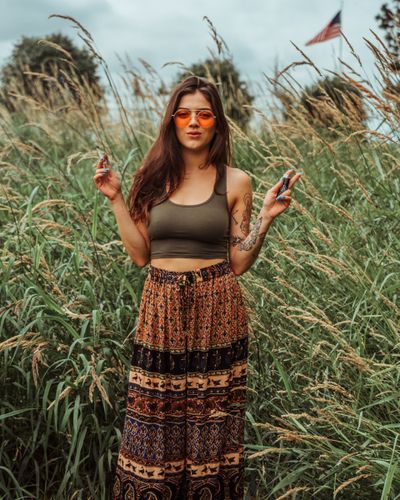 Annie Kaczor is a well-known portrait photographer in Spokane, with a goal to normalize cannabis consumption. As such, she has gained a following as the area's premier photographer of cannabis models. A former nurse who brands herself as
"Happy Hippie Wife"
on social media, Kaczor has clients that include cannabis farms Bodhi High in Spokane Valley, Mount Vernon's Zoz and Airway Heights' Good Earth. She feels everyone can model and that "everyone is modeling cannabis." She says growers are looking for a brand image that is professional in appearance. They're not meant to invoke a party image; with purposeful styling, Kaczor photographs models consciously consuming cannabis to show that it's not just a counter-culture activity. Since legalization is rather new, cannabis modeling is an even newer segment, but many businesses enjoy the creativity of a lifestyle photo shoot to showcase their product with real consumers. So who are these cannabis models? One is
Cloe Chin
, who enjoys time on both sides of the camera. A junior majoring in marketing at Eastern Washington University, Chin is also the marketing director for Cinder, a Spokane retailer with three locations. When Chin is the photographer, she mostly shoots friends and co-workers. She has photographed a couple of men, but she sees more women in the industry. Many of these gigs are unpaid, but the models might get paid for promoting a brand. Since models are photographed partaking of the product featured in the shoot, they need to be comfortable with the experience of being high. Chin said there is no certain look required. "My biggest takeaway is people look for the personality, not the beauty part of it," Chin said. While someone who is conventionally attractive may get off to a better start, once a model starts to gather followers on Instagram and becomes known for participating in a cannabis shoot, they can grow their portfolio. "The coolest thing about the models is they are smokers and do know what they're doing," she said.
Natalie Cardenas
is the supervisor at Cinder's North location. She also runs the website for High Roads Cannabis Farm, and has modeled for ZoZ and Bodhi High. She said she is about 50/50 on taking photos for others and being in front of the camera. About a year ago she decided she wanted to create an Instagram page depicting the marijuana lifestyle. "I get to create a different version on myself," Cardenas said of modeling, adding that it's mostly for fun. Also a student at Eastern, she will graduate with her master's degree in communications in June. While most cannabis models are not signed with a modeling agency,
Lauren Pride
is an exception. Pride is signed with Slater Model Agency, with offices in Los Angeles, New York and Spokane. The director of the agency, Hasson Harris, moved here because his husband, Luis, is a member of the Spokane Tribe. Pride said she started modeling for her cousin who is a photographer. She has done local runway and will participate in Fall Fashion Week in L.A. this autumn. She is also longtime friends with Riley Schultz, one of the owners of Evergreen State of Consciousness Northwest (ESCNW), an up-cycle clothing company that also makes jewelry and cannabis accessories. Schultz included Pride, who is also a barista at Forza, and other models in a shoot for ESCNW with Kaczor as the photographer, which introduced Pride into cannabis modeling. Pride said she appreciates that ESCNW embraces "what Washington is about" in its products. Cannabis model
Barbie Oldham
is also a medical marijuana patient advocate. She said she has several underlying health issues and prefers CBD and medical marijuana over pharmaceutical drugs. That's what got her into cannabis modeling. "I enjoy modeling and creating art with other people and smoking weed," Oldham said. She has also modeled for ESCNW, noting that Schultz and Kaczor have each put together some truly creative shoots. In addition to modeling, she enjoys painting and fashion and works as an in-home caregiver.
Linda Ball is a freelance journalist based in Washington State. In her 18 years, she has covered a wide variety of topics including the environment, city hall, arts and entertainment and now the rapidly-changing cannabis industry.
Local journalism is essential.
Give directly to The Spokesman-Review's Northwest Passages community forums series -- which helps to offset the costs of several reporter and editor positions at the newspaper -- by using the easy options below. Gifts processed in this system are not tax deductible, but are predominately used to help meet the local financial requirements needed to receive national matching-grant funds.
Subscribe to the Coronavirus newsletter
Get the day's latest Coronavirus news delivered to your inbox by subscribing to our newsletter.
---