Sports
A Grip on Sports: Now that we are, unoffically, into summer, our thoughts turn to baseball and how much we miss it
Tue., May 26, 2020 A GRIP ON SPORTS • Did you know a gallon of gasoline is less expensive today than it was when I first started driving back in ancient times? Yep, take out the increased taxes and adjust for inflation and it's a lot cheaper. It takes me back to that simpler era, the 1970s, when long hair and dressing casually was all the rage.
•••••••
• Everyone remembers their high school years. I'm pretty sure of that. Good or bad. If you were the guy whose books were thrown into the swimming pool, then the latter comes to mind. If you were the young lady everyone wanted to ask to the prom, then the former might be in play.
Neither really describes my high school years. I ran with the nerds – they weren't called that at the time but we played Risk and took Latin, so I guess the label applied – for some things, with the jocks for others. Each had their benefits and their drawbacks. But the key element at my high school, an all-male school of less than 450, was sports.
Football was king at St. Francis. As it was in Southern California in the 1970s. USC was in the midst of the John McKay era, when the Trojans were national champions a couple times and should have been at least once more. UCLA was exciting, the Rams just OK.
But I was into baseball, of course. My heroes wore Dodger uniforms and, as it turns out, were many of the same people my future friends in Spokane had rooted for long ago.
Davey Lopes. Bill Russell. Ron Cey. Steve Yeager. Bill Buckner. Tommy John. Joe Ferguson. Don Sutton. Bert Hooton. Mike Marshall. And above all else, Mr. Perfect, Steve Garvey. (As an aside, I tried to hit like Garvey one year. Standing straight up, the bat held the same way, top hand in control. Turned out I didn't have the Popeye-like forearms to pull it off. The experiment lasted a couple weeks.)
The Dodgers of the '70s were destined to be also-rans. They lost the World Series in 1974 to the Oakland A's. The lost to the Yankees in 1977. The Yankees again in 1978. Three National League titles in five years and no rings. Nearly as bad as the Buffalo Bills a couple decades later.
What was so special about the team, however, was their longevity. Many auxiliary pieces came and went, but the core, the infield of Cey, Russell, Lopes and Garvey played together for nine seasons, starting when I was in high school and ending after I was married and we owned a home. Three of them were all drafted in 1968. All of them played in Spokane, for soon-to-be Dodger manager Tommy Lasorda.
And all of them were part of why baseball is a part of me.
• The reason I'm thinking of baseball today? Memorial Day weekend is over. The weather is going to turn warm. All that makes an old man's thoughts turn to the game.
Here, not in any order, are things I miss about baseball right now:
– Keeping score
– Doing the Seattle Times' crossword puzzle while my sons race after batting practice home runs near our left-field seats in Safeco.
– Playing catch with either of my sons – or both.
– Teaching a youngster the correct way to squat behind the plate. I learned from a college catcher when I was eighth grade and other than a short college bout of bursitis, my knees never hurt. Even now.
– Taking a low, inside pitch to right field.
– Bunting.
– Watching a fast runner go from first to third.
– Watching a slow runner go from first to third.
– Ichiro's arm. Heck, Ollie Brown's arm. Roberto Clemente's arm. Anyone with a cannon.
– A slow breaking ball that freezes a guy.
– Ken Griffey Jr. playing centerfield. Ken Griffey Jr. hitting. Ken Griffey Jr. smiling. Ken Griffey Jr.
– Throwing batting practice to young players, no matter their age, and trying to break off a bunch of curves just so they can watch the rotation. My shoulder winces just typing it.
– A freshly mowed infield.
– Blocking balls. Sweating. Throwing to second. Backing up first. Working on footwork. Calling just the right pitch in just the right situation. Making a tag at the plate. Heck, anything to do with catching a game.
– Coaching third base.
– A high pop up on a cloudless day.
– A chocolate malt cup at Dodger Stadium on a July evening, my dad next to me explaining why Joe Moeller was having trouble getting his breaking ball down. And remembering every word.
– Flaring a ball down the right-field line and stretching it into a double.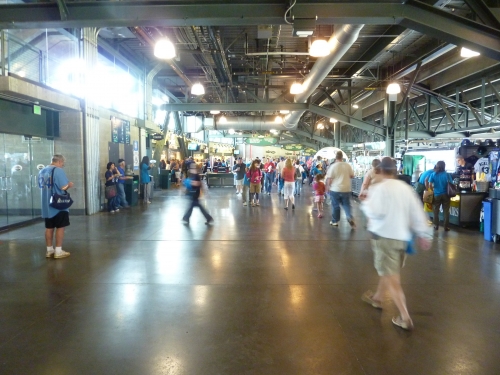 – Doing the wave. (OK, was just testing to see if you were still reading. I hated the wave. Never did it. Used to embarrass my sons immensely by either just sitting on my hands or, and this really ticked them off, getting up a couple counts too late.)
– A hot dog with mustard and so many onions they would fall everywhere.
– Walking the Safeco concourse for a couple innings, all the while watching the game from other vantage points.
– Peanuts before a game.
– Striking out and running back to the dugout. (Yes, I miss that.)
– Fouling off 17 two-strike pitches before drawing a walk. (That even more so.)
– Taking a lead off second base.
– Sitting in a dugout, talking.
– My teammates. Every one of them.
•••
WSU: No sports news today. Nope. Something more important. Maggie Quinlan's story on a Cougar who makes masks for folks. … Elsewhere in the Pac-12, when the schools are ready to play football again, Jon Wilner thinks they should have practice games first. … Washington has some intriguing games on its schedule. … Oregon should have the best kick returners in the conference. … In basketball, a former Oregon State player is skipping the WNBA season for personal reasons.
Idaho: No matter the outside circumstances, the Vandals' football program has to try to keep the team on schedule for next season.
Rodeo: Yes, rodeo. Dan Thompson has a story on Miss Rodeo Washington and how her 2020 schedule has been disrupted. … Pro rodeo hopes to get going again soon.
Mariners: All your questions about starting the season are probably answered in this Ryan Divish story.
•••       
• There is talk of the NHL and NBA restarting. Of football in the fall. Golf tournaments, horse races and tennis matches. All well and good. But it's baseball I miss. The box scores. The highlights. The radio broadcast. The game on TV as I fall asleep. When it returns, I will smile. Count on it. Until later …
Local journalism is essential.
Give directly to The Spokesman-Review's Northwest Passages community forums series -- which helps to offset the costs of several reporter and editor positions at the newspaper -- by using the easy options below. Gifts processed in this system are not tax deductible, but are predominately used to help meet the local financial requirements needed to receive national matching-grant funds.
Subscribe to the sports newsletter
Get the day's top sports headlines and breaking news delivered to your inbox by subscribing here.
---