News > Spokane
Whitworth looked like it was going to be named the county's official team. Instead, it was 1 of 5 honored
UPDATED: Tue., May 26, 2020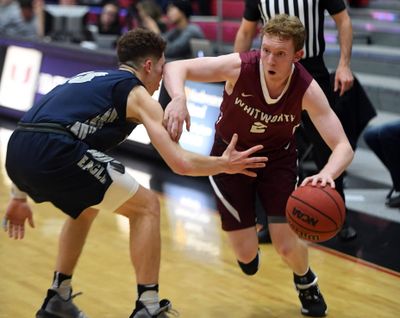 The Whitworth Pirates men's basketball team has won its share of upsets, but appeared to be on the brink of perhaps its biggest yet on Tuesday: overcoming Gonzaga, and Spokane's other college teams, to become the county's official men's basketball team.
That prospect came about after a number of basketball-related proclamations for consideration by Spokane County Commissioners were posted online on Tuesday. One of those proclamations would have made Whitworth the county's official men's hoops team.
Spokane County Spokesman Jared Webley said the declaration was from a draft copy that hadn't been discussed among staff and that commissioners hadn't seen or requested it.
Webley said it was posted as a result of miscommunication between himself, staff members and the university.
Whitworth University also posted the language referring to the "Whitworth Pirates as Spokane's Men's Basketball Team" in a news release, but amended it later on Tuesday.
In a tweet, Whitworth University President Beck Taylor acknowledged and regretted the mix-up: "The frustrating part about today's confusion re Spokane County's recognition of Whitworth's men's basketball team is that the team's achievement as the decade's winningest program in NCAA Division III is being overshadowed. The team deserves some #Spokane recognition."
Webley said commissioners would not be picking a favorite team and never saw the draft copy.
"We're not going to be in the business of declaring one team over the other," Webley said.
Instead, the county approved proclamations honoring the accomplishments of basketball teams from Whitworth, Gonzaga University, Eastern Washington University and Central Valley High School.
County Commissioner Josh Kerns said the intention behind the proclamation was to do something positive and to highlight teams that had successful seasons that were cut short.
"We love them all, and quite frankly, with all the negativity in the news that we've been seeing around COVID, we hope this is something that will bring a smile to people's faces and give student-athletes a bit of a 'thank you' for what they've done and recognize their great achievement," Kerns said.
Coaches, staff and athletes from every college also called into the commissioners' meeting to accept their proclamation and share their teams' successes.
Commissioners recognized what every team accomplished before their seasons ended – and what they might have achieved if their seasons didn't end.
Whitworth's team went 23-6 during its season and was co-champions of the Northwest Conference with a 14-2 record. The Pirates also participated in the NCAA Division III Tournament, beating LeTourneau University and the University of Texas-Dallas before the remainder of the tournament was canceled.
Gonzaga's 31-2 men's team was the top seed in the West Coast Conference Tournament in early March at the Orleans Arena in Las Vegas, was regular-season WCC champions at 15-1, and was projected to be a No. 1 seed in the NCAA Tournament before the event was canceled.
Gonzaga's women's team was also slated to participate the NCAA Tournament and reigned atop the WCC with a 28-3 record, 17-1 in conference play.
Eastern Washington University went 23-8, topping the Big Sky Conference at 16-4, and was set to participate in the Big Sky and NCAA tournaments before its season was canceled.
The proclamation encouraged fans and alumni to wear their team's colors and celebrate their accomplishments.
Central Valley was the only high school to be honored with a proclamation. The 23-3 girls team won the state championship, as well as the 4A Greater Spokane League and the District 8 4A tournament crown. The 24-3 boys team won the same championships and finished second in state.
The girls team also had a cumulative grade point average of 3.8 while the boys team had a cumulative GPA of 3.5.
Local journalism is essential.
Give directly to The Spokesman-Review's Northwest Passages community forums series -- which helps to offset the costs of several reporter and editor positions at the newspaper -- by using the easy options below. Gifts processed in this system are not tax deductible, but are predominately used to help meet the local financial requirements needed to receive national matching-grant funds.
Subscribe to the Coronavirus newsletter
Get the day's latest Coronavirus news delivered to your inbox by subscribing to our newsletter.
---