News > Spokane
100 years ago in Spokane: Dentist confronts gas thief as shortage riles city
Fri., May 29, 2020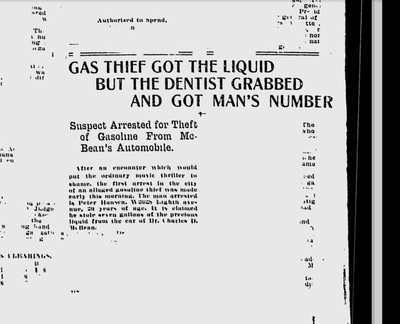 Spokane's gasoline shortage was becoming critical, and it resulted in an action-packed early morning confrontation on a Spokane street.
A Spokane dentist foiled a gasoline thief in "an encounter that would put the ordinary movie thriller to shame," proclaimed the Spokane Daily Chronicle.
Dr. Charles D. McBean said he was called out for an emergency visit to a patient at an apartment house on Howard Street and Sinto Avenue.
He left his auto in front of the place. After treating the patient, he exited and heard "the rattle of a tin can" and saw a shadowy figure run away from his car toward a neighboring car.
Dr. McBean raced toward the man, who was trying to get a way with a can of gasoline. The dentist and the thief grappled for a while until the thief got the upper hand and knocked the dentist down.
The thief then jumped into the second car and started to roar off. But the dentist sprang to his feet, raced to the back of the car and tore off the metal license plate before the auto disappeared into the distance.
When officers arrived, Dr. McBean handed them the license plate. They discovered that the thief had stolen "seven gallons of the precious liquid" from the dentist's car.
Police soon traced the plate to a home on Eighth Avenue, where they found Peter Hansen, 20, – presumably smelling of gasoline – and arrested him for larceny.
Local journalism is essential.
Give directly to The Spokesman-Review's Northwest Passages community forums series -- which helps to offset the costs of several reporter and editor positions at the newspaper -- by using the easy options below. Gifts processed in this system are not tax deductible, but are predominately used to help meet the local financial requirements needed to receive national matching-grant funds.
Subscribe to the Coronavirus newsletter
Get the day's latest Coronavirus news delivered to your inbox by subscribing to our newsletter.
---