News > Spokane
Concerns about design, tribal involvement lead to pause on decision about statue proposed for Riverfront Park
May 29, 2020 Updated Fri., May 29, 2020 at 10:24 a.m.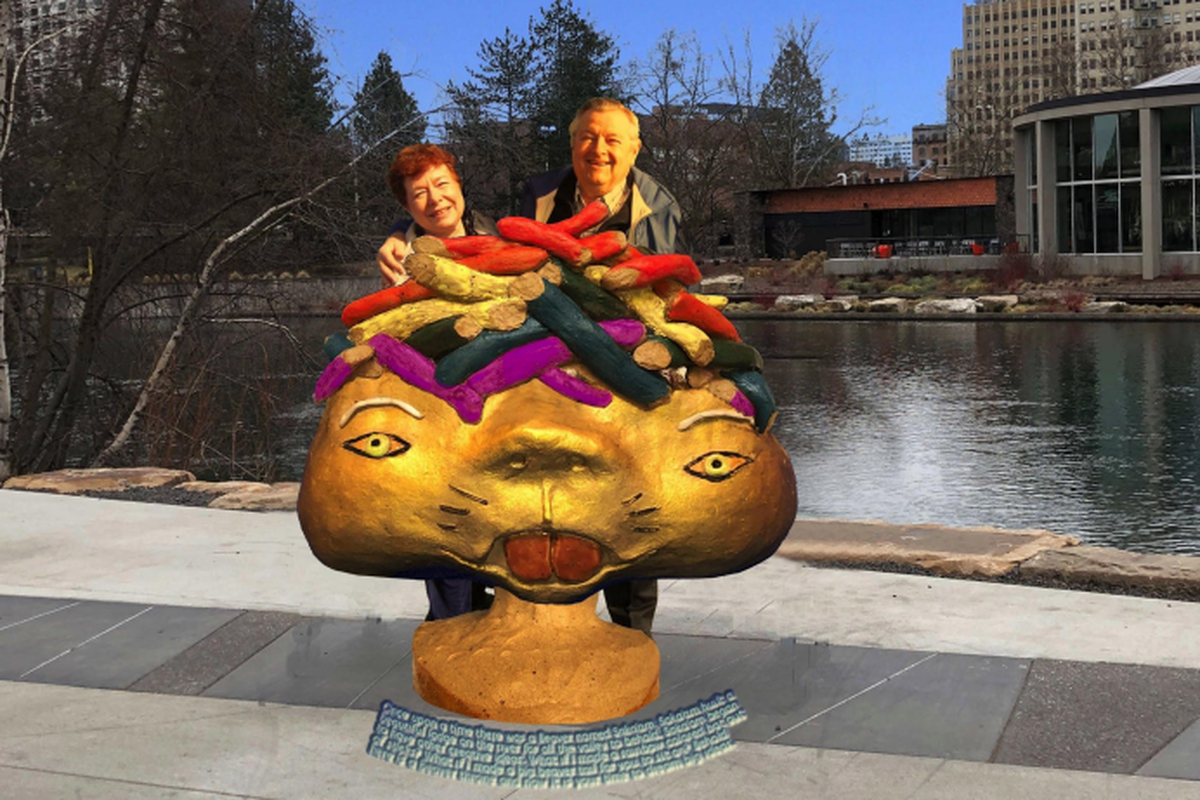 An artist's rendering of "The Beaver," a statue of a beaver's head with a hat made of rainbow colors resembling the animal's lodge. The Spokane Joint Arts Committee recommended the piece for inclusion in Riverfront Park, citing its folk art appearance, colors and interactivity. (Saya Moriyasu)
Some public pushback and concerns about Spokane tribal involvement have caused park officials to pause plans for the next piece of public art in Riverfront Park.
Saya Moriyasu's piece "The Beaver" had been selected as the top choice among four works of art proposed for installation in the newly revamped park by a panel of local art supporters and park representatives.
But before the 54-inch-tall bronze sculpture, which is intended to double as a swiveling bench with views of the Spokane River, could receive final approval from the Spokane Park Board, decision-makers elected to take more public comment amid concerns about the piece's design and potential involvement by the Spokane Tribe of Indians, who hadn't been notified of Moriyasu's idea to give the piece a Salish name and story.
"We have a lot of work to do to clear up what I consider to be a misunderstanding," said Melissa Huggins, executive director of Spokane Arts, the organization that solicited the artwork ideas for the park.
Moriyasu, a Seattle-based artist whose pieces include a popular installation near Harborview Medical Center called "Maya," said her vision for the piece came to her on a visit to Riverfront Park, which has seen an increase in beaver activity recently.
"It's very fun, it's also not supposed to be of a scientific design," Moriyasu, who said she hadn't seen local feedback on her design, said in a phone interview this week.
Her decision to give the sculpture the Salish name "Saka'am," the Spokane dialect word for "moon," was intended to be both reverential to the animal, which was nearly trapped to extinction by white settlers, and to the native people of Spokane, Moryiasu said.
"I didn't want it to have a name that was Western," she said. "I just thought it was a very sweet, poetic name."
The piece would cost an estimated $85,000 to design, produce and install in the park, according to the bid submitted for approval. Money for the project would come out of the dedicated 1% of the park redevelopment's $64 million taxpayer-supported budget set aside for public art.
Huggins said after the meeting and approval of the design that she reached out to former Spokane Park Board Member Jamie SiJohn, who's also a tribal member, at the direction of panel members who said the piece should have tribal involvement if it featured a Salish name. That happened after an image of the statue had been shared online by a local TV station with a story that made it sound like the decision to name the statue in Salish had already been made.
"It kind of turned into a stir on social media," Huggins said.
SiJohn said she'd put Huggins in touch with the tribe's Office of Cultural Preservation, which has been closed as a result of orders for nonessential workers to remain home during the coronavirus pandemic.
But as a former Park Board and Spokane Tribal member who has seen some decisions in the past neglecting Native American heritage, SiJohn said she didn't believe there would be much appetite for collaboration.
"If the Park Board is working with an artist and saying let's get this approved by the tribe, let's have those discussions early, and not on social media," SiJohn said.
SiJohn said her perspective was colored by the Parks Department's removal of a statue of Chief Garry in the Spokane park bearing his name in 2008, after years of vandalism. The tribe said at the time that the removal occurred without their knowledge. It was replaced by a totem pole that had no connections to Eastern Washington tribes, a decision park officials made without tribal involvement, SiJohn said.
Giving the piece a Salish name would imply that it's Salish art, SiJohn said, and that should only be done if the artist was "somebody who is from that tribe."
Moriyasu, whose previous piece of art was commissioned by a private real estate company in Seattle, said she understood the position of the tribe and that the piece could be given a Japanese name. The artist, the daughter of a Japanese immigrant, suggested "Tsuki," which is the Japanese word for moon.
"I still stand behind my impulse," Moriyasu said. "The last thing I want to do is upset anybody or disrespect the tribe."
Park Board President Jennifer Ogden said she was surprised by the strong reaction to the piece, both because of its name and its appearance in renderings.
"I think it's a little goofy," Ogden said. "You never know how public art's going to be received."
The panel was looking for a piece that promoted interactivity and stood out from features of other parks in the system, Ogden said. The ability to sit on the piece of artwork and swivel for different views, as well as its folk art underpinnings, set "The Beaver" apart from the three other submissions that were considered for the park, she said.
One of those submissions was a pair of black and white concrete discs, spaced 300 feet apart, that would allow park visitors to communicate via whispers using an echo effect. The "Whispering Discs" idea was forwarded by Rajah Bose and Ellen Picken.
The couple found out about the public outcry like others, through social media posts of friends. Picken said having both presented and selected public artwork proposals, she knows the real public perception of a piece may be difficult to discern just from what's posted online.
"What was the original reception of the Garbage Goat?" Picken asked.
But both she and Bose said they understood the cultural concerns about the name of the statue, even as they empathized with another artist for criticism based on a design. They thought about that in their own pitch, and decided any wording on their piece would likely need involvement from poets and writers in the community representing other traditions.
"The Whisper Disc, we've seen them all over the world," Bose said. "We were borrowing from that idea and adding a new tradition."
Bose and Picken said part of the problem with communicating the art's message may be because the decisions are being made during a time when people aren't able to meet face-to-face because of the pandemic.
"It's just a combination of bad timing," Picken said. "If they'd just taken their time and decided in the next meeting, or a week later, 'Oh, here's our final choice,' they would have had time to explain, or issue a press release."
The Park Board is not in a rush to approve a piece of artwork, which will complement J. Meejin Yoon's "Step Well" piece, slated for installation either later this year or early in 2021, Ogden said.
Park officials will continue to receive feedback on "The Beaver" and the three other pieces, and the Park Board president did not offer a timeline on when a decision might be made.
"There needs to be room and time for public feedback," she said.
Local journalism is essential.
Give directly to The Spokesman-Review's Northwest Passages community forums series -- which helps to offset the costs of several reporter and editor positions at the newspaper -- by using the easy options below. Gifts processed in this system are not tax deductible, but are predominately used to help meet the local financial requirements needed to receive national matching-grant funds.
Subscribe now to get breaking news alerts in your email inbox
Get breaking news delivered to your inbox as it happens.
---