Sports
A Grip on Sports: If baseball was just being played, everything would be a whole lot better these days
Sat., May 30, 2020 A GRIP ON SPORTS • It's days like this one. It's weeks like this one, actually, that baseball is missed. The slow, lazy progression of the summer game has a way of calming roiled waters. Except when baseball is so exciting, it turns calm seas into cascading waves of fun. We have a few of our favorites over the years. It seemed like a good morning to share.
•••••••
• We've been alive in every decade since the 1950s. Yes, kids, that was after the dinosaurs. But before cable TV – and anything with "video" attached to it.
Because of that sort of longevity, we have baseball memories as deep as the Marianas Trench and as long as the Pacific Ocean. (In case you're wondering, I really wish I was sitting at the beach today instead of stuck in our South Hill home, many, many miles from the ocean.)
We decided it would be best to divide those memories by decade. Some are personal. Some are universal. All have a place in my heart. So without further ado, here are some of my favorite baseball memories, catalogued by decade.
The 1950s: Actually, I don't remember this, but everyone told me this so often it has to be true. In 1959, little Vinnie Grippi, Vinegar to his oldest sister, played catch with Dodger big man Frank Howard. In our Monrovia front yard. Seems the first baseman lived in our middle class neighborhood – even major league baseball players were middle class then – and took time out to play with the neighborhood kids. I was one of them. Runner-up: Don't have one. I was three when the '60s dawned.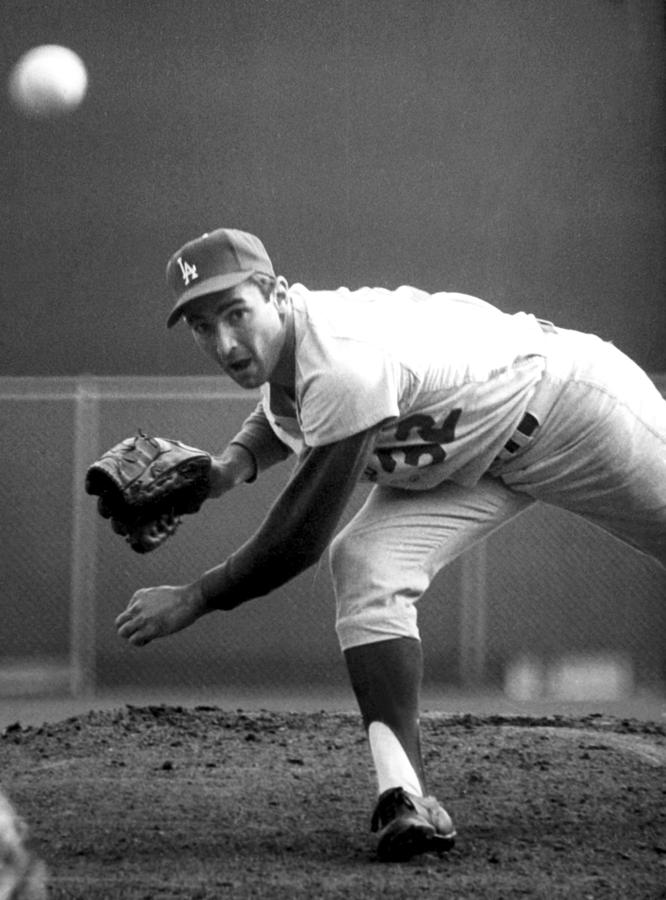 The 1960s: This is tough. So much happened. But I decided on one game at Dodger Stadium in August of 1965. My dad had put his hands on a pair of box seat tickets for a game against the Pirates. Sandy Koufax pitched. Won, 1-0 in 10 innings. Threw every pitch for the Dodgers. Weird stat from the game: Koufax, who was probably a worse hitter than me at that point, walked twice in the game and scored the winning run in the bottom of the 10th. I'm not sure what is odder, the fact he went 10 innings, struck out 12 and gave up only five hits, or that he was still hitting and running the bases in the bottom of the 10th in a scoreless game. OK, the hitting part. (By the way, I looked it up. The game took less than 3 hours.) Runner-up: 1968, when Bill Freehan caught the popup that ended the World Series for the champion Tigers. My dad, a lifelong Tiger fan, went nuts. Or maybe 1967, when my Little League team got to be on the field with the Boston Red Sox before a game at Anaheim Stadium. Either way, good memories.
The 1970s: This one is easy. 1978, though the precise date is hard to remember. I hit my only home run in college. It's a long story, one I'm sure my teammates probably still recall with "You remember that one time when Grip hit that long fly ball to right center and the two outfielders collided? And how he ran around the bases, stopping at second and third as the Southern California College players looked for the ball? That was funnier than …" We'll stop them there. It was the offensive highlight of my college career, topping the time I flew out deep to left field against future Padres closer Dave Smith. Yep, my college career featured few highlights. Runner-up: Later that same year, when Reggie Jackson stuck his leg out and deflecting a Bill Russell throw to first that would have ended the bottom of the sixth. It was obvious interference but somehow the umpires, in Yankee Stadium, didn't see it. It turned the whole Series in the Yankees' favor. I'm still mad.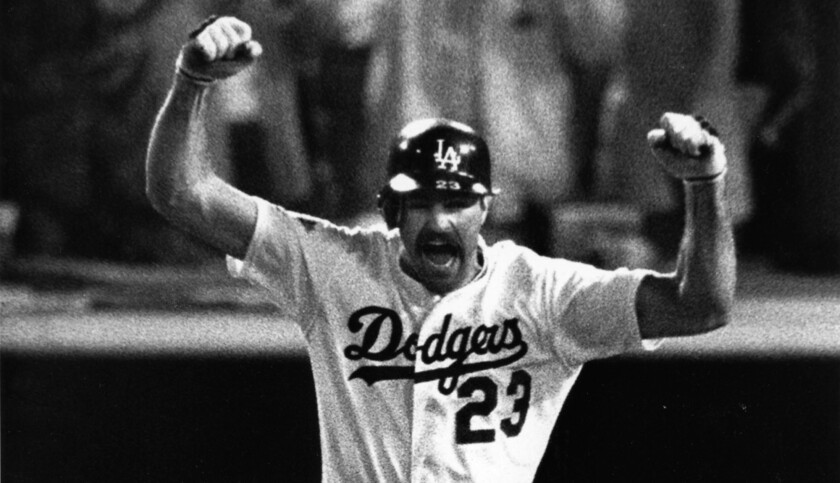 The 1980s: This one is easy. It was October 15, 1988. I was in Louisville at a newspaper convention. It was a Saturday night. The World Series was opening in Los Angeles and I was stuck attending an awards banquet. I snuck away, back to my room at the Galt House, where there were ceiling fans in every room. When Gibson came to bat against Dennis Eckersley with two outs in the bottom of the ninth, a runner on and the Dodgers trailing by a run, I stood on the bed to watch. When he hit his famous home run to right field I jumped up. And hit my head on the fan. When my roommate showed up, I was on the floor laughing, crying and trying to staunch the bleeding. Runner-up: In September of 1984, my first son was born. My wife and mother-in-law couldn't take my hovering anymore. They kicked me out of the house. Told me to go to Seattle, watch a few Mariner games. Celebrate. I did. Stayed with an old friend, Matt Young. Rode with him and another M's pitcher, Eddie Vande Berg, to games. Talked baseball. Talked family. It was great.
The 1990s: This one is easy too. The night Griffey scored from first. Edgar's hit. The dog pile. The smile. The Yankees walking off the field. Perfect. Runner up: One night in 1992, our fastpitch softball team was playing in the Seattle area. So we attended a Mariner game in the Kingdome together. We got there early, as all good baseball fans do, and watched the M's take batting practice. I was in left field with my friend Tommy Engdahl, standing next to some kids who were trying to induce Mariner players to throw them balls. Mike Schooler, the M's relief pitcher, was being, well, an ass. He would field a ball, look around for a kid, smile at him and then turn and throw the ball back into the infield. It was bush league move. And it got worse. At one point he had to go back to the fence to catch a long fly ball. He was right in front of us. The two boys screamed. He looked at one, pointed with the ball. The kid beamed. He was going to get a major league baseball from a major league player. Schooler began to throw the kid the ball, stopped, laughed, turned and threw it back in. The kid was crushed. Tommy was ticked. He turned to the kid and said, loud enough for Schooler to hear, "Don't worry kid, he'll throw you one in the ninth inning." The kid didn't get it. Schooler, who was on the skids and would soon be out of baseball, did. He was livid. Tommy just smiled. And walked away.
The 2000s: On June 22, 2007, Ken Griffey Jr. returned to Seattle for the first time after forcing a trade to the Cincinnati Reds. It was a huge day for Mariner fans, especially those of certain age. Like my son, Tyler. When the series was announced, a thought hit me. Buy tickets, fly Tyler up from college in Southern California, meet him there, play golf during the day and watch the games at night. A perfect plan. I told him we were sitting in the cheap seats. He didn't care. He just wanted to be there. As a surprise, I got on a ticket site and found two for Friday eight rows from the field behind the visiting dugout. They cost more money than my first car. But it would be worth it. Until, as I was driving across the state, Ty called to say his Southwest flight had been delayed. Instead of being five hours early, he would be arriving an hour early. The trip from Sea-Tac to Safeco would mean no pregame batting practice. OK. Then another call. The flight was cancelled. Southwest couldn't get him on a flight until late in the evening. Crushing. Sitting there by myself was devastating. It was supposed to be a father-son bonding moment. Instead, he was alone in an airport. The late flight was cancelled as well. He didn't get out until the next day. We missed our tee-time. But we made the game. He got to see Griffey. In a Reds uniform. It seemed odd. Runner-up: The 2001 American League Division Series opener between the Mariners and the Indians. I picked that game so I could also get a World Series game as part of our season-ticket group. Bad planning. Freddy Garcia was awful, Bartolo Colon was exceptional and the Indians won. There would be no World Series in Seattle that season.
The 2010s: When I was young, my dad always was able to get his hands on Dodger World Series tickets. But, being the youngest, I never got the chance to go. Something always got in the way, like in 1966, when Willie Davis' defensive lapses did. Anyhow, my dad had died by 2017, when the Dodgers made it back to the World Series for the first time since the Gibson home run. They would host the Astros in the opener on Oct. 24. My sister called. Would I like to go? She would buy the tickets if I could … OK, sis, I have my plane tickets. We sat in the nosebleed section down the left-field line. Clayton Kershaw looked to be the size of a murder hornet. And he killed the trash-can less Astros, dominating in a 3-1 win. Despite the heat, despite the long-way-from-the-field seats, it was glorious. Runner-up: Can't think of one. Well, maybe watching Rob Johnson trying to catch Felix Hernandez any time in 2010. It was hilarious. Did you know Johnson led the American League with nine passed balls that season? I'm guessing at least five of them came when Felix was pitching and there was a runner on third.
•••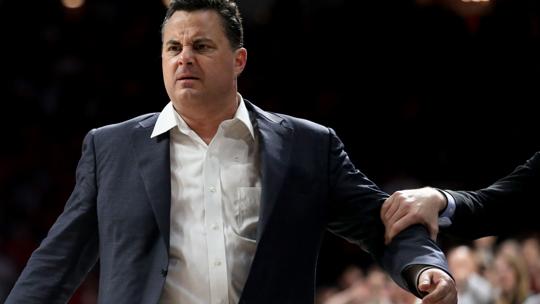 WSU: Elsewhere in the Pac-12 and college sports, the NCAA distributed guidelines to its members yesterday, telling them how to prepare for the athletes returning to campus. … Football players will play a role in preparing campuses for the rest of the student body. … Washington's recruiting is tinted by the virus, just like everyone's. … Every school, it seems, has a Morgan Scalley. … Utah's athletic director had a few things to say. … An Arizona assistant may be new to Tucson but not to the West Coast. … Colorado has already bid adieu to an Alabama transfer. … The best basketball recruiting class in the conference? It looks to be Arizona's this year. A Cinderella story, that's for sure. … Poor Sean Miller. … The newest member of the Oregon women's basketball roster wants one thing: a national title.
Idaho: I watched Eric Hisaw play high school sports. I am friends with one of his Vandal teammates. But my favorite memory of Eric was when he officiated a youth basketball game my team had in Walla Walla. He was exceptional. Colton Clark has a story on Hisaw from the Lewiston Tribune.
Seahawks: L.J. Collier hopes his second year with the Hawks is much better than his first.
•••       
• One of the more fun arguments I've had with anyone was with KXLY sports director Keith Osso after a Super Bowl. It had to do with a punt vs. a kickoff (don't ask, it's too complicated). Anyhow, boy did he get angry. All on a radio show for everyone to hear. Rick Lukens just kept egging him on. Made me smile. He was Larry Weir's guest yesterday for the latest Press Box podcast. Until later …
Local journalism is essential.
Give directly to The Spokesman-Review's Northwest Passages community forums series -- which helps to offset the costs of several reporter and editor positions at the newspaper -- by using the easy options below. Gifts processed in this system are not tax deductible, but are predominately used to help meet the local financial requirements needed to receive national matching-grant funds.
Subscribe to the sports newsletter
Get the day's top sports headlines and breaking news delivered to your inbox by subscribing here.
---