A&E
Locally Writ: Carson and Steve Stauning's '30,000-Pound Gorilla in the Room' will change your life
UPDATED: Sun., May 31, 2020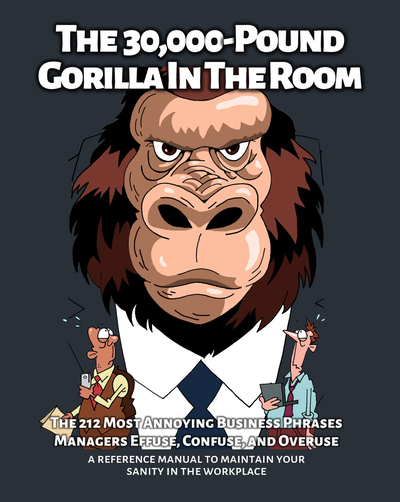 "Managers say the darndest things," father and son Steve and Carson Stauning said to themselves as they began co-authoring "The 30,000-Pound Gorilla in the Room." Their recently released book, a compilation of common phrases they jointly consider to be the most annoying business setting cliches, was completed over the course of last year, but the original concept was formed more than a decade before.
When Carson Stauning went to work for his father, a car dealership trainer and consultant, he was surprised to find his first major task would be to help his father finish writing his third self-published book. Being launched into a project just passing the halfway mark may have proved overwhelming, but Stauning found himself more than up to the task.
Expanding a 2008 post on Steve Stauning's "Ask the Manager" blog, the father-son duo spent 2019 buried in the "cringe-worthy" task of compiling, analyzing and writing about everyday expressions that "managers effuse, confuse and overuse" in business settings.
"I'd already heard most of them directly from my dad, so I had plenty of experience to begin with," Carson Stauning said. Despite their having annoyed him quite literally to the point of writing a book, the elder Stauning was apparently just as guilty of using them as everyone else, and years of consulting, it seemed, had left some of the worst ones far too deeply rooted for any serious reform.
Undaunted, the Staunings set to work collecting cliches, relevant anecdotes and replacement phrases, collaborating along the way with Spokane artist Colette Vergon on comic illustrations for each entry. The original goal was 100.
But after a year's worth of meetings and conversations, the final list included 212 phrases from "A to Z," or more precisely, "24/7" to "you don't know what you don't know."
"The one I probably spent the most time writing was 'take it up/down a notch.' I heard it constantly in sports, from my professors," Carson Stauning said. "I mean what's the value of a notch? What if my notches are different from their notches?"
Steve Stauning's least favorite phrases fall into the category of what he terms "fauxtovational" quotes. Words and phrases like "hustle," "grind," "TGIF" and others one might find routinely appended to passive-aggressive emails.
The danger of consistently writing about anything that profoundly irritates you, the younger Stauning explained, is that you're liable to start writing with too much anger in your voice. Luckily, the pair could rely on each other for tone editing.
As the editing process was drawing to a close, the task of titling the book started rearing its ugly head. But they didn't have to worry long.
"We'd been throwing all these titles around, but none of them were particularly interesting to either of us," Steve Stauning said. "But then I remembered a meeting from years back, in a big room with lots of executives, junior managers, senior managers. At a certain point, one guy stood up and said, 'Y' know, I think it's time that we addressed the 30,000-pound gorilla in the room.' He'd comingled 30,000-foot view, elephant in the room and 800-pound gorilla into this one franken-phrase."
The resultant side-eyeing silence this memorable and apparently embarrassing conglomeration of cliches left in its wake struck the man dumb for the remainder of the conference. Later, relating the story to his son, Stauning quickly realized they had found the perfect title for their developing encyclopedia.
To aspiring writers, the Staunings offer the following advice: "Just start writing it. Don't start by worrying about how you're going to format or publish it. I see so many people talk about projects that they never actually sit down to write. They want perfection before they can move forward, but that's not possible. Just get it down on paper and worry about the rest of that later."
Local journalism is essential.
Give directly to The Spokesman-Review's Northwest Passages community forums series -- which helps to offset the costs of several reporter and editor positions at the newspaper -- by using the easy options below. Gifts processed in this system are not tax deductible, but are predominately used to help meet the local financial requirements needed to receive national matching-grant funds.
Subscribe to the Spokane7 email newsletter
Get the day's top entertainment headlines delivered to your inbox every morning.
---