News
Shawn Vestal: Another winter arrives before the shelter's ready
Sun., Nov. 1, 2020 Another winter has arrived and with it, another game of catch-up in sheltering the homeless.
For three years running, winter has arrived before the opening of the city's warming shelters – those all-comers spaces meant for those who either can't or won't make it into the other shelter programs. The centers have been a last line of defense in a regional system full of cracks and year after year, freezing temperatures have arrived before they've been ready to open.
In the past, it has almost seemed as if that were a result of indifference at City Hall – last-minute scrambles arising from the failure to plan. This year, in a turn of events that's more understandable, the first blast of winter arrived early and the complications surrounding months of COVID-19 adjustments have delayed the opening at the city's Cannon Street warming shelter.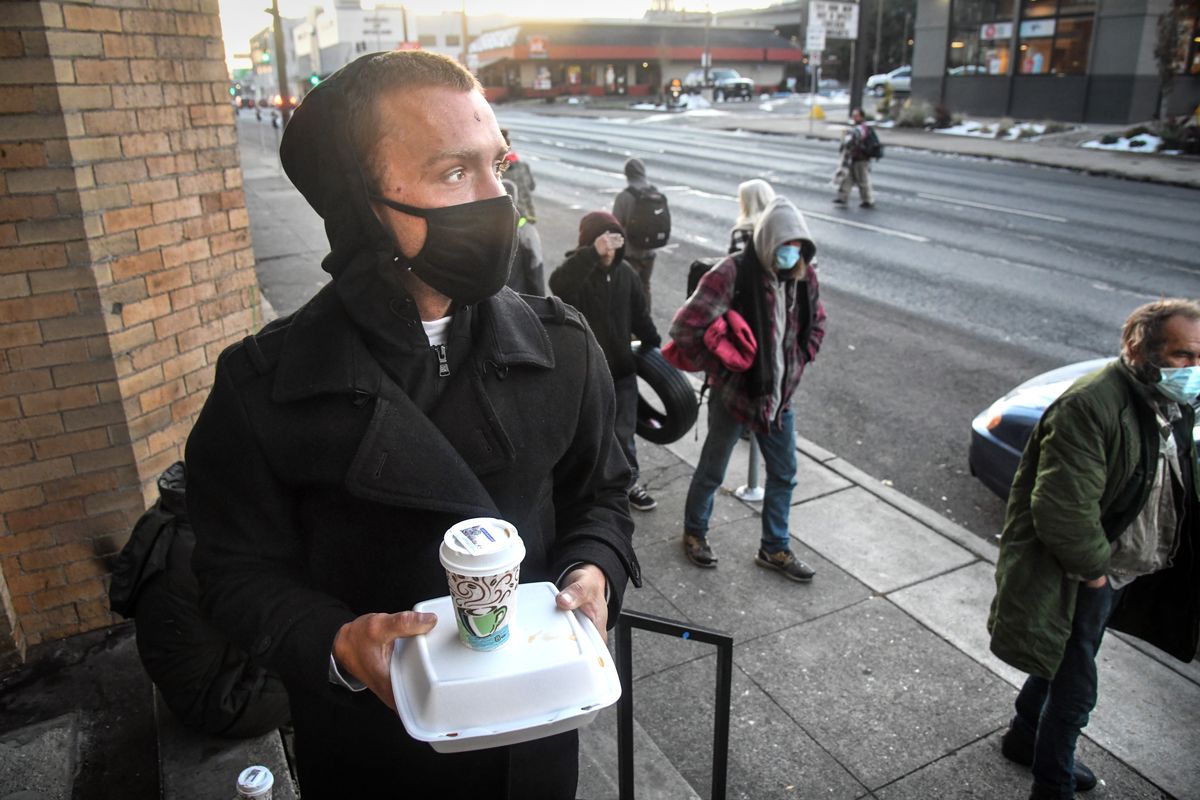 Michael Brackett, 29, picks up his breakfast, which included applesauce, a sandwich, a cheese stick and a drink, provided by Shalom Ministries, Thursday morning, Oct. 29, 2020, at New Community Church in downtown Spokane. (DAN PELLE/THE SPOKESMAN-REVIEW)
Still, we've had days and days of freezing overnight temperatures, and the city has yet to select an operator for that shelter. City spokesman Brian Coddington said officials hope to open the shelter next week, or soon thereafter.
Meanwhile, the story throughout the system right now is simple: No room at the inn.
"Right now, I'm turning people away every night and I have been for the past month," said Gerriann Armstrong, project manager for the new Salvation Army-run shelter, The Way Out.
She said when the snow flew, The Way Out expanded temporarily from 102 to 120 beds. But "I'm turning away people at 120, and I'm turning away people at 102," she said.
As we enter the first winter under the approach of Mayor Nadine Woodward, some homeless advocates question whether the city and its regional partners have done enough to meet the need.
When the Cannon shelter opens, we'll have nearly the same number of total beds we had across several shelters last year, according to city figures – 834 last season compared to 816 this year, with some additional beds available as needed.
Is that enough? As Julie Garcia, who leads the nonprofit Jewels Helping Hands, notes, that figure is far below the number of homeless people counted in the city's point-in-time count – more than 1,500. Garcia's organization has often been on the front lines when the formal system breaks down, helping people left in the wake of bureaucratic snafus.
She says the shelter system continues to lack low-barrier beds for adult men, especially – places where those who either can't, don't or won't abide with what's required at shelters with religious or sobriety requirements can get inside when it's fatally cold.
"It's insane out here," she said last week.
'Greek tragedy'
Jewels Helping Hands, which operated the Cannon shelter last winter, is now operating a "pop-up shelter" at Westminster Congregational Church, with 30 beds available for those who can't get inside elsewhere.
Garcia talked about recently picking up an 80-year-old man who was newly homeless, frostbitten and on the verge of hypothermia; between the different times and conditions at different shelters, the distances between them, and the lack of an easy way to get information and negotiate the system, he had no idea what to do.
And the pandemic economy is pushing more new people into homelessness all the time, she said. It's virtually impossible for them to negotiate the different shelters, locations, regulations and availability – it's hard even for police and social workers to determine where there is availability, she said.
She said the city needs a central web site or phone line to simplify and clarify where beds are available and when.
"We're seeing an increase in numbers like we've never seen before," Garcia said. "There are people who are new to homelessness who have no idea how to navigate a system that has been shut down, basically."
Jason Green, a Jewels accountant, wrote in a Facebook post that the pop-up shelter, and other emergency services being provided in the community, are examples of nonprofit groups stepping in to bail out an unprepared city government. He sharply criticized the city for its lack of low-barrier beds, and said leaders want to politicize, rather than address, homelessness.
"Welcome to the Greek tragedy in our city," he wrote.
Other service providers cut the city a bit more slack because the pandemic has made it so difficult to find space and enforce safety guidelines.
Rob McCann, the CEO of Catholic Charities, said his organization has been able to continue sheltering the same number of people by using space in various other buildings the organization owns.
He said that while there have been challenges in meeting the need, the scramble occurring now has as much to do with pandemic – which has created an incredibly complicated series of considerations – as a lack of planning.
"That's a COVID issue more than a city of Spokane issue," he said.
'People as people'
Coddington said the city has added low-barrier beds to the system in some "flex-space" arrangements. Union Gospel Mission, for example, has added some beds that meet low-barrier criteria, though most of its shelter is not low barrier.
As for whether we have enough beds, he said it's a matter of debate about what the region's goal should be. Many people want to simply add capacity to house everyone; they argue – persuasively, I think – that the best first step to begin addressing underlying causes is to provide housing first.
But others, who want to emphasize accountability as Woodward did during her campaign, don't want to see more shelter space; they want programs that move people out of homelessness.
"The mayor's point of view is somewhere in the middle," he said.
The accountability-versus-housing-first dynamic has been at the center of the discussion for a long time. For many in the service community, accountability often sounds like a recipe for retreating from helping the people who are most difficult to help – which is a recipe for increasing chronic street homelessness.
Our downtown streets are already a testament to the fact that homeless people do not vanish if they fall short of some program's accountability.
One bright spot in the system is the opening of the new facility run by Salvation Army on Mission Avenue, The Way Out Shelter.
That shelter – which took up the capacity that had been offered at the Spokane Arena for 90 days – tries to make a close personal connection with each guest, and works to help get them whatever help they need, said Armstrong, the project manager.
It provides guests with storage tubs and allows them to hold over their bed from day to day, so they can build a home base. Armstrong said she considers the shelter low-barrier, but if guests put the safety of others at risk or consistently violate the rules, they can be kicked out, with an opportunity to return after a few days.
"We see people as people, not as the problems they arrive with," Armstrong said.
Not enough beds
Shelter workers are often dealing with people who have burned bridges in other programs around town, and Armstrong is enthusiastic about the early signs of success they've seen since opening about two months ago, which include connecting veterans to housing services, helping people find jobs, or getting people into treatment programs.
The shelter is part of the regional plan Woodward unveiled over the summer. That plan had a lot going for it, especially given the way she had campaigned on the issue. She promoted the idea that homelessness could be addressed by giving homeless people a jail-or-treatment ultimatum and opposed new city investments in permanent shelter.
Her actual plan, though, reflected a recognition that the problem was complex, and included the low-barrier options she had seemed to oppose as a candidate – though it also included a proposal for a bridge shelter that would put participants into a three-month program to move out of homelessness that is more in line with her accountability goals.
Frankly, the fact that Woodward had a plan by summer, while dragging the reluctant county commissioners into sharing the financial burden, was good news in and of itself. It suggested that by snowfall, fewer homeless people would be sleeping on the sidewalks.
That didn't happen, however. In an interview, Coddington laid out a series of events arising from the coronavirus pandemic and statewide public health restrictions that pushed back the opening of the Cannon Street shelter. The city is modifying that shelter's operations to an all-year contract that provides overnight shelter in winter and day services in summer, which requires renovating the space.
But it wasn't able to begin construction until much later than planned, because the social-distancing requirements made it necessary to use the space to shelter people in the spring, as every shelter space in the city basically lost half its capacity.
As a result, we now have fewer beds available than we did last year; when Cannon Street comes online, it will be almost the same.
Garcia says that even after that, there are simply not enough beds.
By whatever count you use, or whatever goal you set, our homeless population is larger than our shelter system.
'Think like McDonald's'
If sheltering people during the coming pandemic winter is a challenge, so is feeding them. Many sit-down meals once offered by churches or charities had to be canceled for pandemic precautions; brown-bagged meals and takeout style services were the only options.
It made the simple act of feeding the hungry extra difficult, especially for individuals or small groups who wanted to just go out and personally make a contribution to helping those in need.
"You've gotta think more like McDonald's," said the artist Chris Bovey, who has started a once-weekly meal service in a space next to the House of Charity. "Everything has to be takeout and disposable."
Bovey and some friends started The Revival in a space next to the House of Charity to feed the hungry and minister and pray with them if they are seeking that – though the goal is to feed them first. He said last Sunday they handed out 100 cups of chili to people stopping by, and that it has seemed there are more people out on the street seeking a meal.
Shalom Ministries has long offered four breakfasts and two dinners a week in its space in the basement below New Community Church at Third and Howard. When the pandemic hit, they shifted to handing out meals in to-go containers; they've now begun using the main-floor space in the church to operate a line where hungry people can step in, pick up and meal, and exit another door, to follow health protocols.
They eat the meals on the sidewalk or curb or in nearby parking lots. With the arrival of winter, Swartout said, they've been investigating the possibility of having a canopy with heaters or other ways of a space for people to eat their meals in the cold. He said police have advised him not to do so, because it might attract campers or problems with litter and trespassing.
It's been frustrating for his organization, which is committed to serving anyone who is hungry, without qualification or requirement. They've seen their meal service increase by about 20%, and they know it's going to be harder, for them and the people they serve, in the cold months to come.
"This is supposed to be dining with dignity," he said, referring to Shalom Ministries' motto. "I guess we're not using that phrase as often as we used to or should."
Local journalism is essential.
Give directly to The Spokesman-Review's Northwest Passages community forums series -- which helps to offset the costs of several reporter and editor positions at the newspaper -- by using the easy options below. Gifts processed in this system are not tax deductible, but are predominately used to help meet the local financial requirements needed to receive national matching-grant funds.
Subscribe now to get breaking news alerts in your email inbox
Get breaking news delivered to your inbox as it happens.
---