Sports
A Grip on Sports: Sports and issues have intertwined during election years as long as most of can remember
Tue., Nov. 3, 2020 A GRIP ON SPORTS • It's election day. In a leap year. Which brings ups memories of presidential elections dating all the way back to the early 1960s. Even then, sports and politics intermingled.
•••••••
• One late October weekend in 1964, my dad's nephew came for a visit, bringing along his two young children. Younger than me, and I was just eight. Instead of hanging around all day, it was decided on this beautiful, clear, cold Southern California day, we would take a drive in the mountains. We would head up to Mt. Wilson, where snow had recently fallen.
As we drove back, after spending time walking and playing in the snow, one of the young kids saw a pile of the white stuff, something rare in the L.A. area. He started yelling "cold water, cold water" over and over. My smart-aleck father (guess where I got it from?) didn't bat an eye. "Tell your kid to be quiet," he said to his nephew. "He's too young to vote."
That's my first presidential-election memory.
Fast-forward four years. In 1968, the election was tight. Really tight. My parents, understanding the importance of a presidential election in a year that not only included riots and assassinations but also a sports-related protest seen around the world – John Carlos and Tommie Smith in Mexico City – allowed their 12-year old son to stay up until the election was decided. It was a school night. No matter. It was that important.
I fell asleep long before it was determined Richard Nixon would win.
Four years later I was driving local Republican shut-ins to the polls, though most of them begged off, citing the rout in progress. It made me angry. I couldn't vote but I knew where every candidate stood on every issue. I would have proudly punched names in a ballot if given the chance. And I couldn't talk people with the franchise into leaving their home for a half-hour to do the most patriotic of duties available nearly 200 years after our country's founding.
It was frustrating.
It wasn't until 1976, the Bicentennial year, I finally was able to vote. I did. I didn't hold the pardon against Gerald Ford. Afterward, my record in presidential voting stood at 0-1. It got better, though I'm barely above .500.
Back then, no one told athletes to stick to sports. Each side of the political divide highlighted their support from athletes from all walks of life, and all sports. Muhammad Ali and Joe Louis could back different candidates and no one cared all that much. Jack Nicklaus and that rare Democrat-supporting golfer could articulate different points of view with little notice. Kareem Abdul-Jabbar and the guys on the end of the bench could see things differently. It wasn't a big deal.
It is these days. Like everything else, there is a chasm instead of a small divide. A chasm that will be confronted today. And, hopefully, bridged in the months ahead.
• Nick Rolovich finally caved. After days not admitting he had picked Jayden de Laura as the Cougars' starting quarterback, the first-year WSU coach admitted it yesterday. He did it after having a bit of fun – I guess – with the media that covers his team.
It wasn't a secret, even if Rolovich hoped it would be. Everyone connected with the program knew, which means the information was circulating through the college football community. If the idea was to keep the info from Oregon State, that cat had escaped the bag by now. Of course if people outside the program knew it (and they did), then so did the Beavers' coaching staff.
Theo Lawson did his job. He talked with lots of folks, was told the Cougars' starting quarterback and passed that information on to you, the S-R's readers. As Richard Nixon – there's that name again – used to say, there is only one way to ensure no one knows a secret. And that's to not tell anyone. Or put it on tape.
In this case, keeping this secret was impossible. All that's left is to see how de Laura, and the Cougars, perform.
•••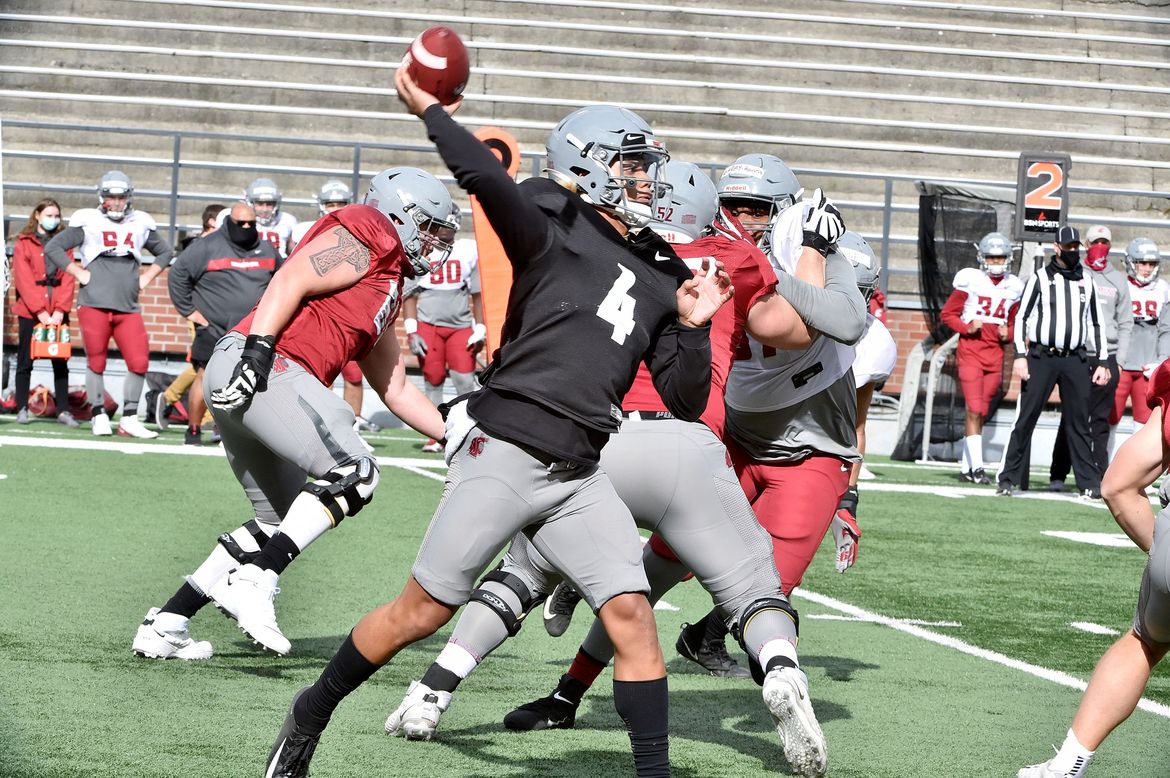 WSU: There was a little banter between Rolovich and the reporters who cover the team and then the coach confirmed Theo's report from yesterday. He went on to explain why a true freshman would be the Cougars' opening-day starting quarterback for the first time. That's the core of Theo's story this morning, though there is more. … Gardner Minshew is injured. He can't play. So Jacksonville is turning to Jake Luton, who played at Idaho and Oregon State, to be the starter. There is a bit of irony in that news this week. … Larry Weir spoke with KXLY sports director Keith Osso yesterday about a lot of things, including the Cougars. That's the centerpiece of the latest Press Box podcast. … Around the Pac-12 and college sports, the conference has a plan to ensure accurate game-day testing. … Washington released its depth chart yesterday. There are a lot of "ORs." Including at the quarterback position. …  Same with Oregon, which is just the way the coach wants it. Every coach, actually. But I'm guessing Stanford knows. … Oregon State has announced its starter. The Beavers have returning players at a lot of positions. … When Colorado and UCLA meet, all eyes will be on the quarterbacks, who display different skills. … The Bruins have started slowly in Chip Kelly's tenure. … USC is ready for today's election but still has work to do for Arizona State. … The Sun Devils lost four offensive line starters. … Utah announced its two deep, though one defensive back isn't on it. He's leaving. Britain Covey is though. …  Arizona is missing some key pieces due to injury. … In basketball news, this scheduling stuff is getting crazy. … Arizona is cutting 21 positions in its athletic department. … UCLA might play another Southern California school on the road. That's unusual. … Finally, Oregonian sportswriter Ken Goe has been in the business for 43 years. His last day is Friday. He's retiring. He will be missed, especially here. But don't worry. If I need an Oregon correspondent, I know who to call.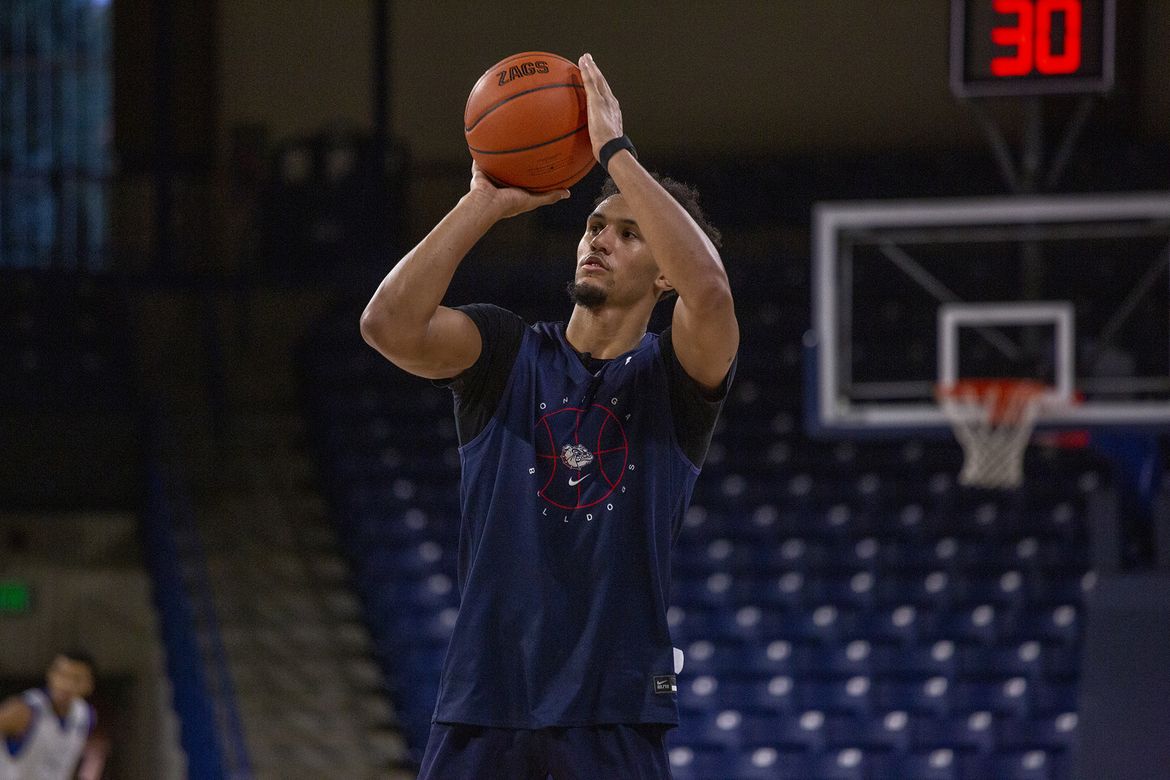 Gonzaga: Jaylen Suggs has not taken the court yet in a game for the Zags. And yet he's a nominee for the Bob Cousy Award, given to the nation's best point guard. That's how talented he is. Jim Meehan has the news and more in this story.
Seahawks: The 2020 draft class is making a big contribution. How unusual (for the Seahawks). … As a few players become healthy, the Hawks lost a defensive contributor yesterday. Not to injury, but to suspension. It could open the door for others. … One of those healthy players is Jamal Adams, who has been sorely missed. … Pass first is the new Seattle mantra. It was obvious against the 49ers. … Coaching football is also about managing a locker room that consists of more than 50 different personalities and views on life. This presidential election has the potential to tear it apart. That's something Pete Carroll has worked hard to avoid.
Mariners: Kyle Lewis is one of three finalists for the American League Rookie of the Year. He has to be considered the frontrunner. … The M's defense is probably the most improved aspect of the organization.
Sounders: Seattle is still working on a contract extension for coach Brian Schmetzer. … Portland lost a starting forward to a season-ending knee injury.
•••       
• Looking out into my backyard this morning, I've decided to make a ruling. All leaves have to fall off the bushes and trees by the end of today. After that, they don't count and I shouldn't be held responsible for their pickup. That's it. I have spoken. Until later …
Local journalism is essential.
Give directly to The Spokesman-Review's Northwest Passages community forums series -- which helps to offset the costs of several reporter and editor positions at the newspaper -- by using the easy options below. Gifts processed in this system are not tax deductible, but are predominately used to help meet the local financial requirements needed to receive national matching-grant funds.
Subscribe to the sports newsletter
Get the day's top sports headlines and breaking news delivered to your inbox by subscribing here.
---