News > Pacific NW
Spokane Valley Democratic icon Sally Jackson dies at 88
UPDATED: Tue., Nov. 3, 2020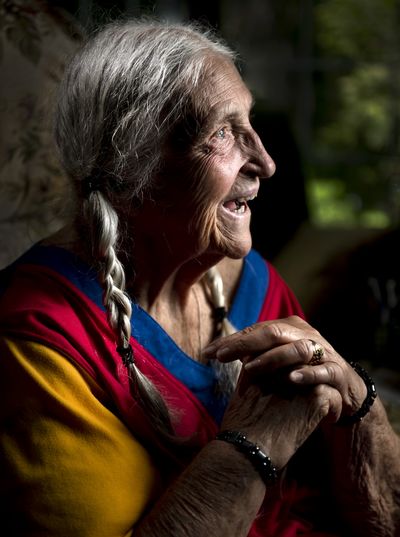 The Spokane Valley will be a bit quieter, slightly less salty and quite a bit more somber without Sally Jackson.
Jackson – a civic activist, businesswoman, coach, foster parent, former legislative candidate, Democratic leader and, recently, a stand-up comedian – died Monday evening. She was 88.
It was quick, a massive heart attack, friends said, and ironic, coming on the eve of one of the biggest elections in decades.
Joe McKinnon, a longtime friend and Democratic ally, had made plans with her for Election Day and beyond, in hopes of celebrating.
They first met more than 40 years ago, McKinnon recalled, in a spirited contest for some office or position in the local Democratic Party. When he won, Mc- Kinnon said, Jackson put her arm around him and said, "You know, some day I'm going to kick the (blank) out of you."
Jackson filled in the blank with a word for excrement that newspapers don't use because, as McKinnon noted, "sometimes she'd get a little salty."
But after that, they were friends who often worked together on various political campaigns. Eventually McKinnon, a longtime proponent of Valley incorporation, convinced Jackson, a longtime opponent, to switch sides.
"She was a great gal," McKinnon said. "She'd go to hell and back for you."
Born Sally Bigham in the Spokane Valley, she met Ron Jackson nearly 60 years ago when a friend talked her into going to a baseball game, and an after-game party with some of the players, son Casey Jackson said
She always said she went to the party with a different player, but left with Ron, who would go on to play second base for the Spokane Indians in 1956, and coach American Legion baseball for decades afterward. Married in 1955, they were together until Ron died after a long battle with Parkinson's disease in 2011.
She also coached peewee and Babe Ruth baseball, causing a stir in the late 1950s as the first woman to coach a boys team, Casey said. Some male coaches objected and didn't want their teams to play against a team coached by a woman. She stood her ground.
Later she coached softball, helped found the Spokane Valley Girls Softball League, served on its board for years and was later a board member emeritus.
She taught hundreds of children to swim in a pool on the family property in the Valley. Later she taught some former students' children and eventually some of their grandchildren.
The pool was closed this summer for the first time because of the COVID-19 pandemic.
She "just loved the kids" and was sad that she couldn't open the pool, said Heather Foley, who first met Jackson campaigning with her late husband, former House Speaker and Ambassador Tom Foley. He was just Congressman Foley then, but the Jacksons were strong supporters, working on his campaign and hosting fundraisers at their Valley home.
"She thought Tom was fabulous, and we thought she was fabulous, too," Heather Foley said Tuesday. "I would say she was the conscience of the Valley."
Although Tom Foley has been out of office since 1994, she and Jackson kept in touch with frequent calls.
"I just talked to her last week," Heather Foley said. "I said 'Don't you die on me, Sally' and she said, 'Oh, I won't.' "
There were few aspiring Democratic candidates – and fewer successful ones – who didn't make a stop at the Jackson home to seek advice on the political lay of the land in Spokane.
Several of the most successful ones took a break from last-minute campaign efforts Tuesday to mark her passing. U.S. Sen. Maria Cantwell praised her spirit, energy, and determination.
"Sally Jackson was the Democrat of all Democrats," Cantwell said. "She worked hard for her party, hard for her community, and did a lot of great work encouraging the younger generation to get involved."
In an election night speech, U.S. Sen. Patty Murray honored her as "a force to be reckoned with" when she first ran for the Senate in 1992. Jackson was tough, expected a candidate to work, but worked just as hard for them, Murray said.
"There are women across the country running for office, and in office, today because women like Sally stood with them," Murray said. "I'm one of them, and I'm thinking of her friends, family and community tonight with gratitude for her contributions to Washington state and our party."
The Jacksons were what was once called FDR Democrats. They were strong supporters of unions, workers rights and government programs that helped lift people out of poverty. Jackson did a stint as the Spokane County Democratic chairwoman and ran twice for the state House of Representatives. Her husband ran once. They campaigned hard, but didn't win in the Valley, which became strongly Republican in the 1980s.
Spokane Valley Councilman Tim Hattenburg met the Jacksons when he was coaching their children at North Pines Junior High School. They became friends, and he worked on Jackson's first legislative campaign, where he learned from her the value of going door-to-door talking to voters. Later, she would urge him to run and worked on his campaigns.
"I would not have been involved in politics to the extent I was without her," said Hattenburg, who was elected to the Valley council last year.
In recent years, she crossed one thing off her "bucket list," performing stand-up comedy at an open mic night, Casey Jackson said. She was such a hit that the owners of the Spokane Comedy Club asked her to come back.
She eventually worked up several 15-minute acts that might best be described as not for the young or prudish.
When the last of the Jacksons' six children became teenagers, Sally and Ron served as foster parents for dozens of others, many of them hard-to-place teenagers that "no one else would take," Casey Jackson said.
He remembered her most as an exceptional mom with a big heart.
"She never met a stranger, she'd talk to you and invite you over for Thanksgiving," he said. The house was full most holidays with family, neighbors and friends.
After learning of her death Monday evening, a friend sent him a note: "Every time I go to Sally's house feeling like a dollar, I leave feeling like a million bucks."
Jackson is survived by a daughter, Sally Jo Jackson; sons Rick and wife Julie; Mick and wife Terri; Tim and wife Terri; Andy and wife Jeanne, and Casey and husband Matt Fleming; stepdaughter Debby Hollinsworth and husband Deke; 15 grandchildren and six great-grandchildren.
The family will have open visitation at Thornhill Funeral Home Friday and Saturday, and plans to hold a memorial in the spring, when more people can gather.
Local journalism is essential.
Give directly to The Spokesman-Review's Northwest Passages community forums series -- which helps to offset the costs of several reporter and editor positions at the newspaper -- by using the easy options below. Gifts processed in this system are not tax deductible, but are predominately used to help meet the local financial requirements needed to receive national matching-grant funds.
Subscribe to the Coronavirus newsletter
Get the day's latest Coronavirus news delivered to your inbox by subscribing to our newsletter.
---