This column reflects the opinion of the writer. To learn about the differences between a news story and an opinion column, click here.
Opinion > Column
100 years ago in Spokane: A lost election bet led to a wheelbarrow cruise, while a clown gave kids nutrition advice
UPDATED: Wed., Nov. 4, 2020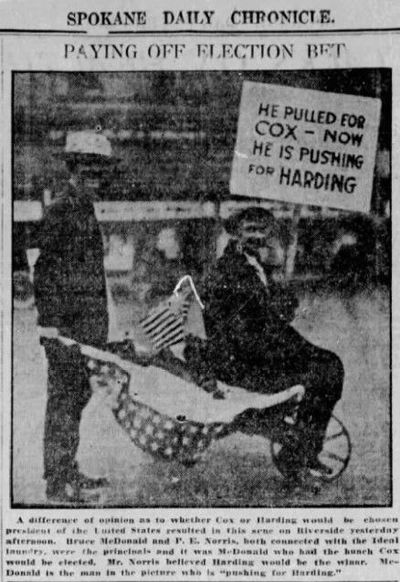 The Spokane Daily Chronicle ran a photo showing P.E. Norris sitting in a wheelbarrow holding a sign saying, "He pulled for Cox – now he is pushing for Harding."
This was the result of an Election Day wager between the two men, both of whom worked for the Ideal Laundry. They agreed that one of them would push the other through Spokane in a wheelbarrow depending on who won the 1920 election.
Harding won, so Bruce McDonald had to push Norris through the city. The wheelbarrow was bedecked with American flags.
From the public health beat: "Chew Chew, the Public Health Clown" appeared at the Irving School to teach lessons about health.
Chew Chew told one little boy, who had been drinking some coffee, that "coffee was a terrible thing for children to drink."
Instead, he said children should drink three glasses of milk each day and four glasses of water. Chew Chew also told them to eschew candy, and instead should eat apples, oranges, carrots, beets and spinach.
Chew Chew appeared with his sidekick, Creamo, a puppy.
On this day
(From Associated Press)
1605: The "Gunpowder Plot" failed as Guy Fawkes was seized before he could blow up the English Parliament.
1872: Suffragist Susan B. Anthony defied the law by attempting to cast a vote for President Ulysses S. Grant. (Anthony was convicted by a judge and fined $100, but she never paid the penalty.)
---
---