What to expect from the Board of Health meeting about Dr. Bob Lutz on Thursday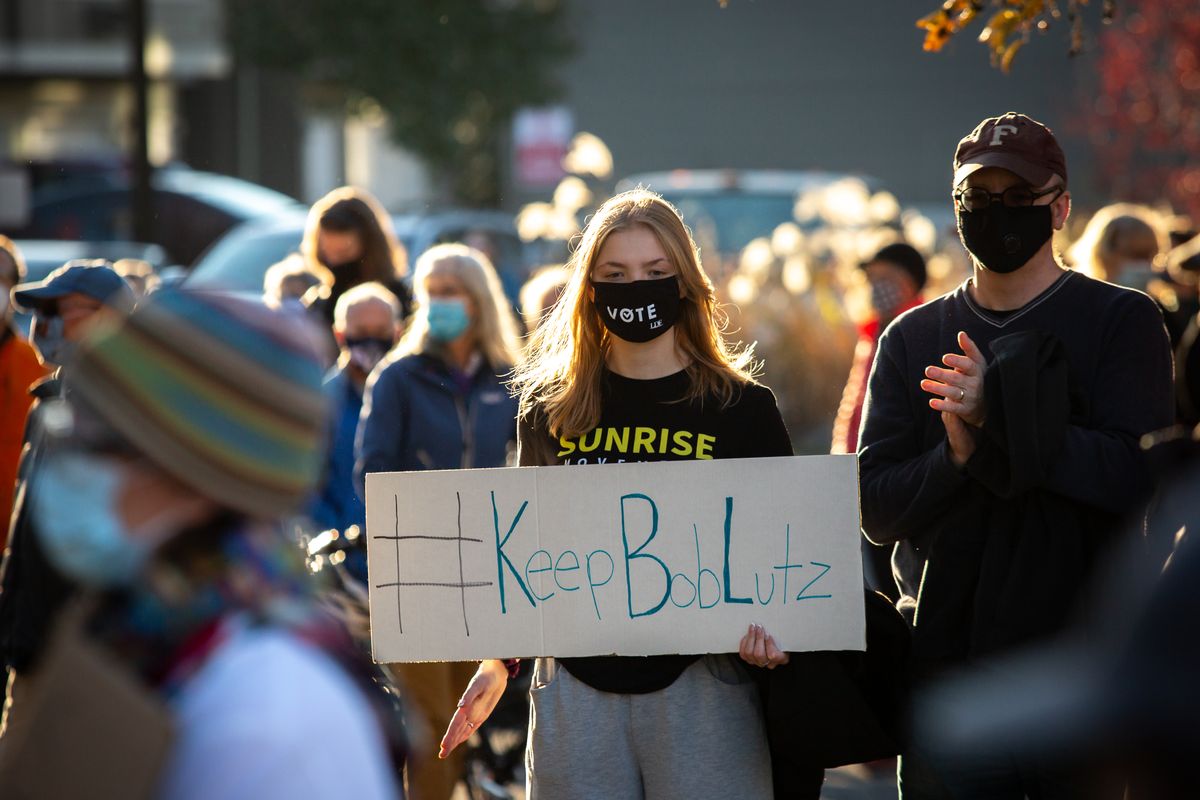 A week after Spokane County's public health officer was forced out of the Spokane Regional Health District, the community is poised to learn why on Thursday.
Administrator Amelia Clark is asking the Board of Health to fire Dr. Bob Lutz based on personnel and performance issues, which she will address during a special 3 p.m. Thursday meeting.
Due to COVID-19 guidelines, all board members will attend the meeting virtually. Members of the public can tune in to the online meeting on the health district's Youtube channel or listen in by phone.
There is no public comment period; people who want to submit comments must email them to public_comment@srhd.org before 11 a.m. Thursday.
Those comments will go into the official agenda packet for board members and into the public record.
Hundreds of community members have already flooded board members with their concerns and support for Lutz. There were protests over the weekend with both current and former employees speaking out in support of the doctor, and many local and state medical associations representing thousands of doctors, nurses and other medical professionals have signed petitions and put their name on statements questioning the wisdom and reasoning for firing Lutz.
Board members did not fire Lutz in their executive session last week. However, a misreading of the health board's bylaws led administrator Clark to believe she had the authority and board buy-in after a private meeting to dismiss Lutz.
According to Lutz, Clark demanded he give up his keys, agency badge, laptop and cellphone. She told him to contact HR regarding a severance package and a time to retrieve his personal belongings at a later date.
Instead he hired a lawyer.
The ensuing chaos has left the district in disarray.
In an email, Spokane City Council President Breean Beggs, who also serves as a health board member, noted the bungled effort last week to fire Lutz.
"The board left the meeting with the understanding that there would be progressive discipline via written communication based on the advice of legal counsel," Beggs wrote in an email to Clark and the health board's attorney, Michelle Fossum.
To make matters more complicated, the health district sent out a press release Friday stating that the Board of Health had asked Lutz to resign before the press conference that day.
Beggs wrote his email in response to this announcement and before the Zoom press conference Friday.
"First, any matters in an executive session are confidential until the board votes to make them public. Second, it would likely be illegal under the Open Public Meetings Act for the board to make a decision during executive session," he wrote.
While Clark is Lutz's supervisor, the health board alone has the power and authority to fire the health officer.
The press conference held Friday clarified nothing about the situation, with Clark refusing to answer questions about whether Lutz had resigned or been fired. On Saturday, Lutz announced that he'd hired an attorney and plans to fight the board's decision should he be fired. He also clarified that he did not resign.
The health district has refused to say who is discharging the duties of the health officer since Lutz was stripped of his health district access and equipment.
Lutz, for his part, released a statement through his attorney on Monday clarifying that he believes Clark wrongly fired him.
Clark has not explained her urgency to dismiss Lutz in the midst of a pandemic. The district has said she could not discuss personnel matters publicly without the consent of Lutz. On Thursday, however, she will be able to address the personnel issues with Dr. Lutz at the special meeting.
Clark will speak first for 30 minutes, then Lutz will speak for 30 minutes.
Board members will then have the opportunity to ask both Clark and Lutz questions.
What happens after that will be up to the board. There is a potential executive session listed on the agenda, in which board members could evaluate the case against Lutz, review his performance and discuss legal advice or potential litigation. They cannot vote in private, however.
There are three possible items board members could vote on Thursday, according to the agenda.
They could vote on something that was discussed in an executive session; they could vote to fire Lutz; and they could vote to approve the appointment of an acting health officer.
Dr. Mary Bergum, a licensed physician for the district's treatment services division, has been named as possible interim replacement for Lutz. Board members could vote to approve her in that role on Thursday.
The sudden decision to remove Lutz from the district's second-highest post comes as Spokane County is experiencing a surge in COVID-19 cases. The health district confirmed 97 new cases on Wednesday, and another resident died from the virus. There are 70 COVID-19 patients hospitalized in Spokane hospitals, and 52 are county residents.
Young adults in their 20s and 30s continue to drive up case counts in Spokane County, but teens and younger children also are beginning to test positive in higher numbers.
There continue to be outbreaks in long-term care facilities throughout the county.
The Panhandle Health District confirmed 96 new cases of the virus on Wednesday, and there are 43 residents from the five-county Idaho region hospitalized with the virus. Kootenai Health continues to take care of the majority of the Panhandle's COVID hospitalizations. Kootenai Health is treating 42 COVID patients, 14 of whom require critical care.
---