This column reflects the opinion of the writer. To learn about the differences between a news story and an opinion column, click here.
Opinion > Column
100 years ago in Spokane: They wanted quicker vote counts in 1920, too
UPDATED: Thu., Nov. 5, 2020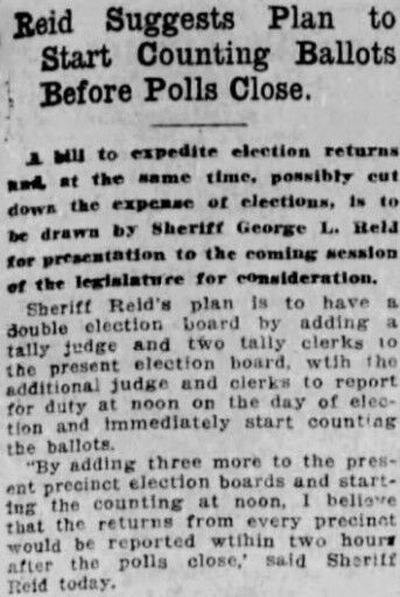 In the wake of the 1920 election, Spokane County Sheriff George L. Reid proposed a plan to "expedite election returns" in the future.
He wanted to have, essentially, two parallel election boards, so that returns could be tallied twice as fast.
"By adding three more to the present precinct election boards and starting the counting at noon, I believe that the returns from every precinct would be reported within two hours after the polls close," Reid said.
He said that under the present system, counting was slower and the election judges and tally clerks worked 20 hours on election day – past midnight – leading to inefficiency.
He intended to present this plan to the state Legislature before the next election. He said this would be better and cheaper than switching to voting machines.
From the health beat: The health board reported only modest increases in contagious diseases as the winter approached. Authorities reported 28 cases of smallpox, 21 cases of scarlet fever, 53 cases of chickenpox and 12 cases of tuberculosis.
Only a few cases of measles, German measles, diphtheria, typhoid fever and whooping cough were reported. One hundred years later, many of these diseases have been drastically curtailed, largely because of vaccines.
Significantly, the health board reported no influenza cases, which surely came as a relief after the epidemics of 1918 and 1919. Yet it was just the beginning of flu season.
---
---