News > Home and garden
Gardening: House plants good reminders growing season will return
Thu., Nov. 5, 2020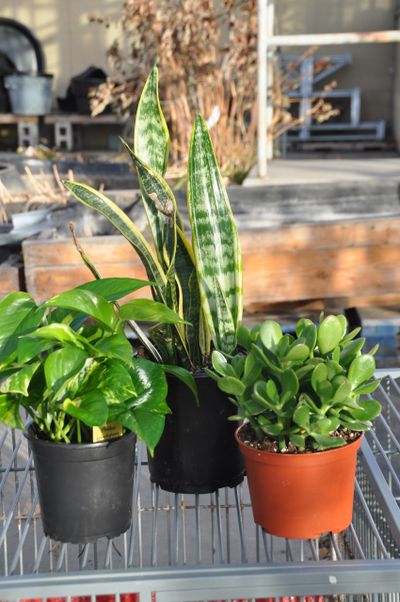 Now that we are fast going in the grayness of late fall and winter, we are going to need to find other sources of green living plants to keep us happy until spring. It's time to acquire a few houseplants to remind us that life will return.
In general, houseplants will need adequate light, moisture and temperatures in the 60-degree range.
Light is often the trickiest part of growing indoor plants. Light levels drop off quickly away from the source. Natural sunlight coming through a window is not as strong as the light outside, and the intensity of that light drops exponentially the farther a plant is moved away from a window. A plant should be placed within 2 feet of a window. Keep in mind, if we get extremely cold weather, pull the plants away from the window as they may get too cold and freeze.
In general, plants that need bright light need to be close to a south- or west-facing window during our winters. Plants that don't require as much bright light do well in large east- or north-facing windows. At my house, we have three, 8-foot tall north windows that provide enough light for my house plants. Read the label when you buy the plants
The same is true for artificial light but even more pronounced because artificial light isn't as intense as sunlight. If you don't have good windows, then it is necessary to provide the light from grow lights. There are a lot on the market, but the key is they need to provide the full spectrum of light.
LED lights are a good option and are usually quite affordable. If you have a lot of plants, it might be a good idea to invest in a couple of 4-foot LED shop lights and set them side by side in a stand so they are just a couple of inches above the plants.
In the winter, plants go dormant and don't require as much water as they do in the summer. A good rule of thumb is to first read the label on your plant to find out how much it needs and then based on that, insert your index finger into the soil to the first joint. If it is dry to the touch, it's time to water. Don't let the plant stand in water, as it might keep the plant too moist. Empty the saucer after a few hours.
Houseplants don't need fertilizer until they start growing again next spring.
The biggest insect challenges for the winter are usually aphids, mealy bug or fungus gnats.
For fungus gnats, cover the soil surface in the pots with an inch of coarse sand to prevent the gnats from getting to the damp soil surface.
Aphids and mealy bugs can be dealt with using either an insecticidal soap spray or by putting rubbing alcohol on a cotton swab and rubbing the insects.
Plants can also be set in the shower and sprayed with lukewarm water.
Local journalism is essential.
Give directly to The Spokesman-Review's Northwest Passages community forums series -- which helps to offset the costs of several reporter and editor positions at the newspaper -- by using the easy options below. Gifts processed in this system are not tax deductible, but are predominately used to help meet the local financial requirements needed to receive national matching-grant funds.
Subscribe to the Coronavirus newsletter
Get the day's latest Coronavirus news delivered to your inbox by subscribing to our newsletter.
---