News > Spokane
City again expands shelter capacity in advance of cold weather
UPDATED: Fri., Nov. 6, 2020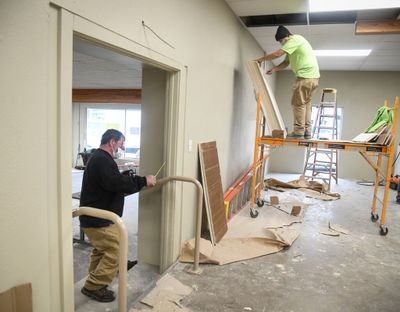 The return of bitter cold to Spokane has prompted city shelters to again expand their capacity.
In a repeat of two weeks ago, the city announced Thursday it would add up to 105 temporary beds across the network of shelters for people experiencing homelessness.
The expansion is necessary, in part, because work at the city-owned shelter on Cannon Street is not yet complete.
The National Weather Service predicts that overnight low temperatures will reach 30 degrees on Saturday and 22 on Sunday.
The city plans to accomplish this expansion largely by simply lowering the barriers at existing shelters.
After expanding its capacity by 75 beds, the Truth Ministries will again agree to waive its $2 nightly fee to ensure low-barrier access for adult men. The city will compensate Truth Ministries for the $2 fee.
Truth Ministries is on East Sprague Avenue, not located near the core social services downtown that many people experiencing homelessness rely on. Homeless outreach teams, firefighters, and police officers will have bus passes to distribute to people who can't easily reach the shelter, according to the city statement released Thursday.
Union Gospel Mission, which normally has requirements for guests that make it more strict than a low-barrier shelter, will again add 12 beds to its men's shelter.
"Spaces have remained available in the shelter system and we are adding more in anticipation of increased demand when the temperatures drop," Mayor Nadine Woodward said in a statement. "The ability to flex the system to add space worked really well last month thanks to the willingness of our partners to work with the City."
The city owns its own warming center on Cannon Street, but the building is undergoing repairs and has not yet opened.
The city also has not yet announced who will operate the shelter, which was run last year by Jewels Helping Hands.
The Cannon Street shelter is expected to open later this month and serve up to 80 adult men and women.
Local journalism is essential.
Give directly to The Spokesman-Review's Northwest Passages community forums series -- which helps to offset the costs of several reporter and editor positions at the newspaper -- by using the easy options below. Gifts processed in this system are not tax deductible, but are predominately used to help meet the local financial requirements needed to receive national matching-grant funds.
Subscribe to the Coronavirus newsletter
Get the day's latest Coronavirus news delivered to your inbox by subscribing to our newsletter.
---