Sports
A Grip on Sports: The most disappointing part of the Pac-12's first football cancellation is it might have been avoided
Fri., Nov. 6, 2020 A GRIP ON SPORTS • Is it the apocalypse now? No, not yet. The countdown to Pac-12 football, which has been inching forward for more than a month, hasn't been paused. But one of the six launches has been scrubbed.
•••••••
• If you had a chance to watch highlights of California football coach Justin Wilcox's media availability yesterday, you saw an angry person. He seemed, well, perturbed by interactions with interactions with the state of California and City of Berkeley health officials.
Heck, his demeanor brought back memories of Mike Leach after last November's game in Berkeley when the Cougars were penalized for California's penalty. What is it about that city that brings out the worst in decision makers?
Wilcox's ire wasn't aimed at a person that just cost his team 15 yards – or, in Leach's case, at least 50. It was aimed at a policy he thought his program was following to a T, then found out it wasn't enough to save this week's game against Washington.
It's sort of hard to explain. So we'll let Jon Wilner do it. He is closer to ground zero in this case and actually has interactions with the cited entities. But the summary is simple: Cal, and Wilcox, thought if it followed a certain testing protocol, a single coronavirus case wouldn't upend an entire position group. That turned out to be a false assumption.
And they didn't find out until it was too late.
Which brings up a question: If they had known better, could they have put plans in place that would have mitigated the quarantines, thus saving this week's game? My reading of the comments says yes, and that's what made Wilcox so angry. It was all so avoidable if the communication had been better.
(Sounds a bit like last year's football game, on a smaller scale, with the Cougars, doesn't it?)
• The question, for this morning, is how often will this happen in a season schedule with no built-in safety net?
Well, it could happen next week for California. There is no guarantee the players in question will be out of quarantine in time for the Bears' game at Arizona State. But could it happen to other schools? Probably not. By yesterday evening, probably, ever school in the conference had been in touch with their local health district to review quarantine requirements again, double- or triple-checking the consequences of their procedures.
California's loss of a game – and by association, Washington's – may save others the same fate down the road.
• The Cougars begin their season Saturday night in Corvallis, now the only #Pac12AfterDark game on the schedule – at least for West Coast viewers. It kicks off at 7:30 (or so – Fox is notorious for kicking off well after the scheduled time) on Fox Sports 1.
To get you ready, the S-R prepared a Pac-12 football section for this morning. It's eight pages of stories, photos and graphics and illustrations, the latter dear to my heart. We will link all the stories below, but it's good enough you might want to make sure you venture out and procure a paper copy. Then carve out a large niche of time for reading.
•••
WSU: We could start with all the stories Theo Lawson put together for the section but we won't. Instead, we will let John Blanchette walk down History Highway, and let us understand how we got to this passing place in Washington State football. … Now let's get to Theo and his story on Jayden de Laura, the Cougars' true freshman starting quarterback. And to his story on Nick Rolovich. And his look at the Washington State schedule. And his conversation with Larry Weir on the latest Press Box podcast. Other than that, nothing worth passing along. … Wait. We have passed along these Wilner stories from the San Jose Mercury News in the past, but they are available on the S-R website now. … Charles Apple put together a Further Review page on WSU's coaches and it's been adapted for the web by Tyler Grippi. … This week's opponent, Oregon State, will be missing a few players but seems healthy enough. … Around the Pac-12 and college sports, the first week's games are always hard to pick. … John takes a look at Washington under new coach Jimmy Lake. … As of now, the Huskies' game with California won't be made up. John Donovan will make his UW debut as offensive coordinator next week. … As we said above, California feels a little blindsided by the decisions that led to the cancellation. … As Oregon prepares for Stanford, the Ducks will be counting on a lot of new faces to come through for them. … Colorado feels its defense is better prepared heading into tomorrow's opener vs. UCLA. … If Utah loses a player due to failing a coronavirus test on the day of the game, the Utes won't be telling anyone. But that's for tomorrow. Today they are prepping for Arizona quarterback Grant Gunnell. … The quarterback position at USC and UCLA is in good hands. … Rain could interrupt USC's game with Arizona State. The Sun Devils believe they will be better at rushing the passer. … In basketball news, there is still work to be done on the nonconference schedules at Oregon State and elsewhere. … Arizona held a virtual media day yesterday. The Wildcats are optimistic. … Finally, this column concerning bloated spending is about Arizona, but other schools are mentioned as well.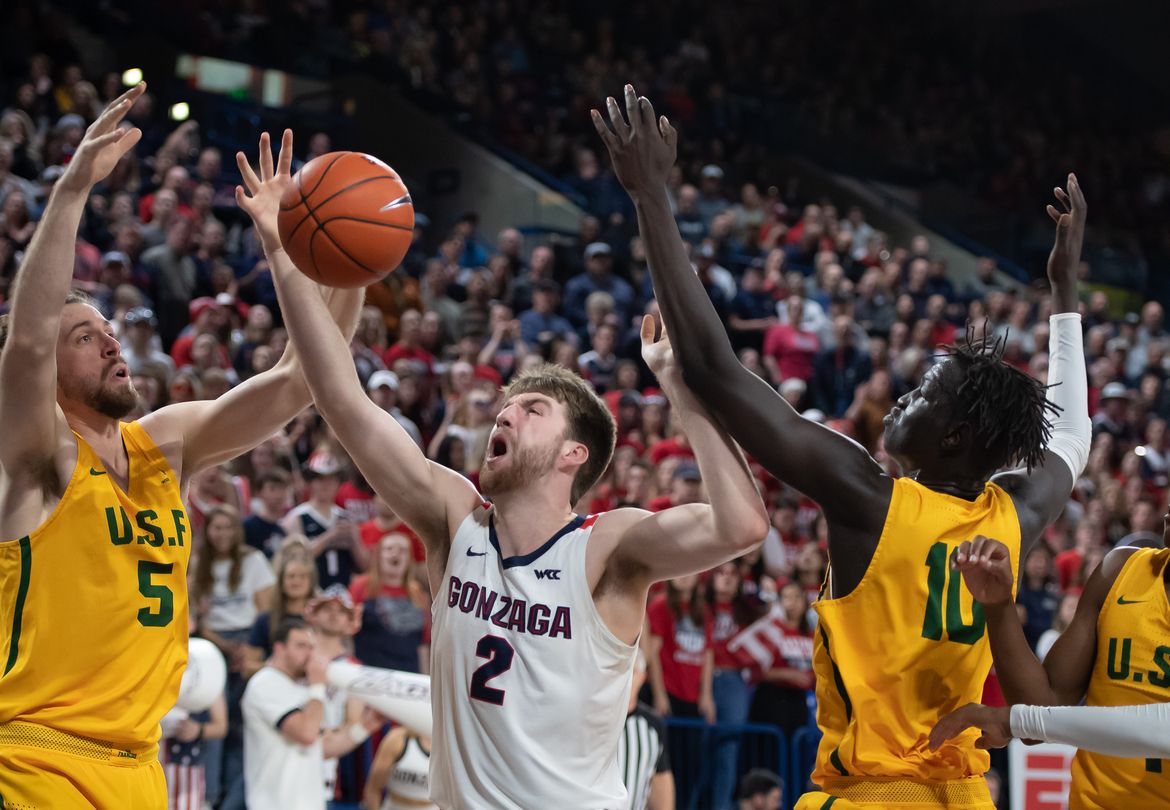 Gonzaga: One thing is sure. The Zags' nonconference schedule is loaded and is loaded from the opening gun. Jim Meehan has a look at the still-to-be-official schedule. … Jim also has another awards story, as Drew Timme makes the Karl Malone watch list. The award goes to the nation's top power forward. 
EWU: It looks as if the Eagles will serve the role as Oregon's opponent in the Ducks' basketball season opener.
Preps: Idaho's football playoffs continue this weekend and Dave Nichols has a preview. … Moscow's Jonah Elliss wants to be the best player in the Elliss family. That's saying a lot. Peter Harriman has the story. 
Seahawks: It looks as if Jamal Adams will play against the Bills, but others are less certain. … How much Carlos Dunlap will impact this weekend's game is unclear but he's another indication the Hawks are invested in winning this season. … Russell Wilson has never played in Buffalo before. He can check it off Sunday. … DK Metcalf has some impressive goals.
Sounders: A former Seattle player is making an impact in Norway.
•••       
• There have been eight college football games cancelled or postponed this weekend around the country. That's the most in a single week. There were more scheduled, however, so the trend isn't as alarming as one might think. The coronavirus trends are though. Until later …
Local journalism is essential.
Give directly to The Spokesman-Review's Northwest Passages community forums series -- which helps to offset the costs of several reporter and editor positions at the newspaper -- by using the easy options below. Gifts processed in this system are not tax deductible, but are predominately used to help meet the local financial requirements needed to receive national matching-grant funds.
Subscribe to the sports newsletter
Get the day's top sports headlines and breaking news delivered to your inbox by subscribing here.
---