News > Spokane
Kitchen fire engulfs East Central house in minutes
Fri., Nov. 6, 2020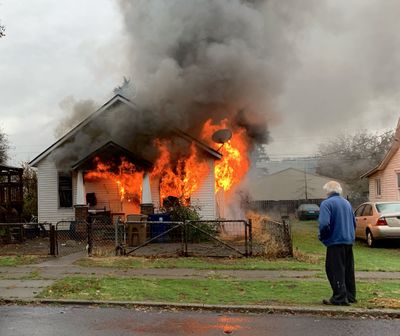 Over the course of two hours Friday morning, 19 Spokane firefighters fought a house fire so large, Spokane Fire Chief Brian Schaeffer said it was "significantly" visible from Interstate 90 as he approached.
"In terms of the fire behavior, it was fairly unique," Schaeffer said.
It burned fast. An occupant of 2716 East Pacific Avenue called 911 Friday saying they had a small kitchen fire. The fire department was there in minutes and by the time they arrived, the house was fully involved in flames, Schaeffer said.
The fire at the two-bedroom home sent a plume of smoke reaching dozens of feet into the air above East Central.
"The residence got serious damage throughout," Schaeffer said. "Heavy damage."
No occupants died, though one had minor injuries, Schaeffer said. Pets lived at the residence, but as of Friday evening, the fire department was still trying to determine whether the pets were home during the fire.
The cause was still under investigation as of Friday evening, Schaeffer said. The home did have a smoke alarm.
Local journalism is essential.
Give directly to The Spokesman-Review's Northwest Passages community forums series -- which helps to offset the costs of several reporter and editor positions at the newspaper -- by using the easy options below. Gifts processed in this system are not tax deductible, but are predominately used to help meet the local financial requirements needed to receive national matching-grant funds.
Subscribe to the Coronavirus newsletter
Get the day's latest Coronavirus news delivered to your inbox by subscribing to our newsletter.
---