Marketing > EVERCANNABIS
Pandemic protections continue at cannabis retailers
Fri., Nov. 6, 2020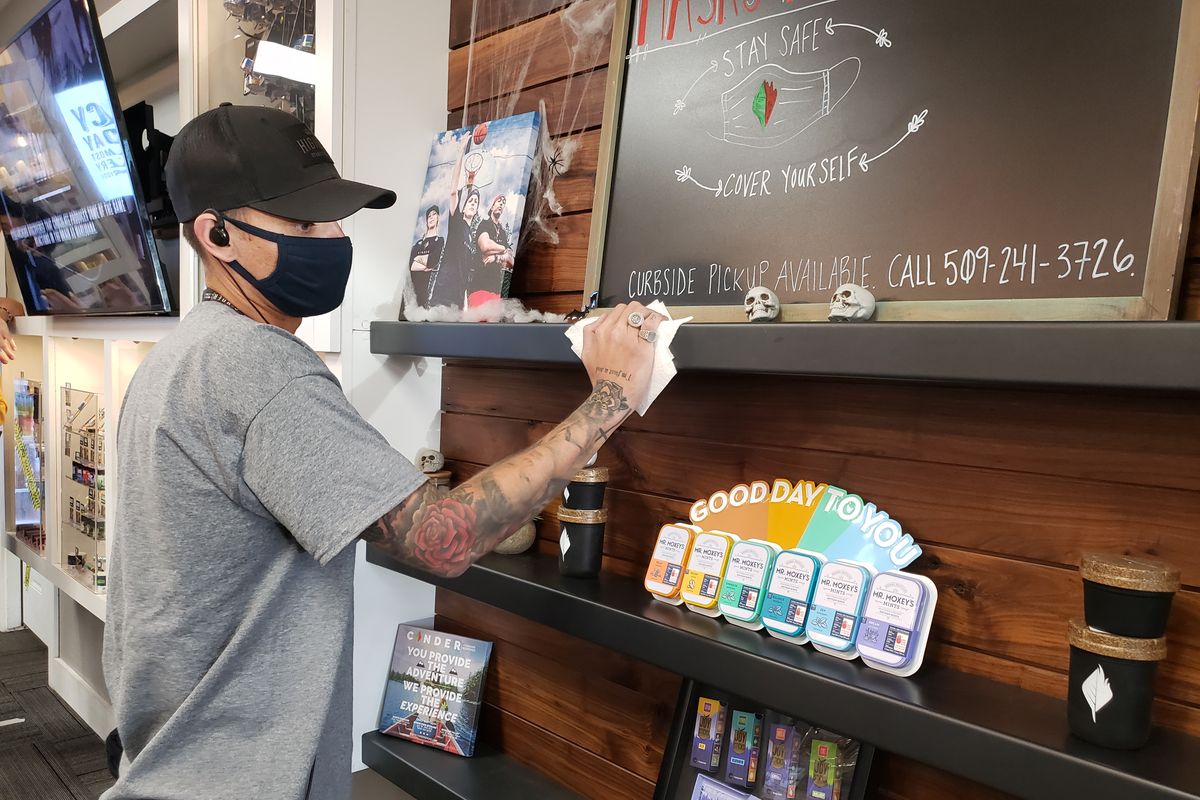 Scott Bigelow provides frequent surface cleaning as demand for cannabis keeps business booming during the pandemic at Spokane Valley Cinder. (Joe Butler / EVERCANNABIS)
There's no denying COVID-19 has turned our world upside down.
Deemed essential, the cannabis industry has had the good fortune of moving forward, with shops statewide open and business booming.
Shops do have to follow Gov. Jay Inslee's "Stay Home, Stay Healthy" rules, including face coverings for staff and patrons, and there are a variety of other restrictions that budtenders had to learn in a hurry.
Jake Whitman, manager of downtown Spokane Cinder, said that initially he and the staff received a bit of pushback from customers about the requirements of wearing masks. Now the shop has disposable masks on hand for those who forget or don't bring one along.
At the beginning of the pandemic, he said Cinder had a senior hour the first hour the store was open, from 8 to 9 a.m. But as the weeks went on it proved to be awkward, because there wouldn't be any customers in the store at that time, but a line outside of non-senior customers, so the senior hour was scrapped.
There were other pandemic-related problems that occurred at other shops around Washington. Green Entrepreneur in Seattle reported a customer coughing at an employee for enforcing the time limit, and another customer was observed spitting in the direction of a supervisor. Kush 21, another Seattle-area store, reported fights at its store when customers were asked to wear masks.
Jane Shipman, office manager at Satori, now POM Cannabis, recalled an unusual incident where a customer wearing a mask was very angry because another customer who said he had a medical exemption was not wearing a mask. However, businesses are not allowed to question a patron about their medical exemption. She said they had more pushback at the beginning of the pandemic.
To accommodate customers who don't want to or can't wear a mask, many cannabis retailers, including Cinder and POM Cannabis, offer curbside pick-up. This previously unallowed policy was approved by the Washington State Liquor and Cannabis Board in spring.
Brian Smith, LCB spokesman, said prevention groups such as the Washington Healthy Youth Coalition were initially concerned about youth access with curbside delivery, especially the possibility that store employees wouldn't perform adequate ID checks to outside customers.
Shipman said POM staff vigorously checks IDs for curbside pick-up. She said no one under 21, even an infant, can be in the car during a pick-up.
Leafly, a national cannabis directory, reported that several dispensaries across the country have switched to curbside pick-up to limit the amount of people in a store at any given time. Some stores are using infrared thermometers for temperature checks of staff and customers.
Since this is still a fledgling industry, adaptability is a core trait, said Sabrina Fendrick, chief public affairs officer at the Berkeley Patients Group cannabis store in California. The group is adapting to this strange new normal. Staffers are discouraged from shaking hands, fist bumps or any other contact.
A San Francisco dispensary has added more than a dozen new air purifiers in its store, in addition to staff wearing masks and installing HVAC ultra-violet lights to prevent the recirculating of germs.
One concern is the possible transmission of infection through paper money and coins. Since the legal cannabis industry is generally locked out of the banking system, cash only is currently the only option. A dispensary in Oakland has begun using trays to transfer money, instead of budtender hands. In Washington, most budtenders wear latex gloves as personal protective equipment.
Another interesting part of the new situation is customers wanting to talk more to their budtender when they come to shop. Shipman said many customers consider their budtender as a bartender or quasi-therapist; they just want to talk to someone, and a lot of people are just lonely or not feeling good about the world right now. But if it's busy, she said most customers are less inclined to stick around and chat because they respect the budtender's time.
Linda Ball is a freelance journalist based in Washington State who has covered a variety of topics including environmental issues, city hall, arts and entertainment, education, human interest stories and now the rapidly-changing cannabis industry.
Local journalism is essential.
Give directly to The Spokesman-Review's Northwest Passages community forums series -- which helps to offset the costs of several reporter and editor positions at the newspaper -- by using the easy options below. Gifts processed in this system are not tax deductible, but are predominately used to help meet the local financial requirements needed to receive national matching-grant funds.
Subscribe now to get breaking news alerts in your email inbox
Get breaking news delivered to your inbox as it happens.
---