News > Pacific NW
Despite a "slew of weather hazards" Sunday, typical fall weather forecast ahead
UPDATED: Sun., Nov. 22, 2020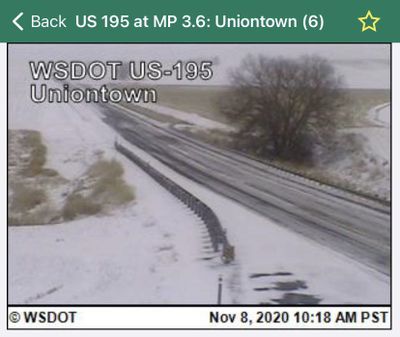 Wintery weather blew across the Inland Northwest on Sunday spreading a dusting of snow in Spokane and disrupting traffic in the region with accidents and road closures.
"We have a slew of weather hazards going on," Valerie Thaler, meteorologist at the National Weather Service Spokane, said on Sunday.
U.S. 195 was closed near Uniontown between milepost 20 and 25 in both directions for several hours due to multiple collisions. The road fully reopened just before 1 p.m., according to the Washington Department of Transportation.
In the Idaho Panhandle, Lookout Pass and portions of U.S. 95 were a bit icy.
Blowing dust advisories and winter weather advisories in the areas surrounding Spokane were extended until midday Sunday.
Sunday night was expected  to be the coldest of the week as the weekend's weather pattern moved out.
The Department of Transportation reported Sunday night there were multiple crashes on Interstate 90, State Route 904 and U.S. Highway 2, as melting snow began to freeze and make roadways slick. 
Monday is expected to be a "quiet weather day for the area," Thaler said.
Temperatures are forecast in the high 30s for the beginning of the week, with Monday's high at 37 degrees.
The morning commute Tuesday could be dicey in some areas, Thaler said. 
"We're not expecting huge snow accumulations for Spokane, but because the bulk of the accumulation is going to be in the morning hours that could make for a messy commute," Thaler said.
Winds will increase a bit Tuesday with some gusts,  Thaler said. Temperatures throughout the week are expected to warm into the 40s, with a high of 42 by Friday. Average highs for this time of year are in the low 40s, Thaler said.
Another weather system is expected to arrived in the area on Thursday, bringing more precipitation through the weekend.
Local journalism is essential.
Give directly to The Spokesman-Review's Northwest Passages community forums series -- which helps to offset the costs of several reporter and editor positions at the newspaper -- by using the easy options below. Gifts processed in this system are not tax deductible, but are predominately used to help meet the local financial requirements needed to receive national matching-grant funds.
Subscribe to the Coronavirus newsletter
Get the day's latest Coronavirus news delivered to your inbox by subscribing to our newsletter.
---