Sports
A Grip on Sports: On an eventful Saturday, just playing may have been enough for Washington State, but an upset in Corvallis made it even better
Sun., Nov. 8, 2020 A GRIP ON SPORTS • Football. Not just any football, Washington State football. On a Saturday night. Cougar fans, did you wonder if you would ever have that experience again? Wonder no more. And revel in the result.
•••••••
• Nick Rolovich is 1-0 wearing a WSU coaching shirt. And 1-0 in a mask. And 1-0 with Jayden de Laura as his starting quarterback.
As John Blanchette points out accurately, all those things are related.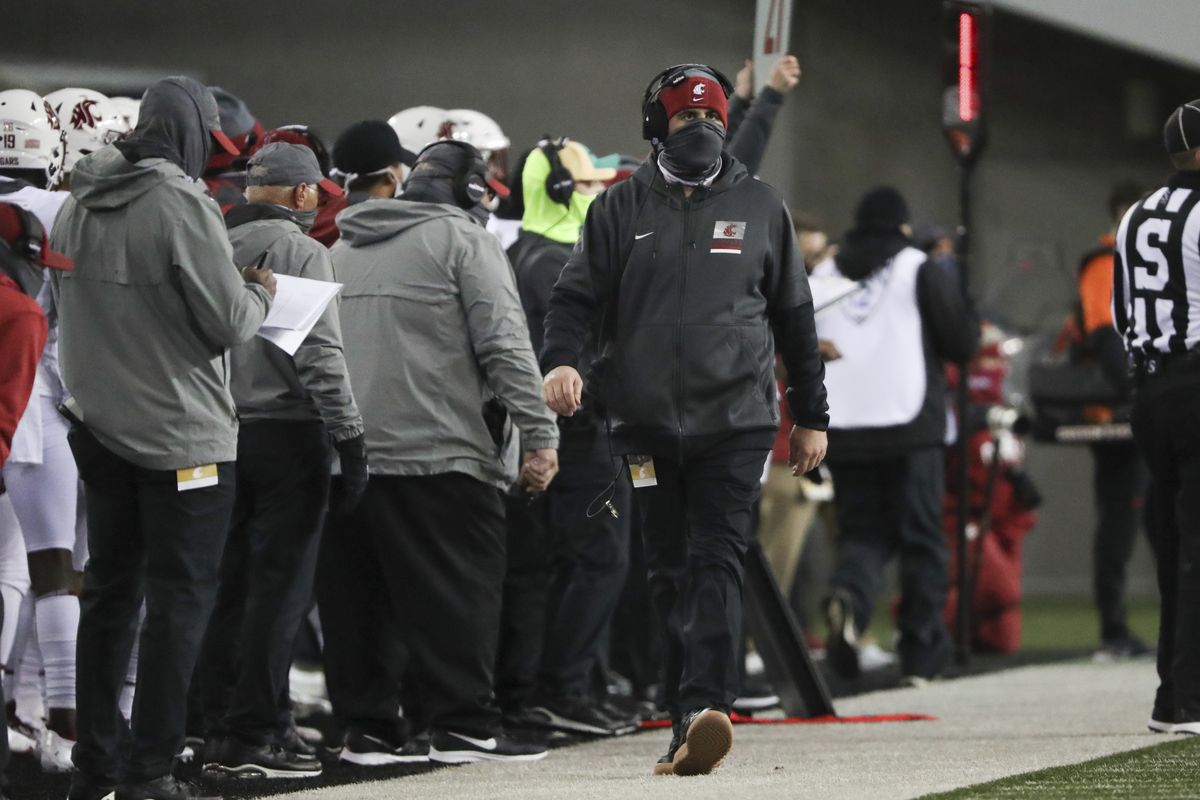 The Cougars were the more polished team last night in Corvallis and that polish is what put the shine on their 38-28 victory over the favored Beavers. That seems almost impossible to believe, but, one winning week in, Washington State fans are willing to believe just about their team every year, good or bad. So why not in this pandemic-addled one?
If you took issue with the phrase "almost impossible to believe," so be it. But we have evidence.
Rolovich was hired to replace Mike Leach about 300 days ago. In that time, he had little-to-no personal contact with his players until fall practice began. No spring football. No summer chats. Nothing. He also brought in a new staff and it was faced with dealing with the same leaky boat.
Rolovich had to pick a starting quarterback, the most important position on the field and crucial to the run-and-shoot offense's success. He picked a true freshman, de Laura, maybe the first time in history a Washington State coach made that choice.
Then, sometime this week at practice, his best returning player, running back Max Borghi, went down with a back injury of unknown severity. Talk about putting a crimp into a game plan.
The defense? We come to find out after the game the Cougars were missing 31 players in total and many of them – though Rolovich was reticent to talk about it – were from that side of the ball. No matter. That group looked as organized as any Cougar defense since Bill Doba was in town. Players were in the right place at the right time more often than we've seen in 15 Pullman years.
Oregon State faced many of the same obstacles, except Jonathan Smith has been in town about 365 days longer – this time – than Rolovich. The Beavers, though dealing with losses on both sides of the ball, were not dealing with a complete overall, a la Washington State.
You would never have known it watching from afar, as almost all of us did.
What you saw was a Cougar team that looked crisp on offense, defense and, maybe the most surprising of all considering WSU's history, special teams.
It was only one game, sure. But it was a heck of a game.
•••
WSU: At least one person I know was in Corvallis. That would be Theo Lawson, whose byline appears on much of our coverage. (A quick aside: The Spokesman-Review's deadlines are such these days, a 7:30 game finishes after the paper has to be locked up. Almost every Washington State story we link here only appeared online today, so here's your initial chance to catch the reporting.) He has his game analysis, his difference makers, coverage of how the Cougars honored one of their own, the importance of a walk-on and the Borghi news. … We linked John's column above, but here it is again. … We watched from afar, like everyone, and had our thoughts on the TV coverage. … The guys in the office (though not literally right now) put together this recap with highlights. … We found some photos and a game story out of Corvallis as well as game coverage in The Oregonian. As can be expected, the domination was unexpected by the Beavers. … Around the Pac-12 and college sports, before we get to the games that were played, those that weren't have consequences and those consequences may extend long past this week. … The initial Saturday of the season began early, with USC waiting until late to rally past an upset-minded Arizona State team. The Coliseum looked weird empty, and the Trojans didn't look sharp. But the Sun Devils couldn't cover an onside kick and that ended up giving USC a final chance. … UCLA traveled to Colorado bearing gifts for its host. Lots of gifts. After falling down so many points that only could be overcome in Pullman, circa 2019, the Bruins fell to the Buffs and former coach Karl Dorrell. … Stanford didn't bring the heart of its offense to Eugene, which not only helped the Ducks win their opener, it allows everyone to continue to wonder just how good Oregon may really be. It travels to Pullman next week. Stanford is still a mystery too. … In basketball news, Arizona will feature a different skill set among its bigs.
Gonzaga: In the spirit of transparency, I was a walk-on athlete in college. I had one scholarship offer but declined it. Instead I tried to earn a spot at UC Irvine. After a small hiccup, I was successful. So I completely endorse this Jim Meehan story on GU's group of five walk-ons present this season. … Jim also updates the status of a former manager-turned-walk-on, Brian Pete.
EWU: Ryan Collingwood has another installment in his look at Eastern's national championship run. This week, the win over Idaho State.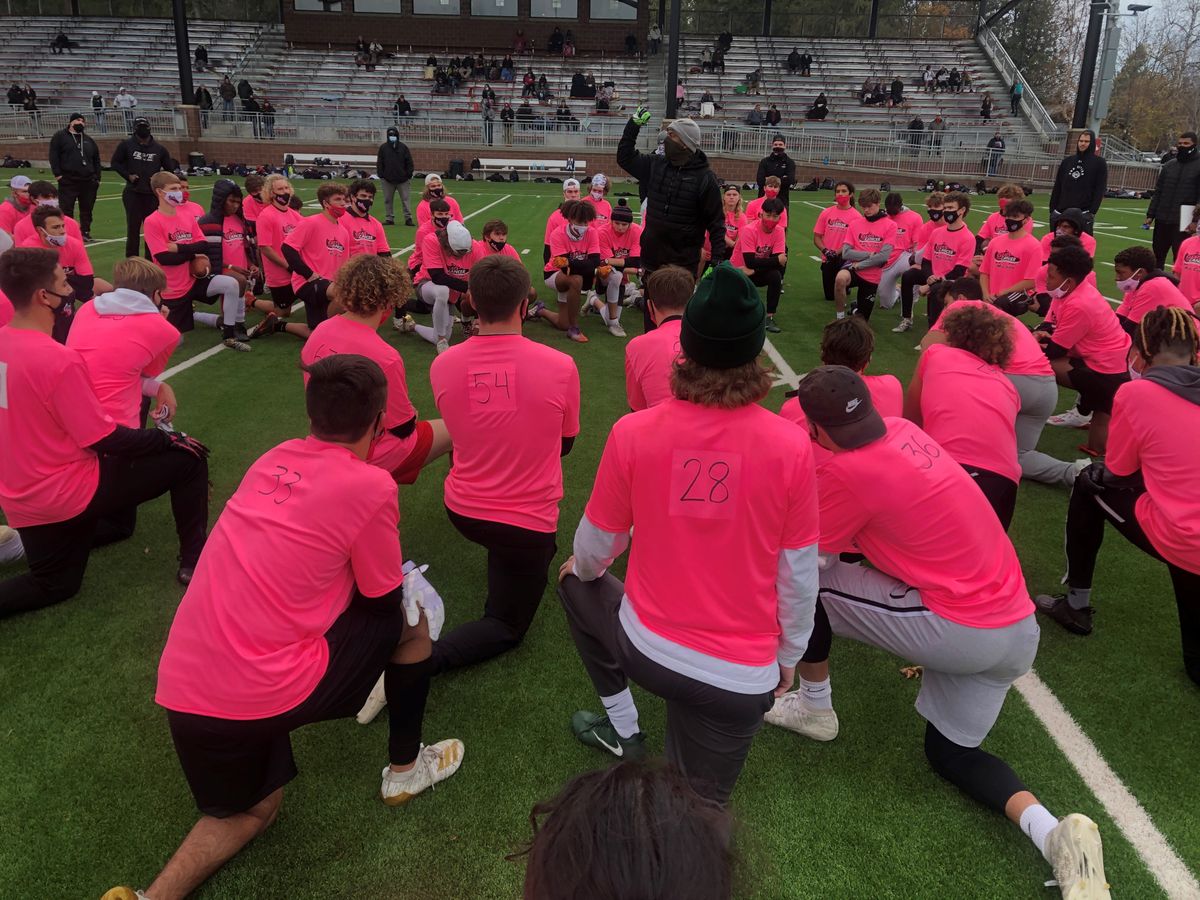 Preps: Spokane schools aren't allowed to participate in the WIAA's newly created preseason practice season in football (or basketball, and a couple other sports, for that matter). But some Spokane players were participating in football drills yesterday in Idaho. Our Ryan  was there and has this story.
Seahawks: Today will be Russell Wilson's first appearance in Buffalo, though not his first time playing the Bills on the road. … It will be an intriguing test for the Hawks. … They made a few Saturday roster additions, which is the norm. … DK Metcalf has yet to act like a diva (if you ignore that one play against Dallas).
Mariners: Should the M's add a starting pitcher via the free agent market? Of course, if they can. They need one or two.
•••       
• Have I ever said I'm not a real fan of late-night football? If I haven't, consider this your notice. When you eat your dinner at 4:30, 11:30 is way too late for a college football game to be ending. Heck, when you eat your dinner at 8:30, as I did last night, it's still too late. How about a decent time for the start of next Saturday's game? Wait, what? The Masters will be on? It will be moving day? OK, the game can start after 4:30 p.m. I give that my blessing. Just this once. Until later …
Local journalism is essential.
Give directly to The Spokesman-Review's Northwest Passages community forums series -- which helps to offset the costs of several reporter and editor positions at the newspaper -- by using the easy options below. Gifts processed in this system are not tax deductible, but are predominately used to help meet the local financial requirements needed to receive national matching-grant funds.
Subscribe to the sports newsletter
Get the day's top sports headlines and breaking news delivered to your inbox by subscribing here.
---