News
Moving forward: Spokane County health board acknowledges work ahead of them after dismissing health officer
Sun., Nov. 8, 2020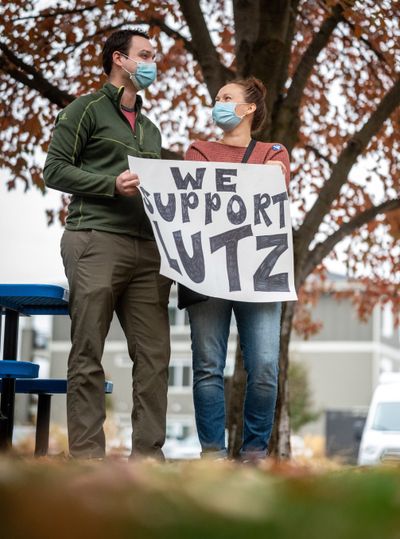 Another wave of COVID-19 is pounding the Inland Northwest, infecting thousands as outbreaks are seemingly everywhere including long-term care facilities.
Spokane County now has one of the highest incidence rates in the state at 282 cases per 100,000 residents in the last two weeks. It's a number that dampens hopes of further reopening the economy and returning all students to classrooms anytime soon.
It was against this backdrop and a tumultuous election week that the Spokane Regional Health District Board of Health, at the urging of administrator Amelia Clark, fired health officer Dr. Bob Lutz.
Lutz had been the face of the public's fight against the pandemic since the start. He was on television and in newspapers daily giving the latest details of COVID-19. He had met privately with scores of agencies, businesses and schools to explain regulations and restrictions.
Since his Thursday night firing, health district employees continue to respond to the pandemic. Epidemiologists have been busy with high daily case counts for the last month. Since Oct. 1, for example, there have been 18 days with more than 100 cases confirmed.
After a week of uncertainty surrounding Lutz, the health board sought to calm the turmoil and appointed an interim health officer .
Dr. Francisco Velázquez began working for the health district at least until December, when the SRHD Board of Health meets again.
The events of last week are not likely to melt into the past, however, with administrative and legal challenges ahead.
It's not over
After the board's vote to fire Lutz, community members, academics and health care workers filed or joined complaints with the State Board of Health.
There are four complaints pending against Clark alleging she broke state law. Specifically, they cite law that says in order to terminate a health officer, notice must be given, as well as an opportunity for a hearing before the board.
The complaints allege Clark broke this law by first firing Lutz on Oct. 29, locking him out of the district before the board had met Thursday.
The state health board meets on Monday to decide whether the complaints warrant a preliminary investigation could result in the board closing the case, asking Clark to "remedy the failure" or, if necessary, calling a hearing.
Lutz continues to sit on the state health board as he still serves as the health officer for Asotin County. If he attends the Nov. 9 meeting, he will recuse himself from the issues pertaining to his dismissal.
Meanwhile Lutz could pursue legal action. In a statement provided through his attorney, Bryce Wilcox, Lutz said he "will pursue all claims and remedies available to him under the law for SRHD's wrongful termination."
Long unaddressed personnel issues
Member of the local health board noted during their special meeting Thursday that they will need to do some soul-searching after last week's chaos, caused in part by multiple miscommunications between members and Clark.
Many board members were not aware that Clark was going to ask for Lutz's termination last week, thinking a corrective action plan or other remedy might be sought. Clark asked Lutz for his keys instead.
At Thursday's open special meeting, Clark disclosed a list of documented incidents to board members to support her decision to ask them to fire Lutz. From insubordination to promising people jobs at the district, Clark made her case to board members that Lutz's conduct warranted dismissal.
Lutz disputed many of these incidents, in some cases with supporting evidence from employees involved, leaving board members to confront an underlying issue they knew had been brewing for months.
Clark was Lutz's boss under health district bylaws. However, those bylaws get no clearer or more detailed than: "The Board of Health shall approve the appointment and termination of a District Health Officer. The District Health Officer shall be a qualified physician trained and experienced in public health. The Health Officer shall report to the Administrator."
After testimony and documentation provided for the special meeting, it's clear that Lutz and Clark have had "personnel issues" almost from the moment she was hired 14 months ago. Clark mentioned several incidences of Lutz not keeping her in the loop nor asking for her approval before doing things such as penning opinion columns in The Spokesman-Review related to the local COVID-19 response plans.
Lutz does not like such micromanagement he acknowledged in his response to Clark's six-page letter detailing the incidents.
Even before Clark was hired, a 2018 performance review of Lutz applauded his enthusiasm and community engagement but said his internal approach was at times "problematic."
Former Administrator Torney Smith wrote that Lutz sometimes approached staff members without discussing it with their managers first, leading managers to feel "back-doored" and staff to feel torn between current work assignments and requests from the health officer.
"It is important for you to assure your actions engage managers before staff to avoid these circumstances. This also requires you to be aware of and set boundaries in your role as the health officer and not as the manager," reads the November 2018 performance review, which was released as a part of Clark's exhibits.
Spokane County Commissioner and district board member Al French, who made the initial motion to fire Lutz, said Clark had done exactly the job she'd been hired to do.
"She's doing exactly what we've wanted her to do," French said. "She's done a number of things that have made the organization more responsive and more accountable."
Millwood mayor and health board member Kevin Freeman said Clark was expected to dive into issues at the district from financial to personnel, including outstanding problems with Lutz.
Clark told members Thursday she had entered the Oct. 29 meeting with Lutz and board chairman Ben Wick with a plan to correct what she saw as Lutz's insubordinate behavior. Instead she asked for his resignation and handed him a severance package to sign. He was told to leave the office.
This was not the first tense meeting between Clark and Lutz.
Board members were aware that the relationship was strained, so much so a meeting with the two was called in June along with Wick and vice chairwoman of the health board County Commissioner Mary Kuney.
Those meetings produced no tangible action plans to resolve the conflicts. Kuney said Thursday the takeaway from those meetings was that Clark and Lutz really needed to find a way to work together.
"I felt strongly that I needed the two of you to work together, and we shouldn't need a facilitator for our top two employees," Kuney said. "I didn't think that was a good use of public funds."
Both Wick and Kuney have not returned multiple requests for comment in the last week.
Some board members echoed Kuney's sentiments throughout the meeting, saying that two adults should be able to work out differences. The board is responsible for Clark's employment as well, however, leading others to believe they should have intervened sooner.
Spokane City Council President Breean Beggs said a facilitator should have been hired to try and fix problems between Lutz and Clark. The idea was discussed with the health board executive committee, which includes Beggs and Freeman.
"I said at the time, 'Well, we should do it. It's better to invest that money now than what could happen if we don't,' " Beggs said.
He didn't pursue the idea, however, or bring any proposal to the full district health board.
"Looking back, I should have advanced it to the full board, but I didn't know how bad it was," Beggs said.
On Thursday, Beggs asked the top two health district officials if they would be open to facilitation or counseling now. Lutz was open to it. Clark said she would need to think about it.
"I think it's important that at the health district that the administrator and health officer be on the same page," Clark told the board. "Unfortunately, I also think that trust is an important part of leadership, and the trust bridge between Dr. Lutz and I is burned."
'We didn't do our job'
A handful of board members acknowledged that they need to dig deeper into their bylaws after the last week.
Freeman, in his statement before voting to terminate Lutz, placed the blame solely on the board.
"The board didn't do their job, and we didn't do our job by working on these two individuals in high-level positions," Freeman said, noting the board's failures to take steps to hire facilitators or coaches for their top leaders to work through their differences.
Beggs, who last year served as chair of the board of health, said there is nothing underwriting the board bylaws, which essentially establish a chain of command but little more. This sets up a challenge for both the administrative officer and health officer, who have roles established in state law but not board bylaws.
"The challenge I see in this situation is that the administrator and health officer see their lanes differently, and where they come close to each other they presume the other should be control," Beggs said.
He said the health board needs to clearly define those roles to avoid a repeat of such a scenario.
"How do we make sure we don't get here again? The problem is if people come out of the narrative that Dr. Lutz is just unsupervisable, then we have not advanced at all – we will be right back there again," Beggs said.
Beggs, Spokane City Councilwomen Betsy Wilkerson and Karen Stratton, as well as Jason Kinley, all voted against the termination of Dr. Lutz.
Wilkerson released a statement Saturday raising concerns about some of Clark's issues with Lutz, including the doctor publishing op-ed pieces in The Spokesman-Review, marching in support of Black lives and vocally sharing opinions on "controversial" topics.
"Personally, I have worked with Dr. Lutz and found him to be an ally that has helped me address issues like health disparities in communities of color," Wilkerson said.
"To be transparent, it is no secret that Spokane is a highly conservative county including parts of our City with an extremely small minority voice, and to have an ally such as Dr. Lutz, I feel it is my responsibility and loyalty to voice my support of Dr. Lutz in the face of an unjust and grossly inappropriate public termination."
In the meantime, board members fully anticipate lawsuits.
Stratton said the board could have done more to prepare Clark for the meeting during which she decided to seek Lutz's firing, calling it "a hard situation to put someone in."
"Two people paid the price for it," she said.
Moving forward
Clark and Velázquez, the interim health officer, will have to convince many employees that they can lead the district effectively following a tumultuous week.
Many health district employees, including at least three epidemiologists in the throes of responding to skyrocketing case counts, supported Lutz and urged board members to retain him and ask Clark to reconsider her position.
On Thursday, 121 members of the 176 ProTec 17 union that represents health district workers, submitted a vote of no confidence in Clark, asking the board to fire her instead of Lutz.
Following the decision to terminate Lutz, SRHD employees expressed disappointment, anger and sadness, according to union leaders.
Beside eight board members who voted to terminate Lutz, two loud voices have applauded the move: Spokane County Sheriff Ozzie Knezovich, in a letter French read as he introduced his motion to fire Lutz, and Spokane Mayor Nadine Woodward.
In an interview with The Spokesman-Review on Saturday, Woodward described how the county's initial response to the pandemic was "impactful for the region." But since the county Emergency Operations Center (EOC) disbanded, there has since "been a breakdown of that collaborative work when we were together almost every single day."
"Even while we were in the EOC I saw an unwillingness from Dr. Lutz to work with the city and to be a team player," Woodward said. "I'll take some of that blame. Working together is a two-way street, it goes both ways, and I think we failed to do that."
Woodward was one of several area leaders to press for advancement to Phase 3 of Gov. Jay Inslee's reopening plan in June, only to be rebuffed by Lutz. But that does not excuse a breakdown in their relationship, Woodward said.
"We need to continue to have these discussions. We may not agree on everything, but that's why you have discussions," she said.
French repeated that his decision for supporting Lutz's termination did not have to do with the current status of Spokane County in the economy reopening plan, a status he noted has been determined by Gov. Jay Inslee, not the health district or its officer.
"Lutz doesn't control that. He's obviously part of the process, but the governor set a bar that no one can hit, and the entire state is in a standstill," French said.
Board members pointed to the need for more transparency after the community outcry in the last week.
"We start with transparency, setting out clear rules and guidelines and following them," Beggs said. "You start with that. Even though people want to start ahead with the outcomes, the only way we will rebuild that is to say what you're going to do and do what you're going to say."
Beggs is hopeful that the board can find its way back to transparency going forward.
"It's just a really bad time to have such a setback," Beggs said.
S-R reporters Rebecca White, Kip Hill and Adam Shanks contributed to this story.
Local journalism is essential.
Give directly to The Spokesman-Review's Northwest Passages community forums series -- which helps to offset the costs of several reporter and editor positions at the newspaper -- by using the easy options below. Gifts processed in this system are not tax deductible, but are predominately used to help meet the local financial requirements needed to receive national matching-grant funds.
Subscribe to the Coronavirus newsletter
Get the day's latest Coronavirus news delivered to your inbox by subscribing to our newsletter.
---