Millions spent on legislative races but not much change expected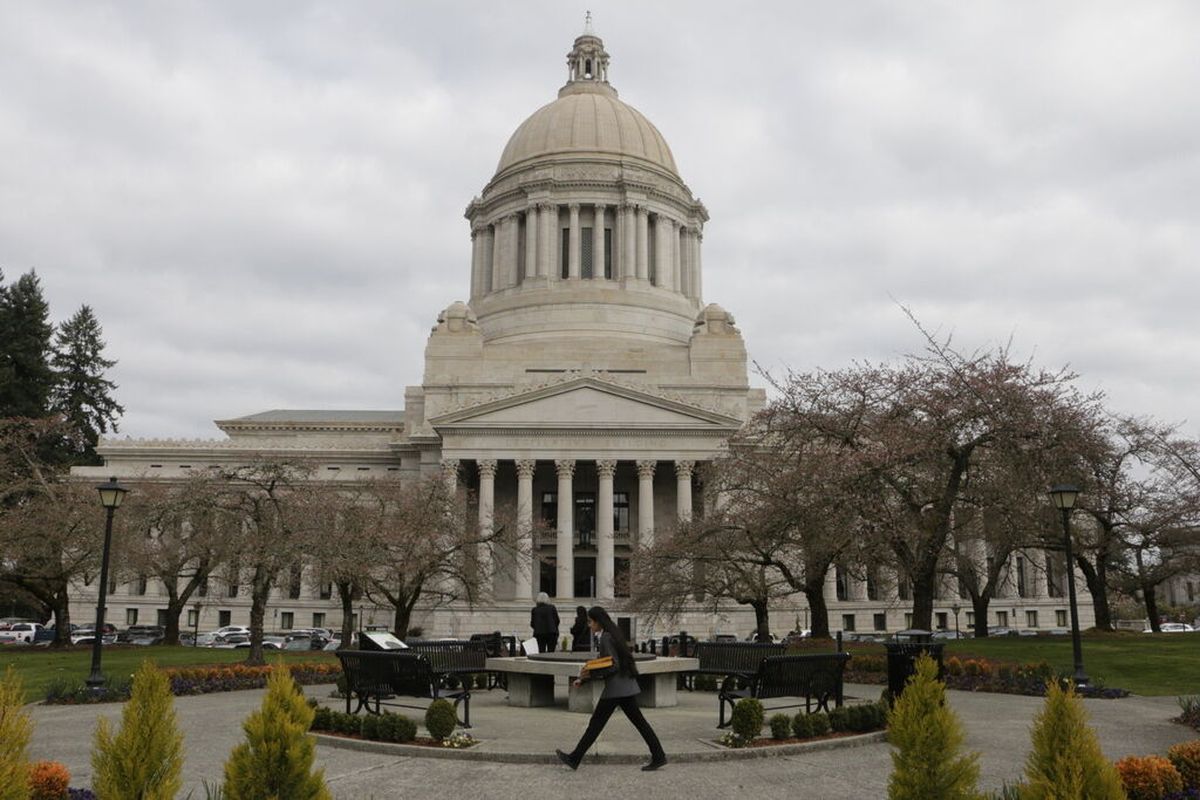 How much partisan change can you get for $41.2 million? If you were spending it on Washington legislative candidates this year, the answer: "Not much."
With only a few races so close they aren't mathematically certain, the Legislature will likely have 57 Democrats and 41 Republicans in the House of Representatives in 2021 along with 29 Democrats and 20 Republicans in the Senate. One Senate Democrat, Tim Sheldon, caucuses and often sides with Republicans, so partisan votes usually come out 28-21.
Those are the same partisan splits as the last two years.
In both chambers, each party lost a seat and gained a seat. Democrats lost longtime members who were among their caucus's more moderate and replaced them with more progressive newcomers; the incoming Republicans appear to be as conservative as the outgoing ones.
"To have both chambers remain the same is odd," House Minority Leader J.T. Wilcox, of Yelm, said. After the 2016 election, the House split remained at 50-48, he noted. One Senate seat changed hands that year but that was enough to move the majority from the Republicans to the Democrats.
According to reports filed with the Public Disclosure Commission to date, at least $41.2 million was spent by candidates and independent groups on this year's legislative campaigns. The campaigns themselves spent about $26.5 million, with the remainder being independent money almost evenly split between efforts for or against candidates in close races.
"Wow!" said Wilcox when told of the totals. "There is a point, very much below that, where you get diminishing returns."
After about $400,000 in most races, the extra money usually doesn't make a difference, he said: "I can't think of one race where we could've won if we had another $100,000."
Although the partisan splits likely will remain the same in both chambers, there were changes in members as empty seats were filled with new faces, House Majority Leader Pat Sullivan, of Covington, said.
"Elections are expensive," he said.
Nearly $11 million, or roughly a fourth of the current total, was spent on just three Senate races. But one of those won't change the partisan makeup of the chamber because it involves two Democrats, incumbent Mark Mullet and challenger Ingrid Anderson. Mullett is currently ahead by 101 votes.
The other two races resulted in an even swap. Republican challenger Jeff Wilson beat long-time legislator Dean Takko, a Democrat who spent 10 years in the House and six in the Senate, in a district that covers Washington's southwest corner. Democratic challenger T'wina Nobles is about 1,000 votes ahead of Republican Sen. Steve O'Ban, an eight-year veteran, in a suburban Pierce County district.
Nearly two weeks remain for ballots to arrive by mail and be counted if they are postmarked on or before Nov. 3. Two House seats – one with a Democrat leading and one with a Republican leading – are mathematically close enough that a recount could be required.
Along with the Mullett-Anderson race and the Nobles-O'Ban race, Republican Sen. Ron Muzzall is 1,645 votes ahead of Democratic challenger Helen Price Johnson in a race in a north Puget Sound district. He was behind on election night but caught up and passed her in later tallies.
Although Mullett winning the 5th District Senate race in suburban King County won't change the partisan split, it would create an interesting dynamic for the 2021 session. Gov. Jay Inslee endorsed and campaigned for Anderson against an incumbent in his own party.
Inslee said he supported Anderson because of her experience in health care and support of efforts to fight climate change. Mullet said it was because he pushed for a special session, which Inslee resisted. He also has a more conservative voting record than many Senate Democrats.
Endorsing the challenger "was unusual for sure," said Sen. Andy Billig, of Spokane, who was re-elected Senate Majority Leader Monday. If Mullet wins, Billig said it will be a sign his suburban King County district's voters have confidence in his judgment.
"Many of the times he is in line with supporting the progressive vision of the caucus," he said.
In losing Takko, Senate Democrats lost "an important voice for rural and coastal Washington, who also had local government experience, Billig said. With Nobles, they gained "a dynamic, thoughtful person whose going to be really effective," he added.
Senate Democrats will remain a progressive caucus with a diverse membership "that looks like our state as a whole," he said. Nobles would become the only Black member of the Senate, joining others who are Asian-American, Latina and LGBTQ members.
Senate Minority Leader Mark Schoesler, of Ritzville, said he believes even with a Mullett victory, Senate Democrats will be more liberal, losing one of their more conservative members in Takko while gaining Nobles, the CEO of the Tacoma Urban League, educator and school board member.
"They will lean to the left on taxes," Schoesler predicted.
Senate Republicans lose O'Ban's expertise on issues like mental health and the fight over Sound Transit and car tabs. With Wilson they gain someone with business experience and five years experience serving on the board for the Port of Longview.
The Pierce County district where Nobles outpolled O'Ban has been changing, too, Schoesler said. It includes Joint Base Lewis McChord, parts of Lakewood, University Place and Tacoma. It had been a suburban swing district since 2007 and solidly Republican before that. Now it has three Democratic legislators.
The southwest Washington district where Jeff Wilson easily beat Takko was clearly getting more conservative, Schoesler said. Longtime Democratic Rep. Brian Blake was also defeated, and the district will send three Republicans to Olympia for the first time since 1935, when it was located farther north on the Olympic Peninsula.
House Majority Leader Sullivan said Blake's loss removes a veteran legislator from a rural district, but he doesn't believe the caucus overall will see a significant change.
"It's still a broad caucus with a wide variety of views," he said.
Only two districts are  on track to send a delegation to Olympia that doesn't consist of three Democrats or three Republicans.
The 10th District, which covers parts of Snohomish, Skagit and Island counties, is where Republican incumbent Muzzall has been increasing his lead over Democratic challenger Johnson for most of the last week. In the House races, incumbent Democrat Dave Paul has an 812-vote lead over Republican challenger Bill Bruch; Republican Greg Gilday has an 804-vote lead over Angie Homola for an open seat.
In the 42nd District, to the north in Whatcom County, Republican Rep. Luann Van Werven is some 2,000 votes down to Democratic challenger Alicia Rule while Democratic Rep. Sharon Shewmake is comfortably ahead of her Republican challenger, Jennifer Sefzik. But the district will keep its partisan split with Republican Sen. Doug Ericksen, who wasn't up for election this year.
In the 35th District, the House members are both Republicans; Sen. Tim Sheldon runs as a Democrat but caucuses with Republicans.
Editor's note: An earlier version of this story failed to report the 42nd District has a delegation with members of both parties. 
---