Marketing > EVERCANNABIS
Strain of the Month: Where's My Bike?
Wed., Nov. 11, 2020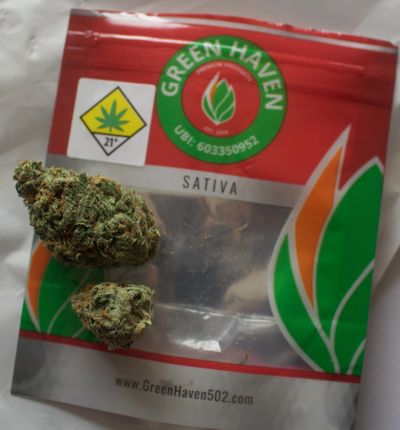 Let's say that you've just rolled a good one to light up after reaching a certain discreet point on your afternoon pleasure bicycle ride. You stop and sit back beneath a tree facing the beautiful off-trail view and have a few good puffs. Faster than you think, you're surprised to see that the joint is practically already half smoked and that the missing half is in your head.
Maybe it was five minutes, maybe it was 45 minutes, but you're suddenly brought back to reality with the flash of "How did I get here? Oh, yeah, my bike." You might wonder where your bike is, but realize that you're probably better off not operating any type of machinery at all right now. But you'll have to get home eventually. "Wait, how did I get here again? Oh, yeah …"
All this could take place after trying Where's My Bike, an especially potent strain grown by Green Haven Premium. We're not talking total amnesia but your mind could possibly wander freely into thoughts funny and profound. Like "Where" could easily be replaced by "When"? As in, when did that happen? "What"? What was I just thinking? Oh yeah…"
This is probably one of the most potent strains I have tried in the last few years of reviewing the legal offerings of our state. The body high alone is enough to keep you still to appreciate a growing relaxation. What could be bad about forgetting the hard day's work you just put in? This strain is fine to enjoy on your own, but two or more people on the same wavelength could reach some outrageous heights.
Appearance: The two nice full buds making up this gram bag were tight clusters trimmed closely. What remained was a smooth, fine covering of medium green highlighted by many undamaged orange pistils. Buds were all evenly encased in mostly clear trichomes. What I've found in many buds trimmed down this far is they tend to be hard, dry and rock-like. These specimens were very solid but with a little give to them and dried perfectly to where they didn't crumble or break to a light touch. This is something nice to discover but unfortunately with packaging you won't find what you have until you open it up. Walking into 2020 Solutions in Ephrata, I asked the two young budtenders for a gram of something good and fresh and they almost collided in going for "Where's My Bike" by Green Haven. Good job, guys.
Aroma: A bright yet not overpowering lime strikes upfront first with a certain sweetness hinting of nectar or a lime jellybean. Lingering behind these initial scents is a peppery floral, more like a mustard or arugula flower than a sharp black pepper. The aroma alone is enough to bring on uplifting sensations.
Effects: You would have to build up quite a tolerance to this strain if you wanted to go about your usual daily routine after partaking. It's a powerful stone that shouldn't be resisted once the high 25% THC begins to kick in. If forgetfulness comes, embrace it and soon that lost thought will slip away into something new. If you are an Alpha personality type who expects to always be in control this might not be the best strain for you. But if the sensation of a hazy wonderment sounds enjoyable, have at it and let it all go. And don't forget: Mix and mingle, but stay spaced out.
Rick Misterly is a Washington resident whose interest in cannabis dates back to the 1960s and has taken him around the world. He's the cannabis and hashish curator for Green Barn Farms in Addy and writes the "Rick's World of Hashish" blog.
Local journalism is essential.
Give directly to The Spokesman-Review's Northwest Passages community forums series -- which helps to offset the costs of several reporter and editor positions at the newspaper -- by using the easy options below. Gifts processed in this system are not tax deductible, but are predominately used to help meet the local financial requirements needed to receive national matching-grant funds.
Subscribe now to get breaking news alerts in your email inbox
Get breaking news delivered to your inbox as it happens.
---