This column reflects the opinion of the writer. To learn about the differences between a news story and an opinion column, click here.
Opinion > Column
100 years ago in Spokane: Efforts began to prevent another 'disgraceful' celebration
UPDATED: Thu., Nov. 12, 2020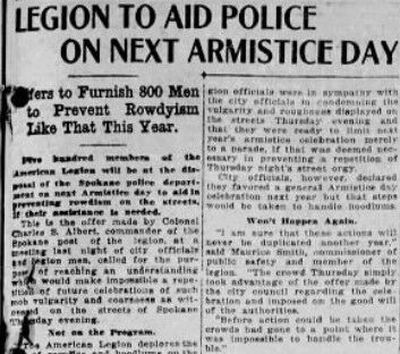 The fallout continued from Spokane's rowdy and "disgraceful" Armistice Day celebration.
Spokane's American Legion post offered to furnish 500 to 800 members next year to assist police in controlling "rowdies and hoodlums."
This, said the Legion, would prevent the celebration from descending into "mob vulgarity and coarseness."
The "element largely responsible for the disgraceful conduct of Thursday evening was composed of boys and girls of 20 years of age or under."
From the irrigation beat: The U.S. Secretary of the Interior authorized a thorough federal review of the Columbia Basin irrigation project, indicating (at least to its proponents) that the government was endorsing the feasibility of the project.
This was not the Columbia Basin irrigation project that we know today, which is watered by the Grand Coulee Dam and other Columbia River dams.
This was a grandiose plan to draw water from the Pend Oreille River and build hundreds of miles of canals and tunnels into the arid interior of Washington. This pipe dream would continue to have a hold on Spokane's boosters for many years.
From the football beat: The North Central High School football team made front-page news, shellacking Yakima High School 68-0.
North Central's "touchdown artists" ended the suspense early. At halftime, NC led 42-0.
---
---