News > Family
Pandemic projects: Spokane crafter Shelly Fry scares up ideal Halloween treat
Nov. 12, 2020 Updated Thu., Nov. 12, 2020 at 7:15 a.m. In March, most of us were anticipating Easter, but Shelly Fry was thinking about Halloween.
Her son had sent her a felt-and-sequin Halloween wall-hanging kit for Christmas.
Fry had tucked it away, thinking she'd work on it whenever she got some free time.
Because of the shutdown due to the novel coronavirus, suddenly she had ample time to tackle the intricate project.
"I started it in March and I finished it by the end of September, just in time for Halloween," Fry said.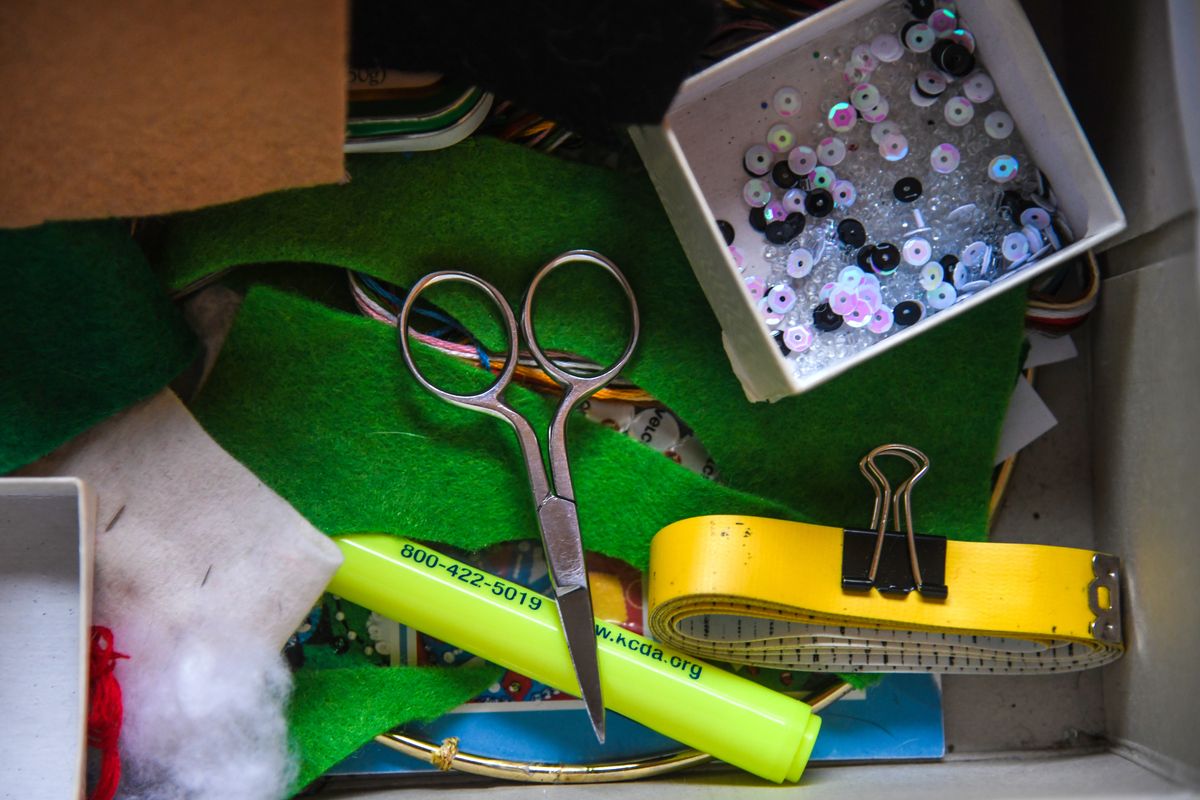 Shelly Fry' sewing supplies are shown. Fry has been crafting since high school. (DAN PELLE/THE SPOKESMAN-REVIEW)
The haunting hanging features a spooky purple house on an orange background. A golden moon rises behind it, and yellow eyes peer from multiple darkened windows.
Spiderwebs dangle from the top corners, bats flit through the sky, and several ghosts hover to frighten two young trick-or-treaters.
Tombstones, jack-o-lanterns and a black cat complete the Halloween theme.
Fry said the kit came with felt, thread, patterns, detailed instructions and plenty of sequins.
No glue is involved.
"The stitches have to be tiny," she said. "Every sequin is sewn on separately."
Hence the need for plenty of time.
"The cat on the tombstone took four hours alone," Fry said.
She knows the exact time, because she stitched it while on a road trip to New Meadows, Idaho, with her husband.
Mostly, she worked on the project in the evenings while watching TV.
Although she continued to work from home for the NorthEast Washington Educational Service District 101, the shutdown made her evenings much more free.
"We were at home a lot, instead of going out to dinner or socializing with friends and family," she said.
Fry is no novice to craft projects like this one.
"I've been making these kinds of kits since high school," she said. "My stitches have gotten smaller and better."
That's why she ran out of thread and had to buy more.
She also purchased cotton batting to plump up the ghosts, trick-or-treaters, pumpkins and the black cat.
The addition of the batting gives the piece a three-dimensional look.
Most of her other projects have been Christmas-themed.
She's stitched holiday wall hangings and Christmas stockings for the whole family – including grandchildren she hopes to one day have.
In fact, she's already started on a new Christmas project.
"I'm not very good at being idle," she said.
For her, one of the most enjoyable aspects of this project was making the children, who are costumed as a witch and Frankenstein.
She carefully stitched their tiny hands and smiling faces.
When the decorative piece was complete she sent a photo to her son.
"He thought it was pretty cool," she said.
Fry had given the Halloween hanging her own memorable touch, turning it into a fun way to commemorate a scary season.
She pointed to the lettering at the top.
"It's supposed to say 'The Fry Haunted House,' " she said. "Instead, I made it 'The COVID-19 Haunted House.' "
Local journalism is essential.
Give directly to The Spokesman-Review's Northwest Passages community forums series -- which helps to offset the costs of several reporter and editor positions at the newspaper -- by using the easy options below. Gifts processed in this system are not tax deductible, but are predominately used to help meet the local financial requirements needed to receive national matching-grant funds.
Subscribe now to get breaking news alerts in your email inbox
Get breaking news delivered to your inbox as it happens.
---