Sports
A Grip on Sports: Rams corral Wilson and put the Seahawk offense to sleep
Mon., Nov. 16, 2020 A GRIP ON SPORTS • Not sure what's worse. That the Seahawks lost yesterday at the Rams or that they played a boring brand of football while doing it. Who are we kidding? Boring is fine if there is a win involved.
•••••••
• Seattle has lost three of its last four games. That's not good. What's really odd about the latest of those defeats is how it occurred.
The defense was gashed early on but Ken Norton Jr. and Pete Carroll got their act together and the second half was much better. The offense? It was putrid all game.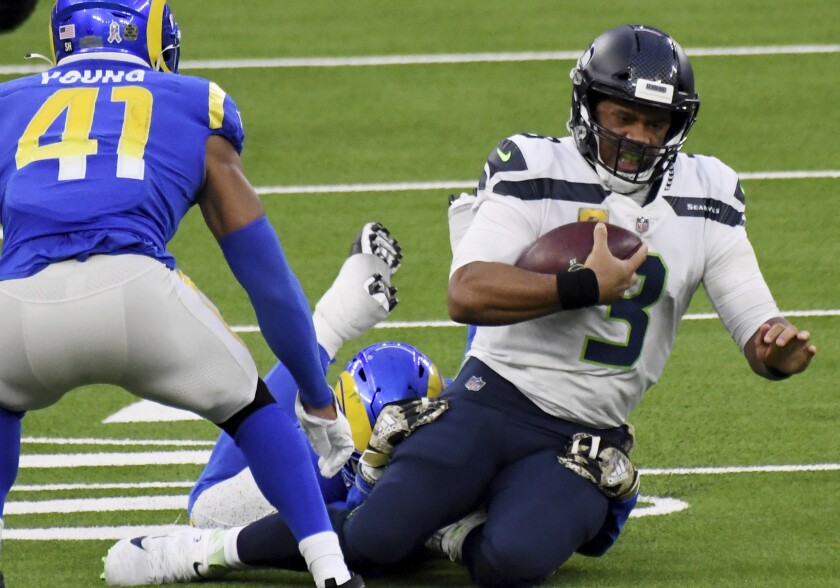 Sort of as if Russell Wilson was cooking up liver and onions.
(We apologize to those of you who enjoy liver and onions. I'm not one of them. In fact, just thinking of the smell that permeated the kitchen of my youth weekly makes me want to retch. I'll be back in a moment.)
There is no nice way to put this. Seattle's offense was wretched. The running game hasn't existed since Chris Carson went down with his latest season-stifling injury. The passing game disappeared yesterday though a combination of anaconda-like pressure from the Ram front and Wilson's response to it. To whit: Wilson made more mistakes than a C student trying to pass a Civics quiz.
What is it your dad used to tell you? It takes pressure to make diamonds? What he neglected to inform you is that analogy is imperfect. Pressure doesn't always turn coal into precious gems. Sometimes it squeezes it into a goo that's not good for much of anything.
The pressure Wilson has been under, internally and externally, since the Hawks' rushing attack has disappeared hasn't produced many shining moments. It has, however, crushed his MVP hopes.
Sunday's performance put a cap on that. Twenty-two-of-37 passing for a measly 248 yards. Two interceptions. A fumble. Six sacks. About a dozen awful decisions. A passer rating of 57.
When Wilson said afterward "I think I've just got to get better. I'm not going to make it overly complicated. It's not on anybody but me," he wasn't lying. Heck, anyone watching knew it when he declined to run for a key first down in the second quarter and instead threw a balloon toward Will Dissly that instead plopped down into the arms of L.A.'s Darious Williams. And popped Hawks' fans illusion that Russ is perfect. At least on this day.
But don't fret too much. If Wilson and the Seahawks can find a way to get past Arizona at home Thursday night, then another five-win stretch might be in the offing.
After the Cardinals, the next four games consists of a game at the Eagles (3-5-1), a couple at home vs. the Giants (3-7) and Jets (0-9) and one at Washington (2-7). It's not hard to see Seattle with an 11-3 record heading into the rematch with Los Angeles in CenturyLink two days after Christmas.
That would be somewhat akin to receiving a diamond brooch for the holiday. Or, at least, avoiding a lump of coal in your stocking.
• We debate asterisks all the time in sports. Roger Maris' home run total. The Astros' 2017 title. Anytime Pittsburgh defeats Seattle in a Super Bowl.
And this year's Masters.
Dustin Johnson is a worthy champion. He dominated Augusta National unlike any player in the course's 87 years. Shooting 20-under par for four rounds is worth celebrating.
But is there anyone who watches golf who doesn't believe an empty Augusta played differently in November than it usually does in early April? Slower. Easier. Less stressful.
Johnson, who spends much of his free summer time at Gozzer Ranch outside of Coeur d'Alene, has his green jacket. He earned it. But this year's tournament has to have an asterisk, if only to indicate it was played at a different time under different conditions.
The thing is Johnson played the course under the same conditions everyone else did this weekend. He played it better. Much better. But when scoring records fall that have stood for decades – Cameron Smith became the first player to ever record four rounds in the 60s; Johnson had a Masters' record of just four bogeys all week; and an unprecedented nine players finished at least 10-under par – than it's obvious this wasn't a Masters like every other.
And we don't think much will change in less than five months, when players return to Augusta. The course will play harder. That's a given. Spring conditions will allow more for more speed on the greens and demand more precision. But the roars? There seems little chance Georgia will allow thousands of people to congregate on the grounds once again unless there is a sea change in the COVID-19 fight. And that doesn't look likely from this mid-November vantage point.
•••
WSU: No one connected to Washington State football will ever forget the 2018 win over 12th-ranked Oregon at Martin Stadium. One word says it all: GameDay. That magical season had more than its share of magical moments, but none more so than Oct. 20 game, a 34-20 WSU win. The Ducks hadn't forgotten either. They came into Martin on Saturday wanting to wash the bad taste from their mouth. They did. Theo Lawson has all the skinny about it in his game rewind in today's S-R. … Former Washington State basketball player Malachi Flynn has turned into a potential NBA first round draft pick. … Around the Pac-12 and college sports, the AP top 25 is out. Again. There was not much in the way of change. … There was a conference game yesterday morning in the Rose Bowl. Well, it wasn't much of a game. UCLA blasted California 34-10 in a contest that was put together at the last minute. … The pandemic forced that change and has already claimed one of next week's scheduled games. Arizona State won't have enough players available so its game against Colorado is off. Whether the Buffs are given another opponent won't be clear until the test results around the conference come in later this week. … Jimmy Lake picked up his first win as Washington coach, though the Huskies have a lot to clean up. … So does the conference, which cut corners on the TV broadcast, leading to a replay issue that tainted the outcome. The Pac-12's statement about the review would be funny if it weren't so sad. … Oregon has nothing to be sad about after picking up the win in Pullman. … Oregon State may be 0-2 but the Beavers seem improved. … USC's Kedon Slovis says his health is fine. … Arizona had a shot against the Trojans but came up just short.
Gonzaga: Around the WCC, fans in the stands or not, BYU is looking forward to the basketball season.
EWU: A trio of Eagles played crucial roles in the Rams' win over the Seahawks yesterday. Their performances are covered in our local NFL roundup.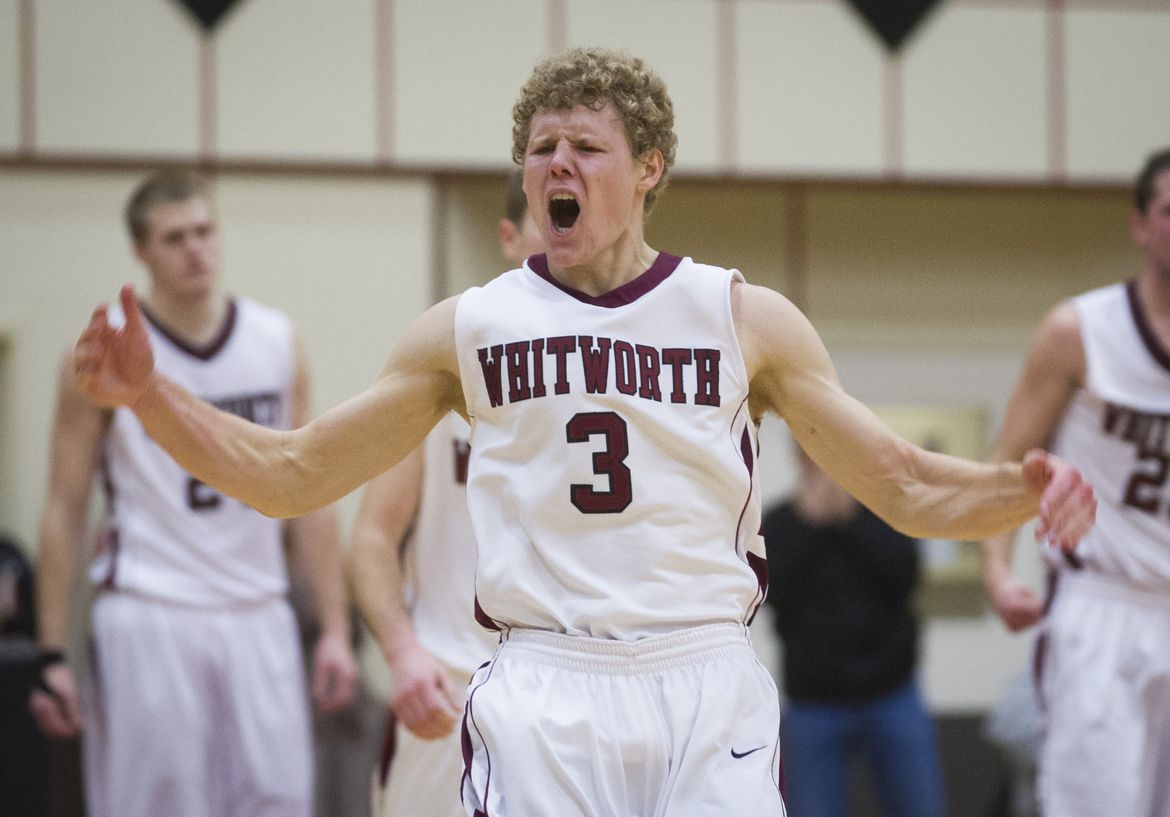 Whitworth: The Pirates announced their all-decade men's basketball team recently. That news leads off our weekly local briefs.
Indians: Former Spokane manager Tommy Lasorda isn't doing well. He's been hospitalized for undisclosed reasons in Southern California. We'll keep you apprised of his health status.
Seahawks: John Blanchette watched the game. He then wrote this column. He focused on Wilson as well. … Early on Sunday, the Hawk defensive players were playing well, but Norton and Carroll's calls were putting them in bad spots. The Rams seemed to have a sense of what Seattle was going to do and attack the weak points. That got straightened out at halftime of the 23-16 defeat. … Even Carroll couldn't stay positive after this one. … Wilson's performance may be the low point of his career. But he's determined to rise from it. … DK Metcalf wasn't a factor for a lot of reasons. … Jamal Adams played through a shoulder injury. … There are always grades.
Mariners: Should the M's have postseason expectations now? And if they do, how does that change things?
•••       
• I usually don't nap on Sundays. Too much going on, too much excitement. But yesterday afternoon, after consuming a couple of really tasty hot dogs in honor of L.A.'s venerable Pinks' restaurant, I felt the need. Actually, it was the Seahawks' play that put me under with the ease of a well-practiced anesthesiologist. When I woke up, they were still in the game but I had missed little in the way of "action." At least that's what the disgruntled family group watching in the other room told me. After they complained about someone snoring at the decibels of a freight train. Until later …
Local journalism is essential.
Give directly to The Spokesman-Review's Northwest Passages community forums series -- which helps to offset the costs of several reporter and editor positions at the newspaper -- by using the easy options below. Gifts processed in this system are not tax deductible, but are predominately used to help meet the local financial requirements needed to receive national matching-grant funds.
Subscribe to the sports newsletter
Get the day's top sports headlines and breaking news delivered to your inbox by subscribing here.
---