News > Crime/Public Safety
Grant County sheriff's deputy shot in foot through patrol car during chase
UPDATED: Wed., Nov. 18, 2020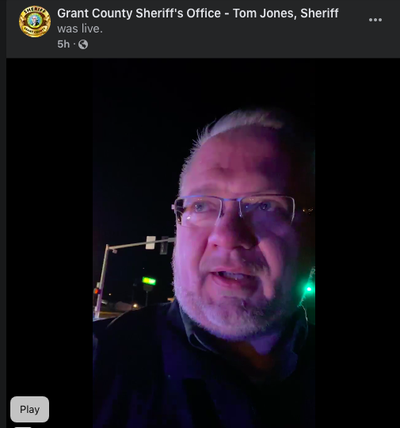 A Grant County Sheriff's Deputy was shot in the foot late Tuesday during a car chase with a suspect in multiple armed robberies in Moses Lake.
There were multiple shots fired in downtown Ephrata on Tuesday night as a result of a police pursuit, said Kyle Foreman, a sheriff's office spokesperson, in a video posted to the Grant County Sheriff's Office Facebook page.
The incident started just after 2 p.m., when a man later identified as Jesus Torres, 24, walked into a small food store in Moses Lake, picked out a few items and paid in cash, said Capt. Mike Williams from the Moses Lake Police Department. When the cashier opened the cash register, Torres allegedly pulled out a gun and demanded money from the employee, Williams said.
After grabbing the cash, Torres ran off, Williams said. Just a few minutes later, police received reports of similar incident at a gas station just eight blocks away, Williams said.
Police were quickly able to identify Torres from surveillance footage, Williams said.
"He's somebody that is very well known to Grant County law enforcement," Williams said.
A search for Torres was unsuccessful until shortly after midnight, when a Grant County deputy spotted Torres' car near Ephrata, Williams said.
"The deputies attempted a traffic stop on the vehicle and the driver took off into the city of Ephrata," Williams said.
The deputies pursued Torres through Ephrata, Williams said. At multiple points during the pursuit, Torres allegedly leaned out the driver's side window and fired both a pistol and an AR-15-style rifle at the deputies chasing him, Williams said.
At Nat Washington Way and Basin Street, Deputy Jeff Wentworth, 41, was injured when a bullet came through the side of his patrol car, striking him in the foot. The injuries were not life-threatening, Williams said.
By this point, Ephrata Police Department officers had joined the pursuit.
The pursuit continued with another deputy's vehicle being hit by a bullet in the area of 7th Avenue Southeast. The deputy was unharmed, Williams said.
A short time later, Torres left the city limits and attempted to go south on Highway 17, but a deputy executed a maneuver that caused Torres to spin off the road, Williams said.
Torres attempted to run, Williams said, but he was apprehended quickly. He was booked into the Grant County Jail on two counts of first-degree robbery for the incidents in Moses Lake. Further charges may be coming.
Williams said he's thankful no bystanders were injured during the shooting or car chase.
"The danger was extreme to anyone who was in the area," Williams said. "We're fortunate that it took place after midnight so there was minimal traffic, both vehicle and pedestrian traffic, in the city of Ephrata at the time."
Wentworth, the injured deputy, is at home recovering after being released from the hospital late last night, according to a sheriff's office news release.
Local journalism is essential.
Give directly to The Spokesman-Review's Northwest Passages community forums series -- which helps to offset the costs of several reporter and editor positions at the newspaper -- by using the easy options below. Gifts processed in this system are not tax deductible, but are predominately used to help meet the local financial requirements needed to receive national matching-grant funds.
Subscribe to the Coronavirus newsletter
Get the day's latest Coronavirus news delivered to your inbox by subscribing to our newsletter.
---