News > Features
Combatting 'Quarantine 15': People report weight gain, others become healthier – experts offer tips
UPDATED: Mon., Nov. 23, 2020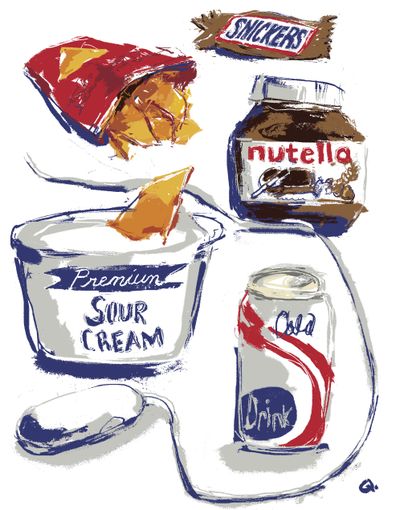 Many of us have joked about "Quarantine 15," a phrase for those extra pounds gained during pandemic life spent mostly at home.
For many, it's a fallout from disrupted routines, stress and lack of access to gyms. Throw in comfort-food eating and perhaps mindless munching while on computers or binge-watching shows.
Fitness and weight-loss experts say they're aware of pandemic weight gains among the population, but they've also seen people reboot with different approaches such as daily walks and healthier diets.
"While the amount of weight gained during this time may vary from person to person, it is a reality and for many a concern," said Dr. Gary Foster, chief scientific officer at WW, formerly Weight Watchers.
"There is a renewed interest in health and wellness goals. Self-care has become incredibly important as people have adjusted to life with social restrictions and new routines."
Gyms and fitness membership groups have adapted by offering live digital classes, often promoted on their websites. But people who want to see benefits also need to limit fatty and sugary foods, so they're using apps or online support to find healthier choices.
But how widespread is Quarantine 15? If true, it's colliding with health concerns about U.S. obesity rates that were already high before April.
Based on recent global research, some people are coping by a return to the basics – walks, runs, hikes or cycling, said Nick Rizzo, a fitness research director. He works for RunRepeat, an online athletic shoe store.
Rizzo said people also have switched gears by using more online fitness content or home equipment, such as Peloton bikes, if they can afford it.
However, many people continue to struggle, he said. Based on September research he did among about 20,000 people globally, nearly 36% reported they gained weight during the pandemic. Of those people who added weight, about 71% gained more than 5 pounds.
Rizzo was curious about pandemic-related weight gains because he kept hearing about Quarantine 15, which is a play on the "Freshman 15" phrase referring to college students' weight gain their first year. Both, in a nutshell, involve people going through a major life change without adapting or changing habits, Rizzo said.
"Although we're not necessarily in strict lockdowns anymore, we're still all into a very much different way of life to where we were a year ago," Rizzo said.
"There are some people who really took this as a major opportunity to make changes and who have lost weight, but I think a lot of people struggled with the changes that were forced upon them.
"This is the first time for a lot of people, too, that a gym is just not an option. For a lot of people who may be trying to get in shape, they don't have the background or experience, either. All this stuff has changed, and the structure of how we approach it has changed."
The U.S. had the highest percentage of people who reported weight gain (40.52%) during the pandemic. The U.K. had the most respondents managing to lose weight (40.54%), while the U.S. had the least weight loss (27.71%).
"One of my colleagues from the U.K. was saying that what they stressed in lockdown there is you have an hour of time where you can go outside and exercise; that was in the mandate," Rizzo said.
He said during early shutdowns, he didn't hear much in the U.S. on ways to stay active. "It was more about how gyms were shut down. How we react and how we are socially, culturally play a role, as well."
"If you look at it from an economic standpoint, there are people who barely can justify the $10 a month for gym membership to be overall healthier. That's a luxury for them. If people have the money, they can afford a Peloton, where other people can't."
But some U.S. regions showed healthier trends during the pandemic, he said. In Washington state, more than 37% of respondents reported gaining weight during the pandemic, with about 8% gaining more than 5 pounds, but 28.62% reported they lost weight during the pandemic, Rizzo said.
Tara Depew, a Spokane WW coach, said she has heard members talk about the challenges of weight gain during the pandemic.
"Some members did struggle, and I've seen everything from I'm down 20 pounds to what you're asking about," she said.
"The stress of COVID has changed the world dramatically in that there are so many people, and me specifically, dealing with kids who are home and not going to school.
"I'm at home more, and that presents so many challenges when it comes to mindset, being physical, sleep and eating because I'm around the kitchen more. And stress can lead to that, as well."
She said WW promotes a "360-degree wellness approach" and includes mindful eating and eliminating distractions during meals. The program, which has a free personal assessment tool, also just launched an app, myWW+, for members to use customized meal planning and track activity, mindset and sleep.
"When you talk about binge-watching shows, that means we're in front of a distraction," Depew said. "If we're in front of a TV or computer, that promotes more the gulping down of meals.
"When we slow down, when we don't have those distractions, we're more likely to really taste the food, smell the aroma of the food, taste the textures. When you do that, you're more present and aware, and that's where mindful eating comes in."
Among her coaching tips, she said one is to make decisions now on new pandemic routines, whether it's to add walks or pull up a short stretching video before work. Make time for yourself perhaps to journal or meditate daily.
"Set aside some time for you – whatever that might mean and however long, if 5 minutes or 30 minutes – and go back to creating a consistent and healthy routine. Continue to eat mindfully, and don't forget about sleep. Sleep plays a really critical role in weight loss."
Foster said other ideas to reboot include reasonable goals. Exercise doesn't have to mean you break out in a sweat. Get in brisk, 10-minute walks or short yoga breathing sessions. Practice self-compassion, expect some setbacks, and don't let one slip derail you, he said.
"Emotional eating was something our members told us was a top challenge for them during this very stressful time," Foster added. "We know that when people eat in response to emotions, they often feel frustration due to the unplanned eating. … The cycle continues."
Instead, use "pause and notice" when the urge hits to eat potato chips, he said, and turn to a distraction such as a chore or hobby. The idea is to get where you recognize the pattern and plan a new response.
"Commit to waiting 5 minutes. During that time, put distance between the urge to eat and your next move."
Local journalism is essential.
Give directly to The Spokesman-Review's Northwest Passages community forums series -- which helps to offset the costs of several reporter and editor positions at the newspaper -- by using the easy options below. Gifts processed in this system are not tax deductible, but are predominately used to help meet the local financial requirements needed to receive national matching-grant funds.
Subscribe to the Coronavirus newsletter
Get the day's latest Coronavirus news delivered to your inbox by subscribing to our newsletter.
---