News > Spokane
Spokane Valley Fire roundup: Pillow left too close to fireplace burns, fills home with smoke
Thu., Nov. 19, 2020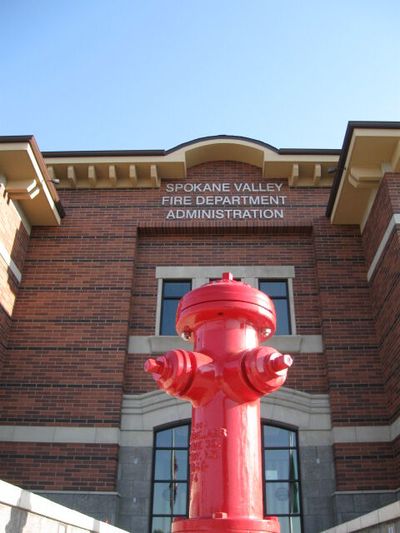 Sometimes it is the small, forgotten things that can cause a fire. The Spokane Valley Fire Department responded to one of those calls recently when someone reported smoke filling a home in the area of Thierman Road and Bradley Road at 11:28 a.m. on Nov. 9.
The residents, who had evacuated the home, told firefighters the smoke appeared to be coming from the basement. Upon investigation, crews found a smoldering pillow that had been placed too close to the fireplace. The pillow was removed and extinguished.
Crews also responded to three different natural gas line breaks caused by digging equipment. As always, residents are asked to call 811 before they dig so water, sewer and gas lines can be located and labeled before any digging is done.
Other calls, Nov. 9-15
Nov. 9: A three car crash was reported at Houk Road and Mission Avenue at 6:46 a.m. The crash was thought to be caused by icy conditions. A small fire was reported at 12425 E. Trent Ave. at 7 a.m. Crews found a 15-foot-by-15-foot fire that appeared to be in a vacant homeless camp, burning in trash and wood. The fire was put out. A chimney fire was reported in the 7900 block of East Valleyway Avenue at 9:33 p.m. The resident said they made a fire in the wood stove and found flames coming from the pipe. The home was checked for heat in the walls. None was found.
Nov. 10: A natural gas leak was reported in the 6300 block of East Sharp Avenue at 10:58 a.m. A backhoe had struck a natural gas line. Avista was called to repair the leak. Crews responded to a report of a car down a ravine in the 2000 block of South Zephyr Road at 1:20 p.m. It was determined that the car had been there for several days and no one was around. A crew located at Trent and Best heard a very loud sound that sounded like gas venting at 8:25 p.m. The BNSF line and Trent were shut down during the investigation. The relief valve stopped operating and the road and railroad line were reopened and Avista was called.
Nov. 11: A fire was reported in the 200 block of North Pines Road at 9:50 a.m. Firefighters found a woman sitting on the sidewalk who had apparently been lighting leaves and trash on fire with a lighter. The woman was told she could not light fires and she left the area. A natural gas leak was reported in the 21300 block of East Vista Drive in Liberty Lake at 1:47 p.m. A backhoe at a construction site hit a natural gas line. Nearby residents were told to shelter in place until Avista arrived to fix the line. One home was evacuated.
Nov. 12: A resident in the 10800 block of East Mission Avenue reported hitting a natural gas line with a Ditch Witch. Crews could smell the strong odor of natural gas and closed Mission Avenue. The resident was told to evacuate the home until Avista could repair the line.
Nov. 13: A caller in the 126000 block of East Broadway Avenue reported accidentally locking a child inside a car. Firefighters were able to unlock the car and free the child.
Nov. 14: A crew was called to the 1100 block of North Liberty Lake Road for a child accidentally locked inside a car. The car was able to be unlocked.
By the numbers: Crews responded to 334 calls during the week of Nov. 9-15, including 276 calls for emergency medical services. Other responses included 14 car crashes, a woman who was trapped in her room by a broken door lock, a man who was locked out of his home because of a broken door knob and a dog with his foot stuck under the door who was able to free himself before firefighters arrived.
Local journalism is essential.
Give directly to The Spokesman-Review's Northwest Passages community forums series -- which helps to offset the costs of several reporter and editor positions at the newspaper -- by using the easy options below. Gifts processed in this system are not tax deductible, but are predominately used to help meet the local financial requirements needed to receive national matching-grant funds.
Subscribe to the Coronavirus newsletter
Get the day's latest Coronavirus news delivered to your inbox by subscribing to our newsletter.
---