Sports
A Grip on Sports: Despite all that is going on (or not going on), there is still plenty to be thankful for this week
Sun., Nov. 22, 2020 A GRIP ON SPORTS • Thanksgiving week is upon us. It begins without many things, including a Washington State game to analyze or a Seahawks' game to anticipate. And, most importantly, thousands upon thousands of our fellow Americans whose lives were cut short by the insidious virus. But we want to stay true to the holiday's mission and be thankful this morning, no matter how difficult it may be.
•••••••
• Though it's hard to be thankful about a Saturday without a local college football game, we are pleased to hear none of the Cougars who came down with COVID-19 seem to be in a bad way. That's worth a hallelujah or two. Still, if college football is going to be played in a pandemic, it would be easier to stay grateful if, you know, the only local school in the mix actually could play.
The silver lining? We had the opportunity to watch Washington hold its final intrasquad scrimmage last night. Wait, I'm being told the Huskies actually played Arizona. No way. The team in white showed such little effort and emotion, there is no way that was a Pac-12 team.
Maybe the Wildcats were looking forward to their rivalry game next week. But there are two flaws with that face-saving scenario: Arizona State hasn't played in two weeks due to coronavirus issues, so there is no guarantee the Territorial Cup will be played; and the Apple Cup is on Washington's to-do list this week as well.
Though only if Washington State has enough scholarship players available. Stay tuned. I'm not sure, however, what circumstance would make Cougar fans more thankful. Would they rather their team did not play or would they prefer trying to break a seven-game rivalry losing streak without some of their top players, possibly including their starting quarterback? It is a conundrum all right.
We were also able to finally see Utah play its season opener, though the Utes weren't at their best – nor was ESPN, which lost is video feed in the second half and showed us the broadcast crew from their homes instead. We're thankful beyond belief nothing like that has ever happened to us.
By the way, if USC coach Clay Helton tries to sell you a used quarterback, make sure he throws in a warranty. JT Daniels was special in his long-delayed first start for Georgia – a close win over Mike Leach's Mississippi State team – yesterday, but Kedon Slovis, the Trojans' current starter, still looks as if he has some physical issues.
That our Saturday didn't include working our fingers off is something worth gratitude, but we're not at all thankful the NFL schedule makers gave Seattle today off. Though the Hawks winning Thursday makes it easier to digest. And the extra time off will probably be something they look back upon come next Sunday in Philadelphia with appreciation.
Today, though, we would rather have a Seattle game on the television. (As an aside, the MLS missed a golden opportunity. It could have scheduled the Sounders' playoff game with LAFC for today and filled the Emerald City's football gap. But instead, we have to wait for Tuesday night.)
Don't tell Kim, because I want to surprise her, but a Seahawk-free Sunday seems like a good day to build a blanket fort in the television room, cook popcorn and watch a nostalgic movie. Something from 1977 or so.
I will be really thankful if I can convince her to put down her files from work and join me.
•••
WSU: How the heck did the Cougars come up short of players this weekend? Theo Lawson tried his best to figure it out, but with the lack of information emanating from Nick Rolovich's program, being definitive is impossible. Still, Theo gives it his best shot. … If you are longtime Cougar track fan, you might remember James Li. The veteran assistant coach retired at Arizona this week (second item in this Greg Hansen column). … Around the Pac-12 and college football, after watching USC and Oregon carefully yesterday, I'm convinced Washington has the best shot to make the college football playoff. … The Huskies dominated Arizona until making wholesale substitutions. UW played well in all three phases. The Wildcats have lost a school-record nine consecutive games. … Oregon needed a lot of luck – and four turnovers – to get past Chip Kelly and UCLA. Included in that luck was a quick whistle on the Bruins' penultimate play. (I watched it a dozen times and believe UCLA running back Demetric Felton actually wasn't down when the key play was blown dead, though the TV broadcast never supplied a replay.) The Ducks were dominated at the line of scrimmage. The undermanned Bruins made too many mistakes. … So Utah fans, would you rather have not played last night? The Utes looked like a team playing their first game. USC looked a lot better, though the Trojans have a ways to go to be considered impressive. … Oregon State picked up a much-needed win. The Beavers won at home against a California team that found out before the game seven players would have to sit out. Yet it came down to the final minute. Up next is the now-unnamed rivalry game with Oregon. … Colorado is making its way through the pandemic by following strict procedures. … Andrew Luck and others are trying to get Stanford to reconsider cutting sports. … In basketball news, Washington's season-opening tournament in Seattle has been canceled. Coronavirus concerns. … The Pac-12 may have a couple of other All-Americans.
Gonzaga: We knew we would have one Zag story to share this morning, as Jim Meehan put together this list of the five top players GU will face in nonconference play (and, in our opinion, more than likely during the regular season). But then another tall recruit committed late last night. Fanbo Zang may be 6-foot-9, but he's not what you would term a "big" in Gonzaga parlance. The native of China is more of a tweener, a tall wing with an impressive stroke and the ability to rise up inside and posterize someone. Jim has more in this story. … Somehow I don't believe I linked this story about the four Bulldogs on the Naismith watch list from earlier this week. Sorry.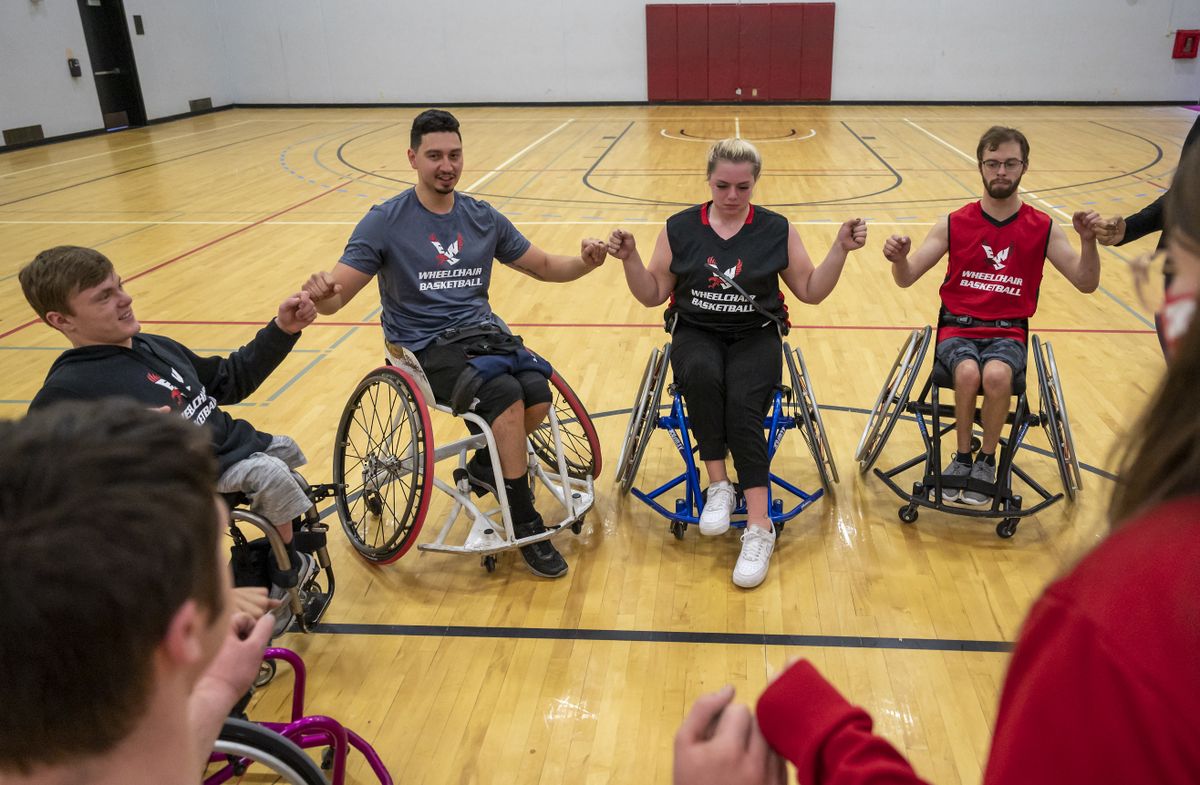 EWU: If you are an Eagle fan, you probably know all about their chances in men's and women's basketball this season. Now Ryan Collingwood gives you another basketball team to keep up with. Eastern has a wheelchair team that will start competing after the first of the year. … Ryan continues to look back on the 2010 championship season, covering the quarterfinal win over North Dakota State today. … Elsewhere in the Big Sky, there are trying times everywhere, even in Missoula. … Montana State will feature new faces this basketball season. … The same can be said about Weber State. … With new restrictions in place in Colorado, Northern Colorado doesn't know exactly where it stands.
Seahawks: We think Seattle will finish 12-4. How about you?
Sounders: Is this the best Sounders team of all time? That's still to be determined.
•••       
• I'm thankful today for many things, but all in all, I would rather be someplace warm. I enjoy wearing shorts. That's not an option in Spokane today, when the high is expected to rise up all the way to 39 degrees. Though the sun is out  – a combination that seems to confuse the dog no end. Anyway, those of you that have already fled to warmer climes, thank the heavens you can. Some day we will join your ranks. Until later …
Local journalism is essential.
Give directly to The Spokesman-Review's Northwest Passages community forums series -- which helps to offset the costs of several reporter and editor positions at the newspaper -- by using the easy options below. Gifts processed in this system are not tax deductible, but are predominately used to help meet the local financial requirements needed to receive national matching-grant funds.
Subscribe to the sports newsletter
Get the day's top sports headlines and breaking news delivered to your inbox by subscribing here.
---