News > Business
How you can safely save local businesses in Spokane this holiday season
Sun., Nov. 22, 2020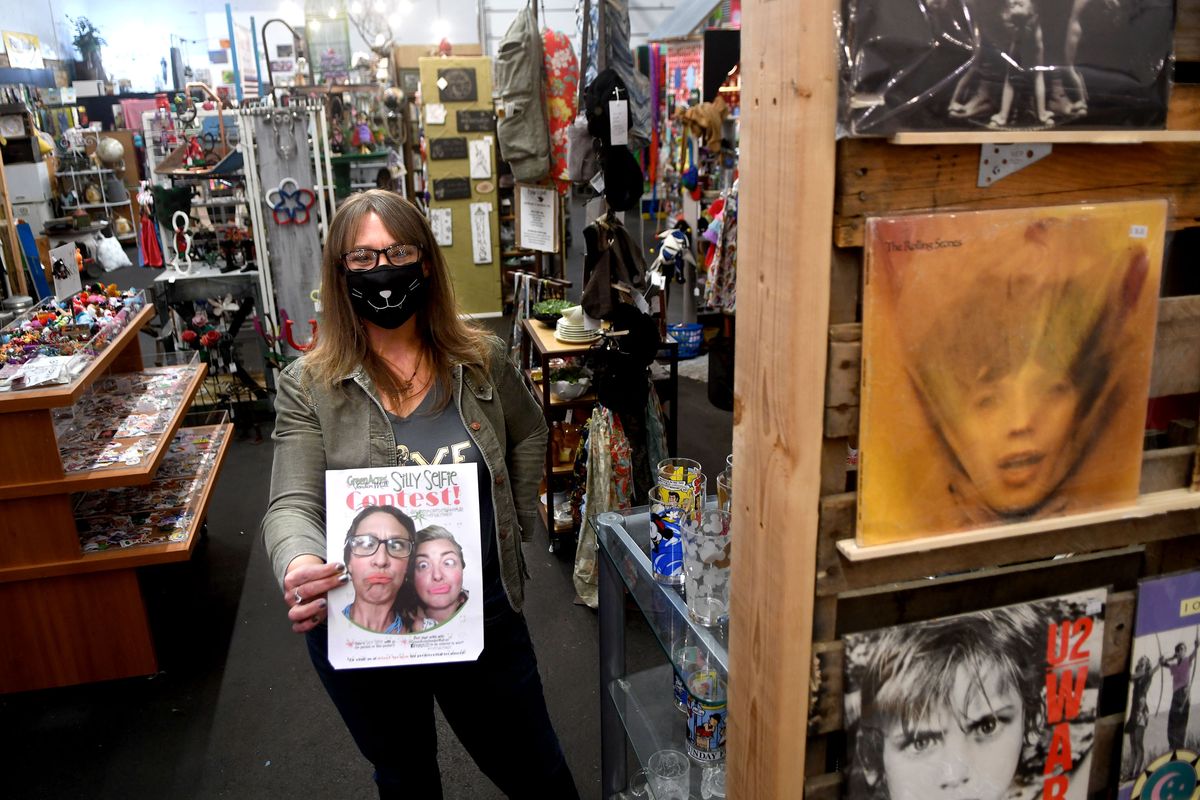 Greenacres Vendor Mall owner Genesis Finley holds a selfie taken with co-owner Carla Klauder on Thursday, Nov. 19, 2020. (Kathy Plonka/The Spokesman-Review)
For Genesis Finley, co-owner of Greenacres Vendor Mall in Spokane Valley, this holiday shopping season will be drastically different than prior years.
Greenacres Vendor Mallsurvived the state's stay-home order in March that required businesses to temporarily close to prevent the spread of COVID-19.
But now the mall, which rents booths to more than 220 local vendors who sell antiques, artwork, jewelry, clothing and other unique, hard-to-find items, is among area businesses facing a second round of statewide restrictions effective nearly a week ago that suspended indoor dining and limited capacity in stores to 25% until mid-December – just as retailers were gearing up for the busiest shopping season of the year.
"We are still going and it has been a matter of trying to keep everybody's morale up," Finley said, adding that sales have been down, but nearly all vendors remain in business. "Almost everybody rode it out. Now we are doing it again in a different way and I think we are going to get through it."
How to shop
Across the board, business owners who spoke with The Spokesman-Review last week generally agreed on a few tips that will be key to safely supporting local shops in the coming weeks.
They stressed the importance of reducing crowds, not only for the health of customers, but their own employees. Patrons should shop in small groups, get an early start on buying holiday gifts, and avoid leisurely browsing by entering stores with an idea of what they want ahead of time.
If possible, customers should try to pop into a store at a less busy hour, like on a Tuesday afternoon, instead of adding to the throngs of shoppers on a Saturday or Sunday.
Oh, and wear a mask. Over the mouth and, yes, over the nose.
John Waite, owner of Auntie's Bookstore, said his store has taken action ahead of the governor's orders throughout the pandemic. It already was operating at less than 25% capacity for safety's sake before Sunday's announcement and adopted a mask policy before the statewide mandate earlier this year.
"We were kind of hard-lining it," Waite said. "The capacity number is not really going to be a huge problem … you don't want a store full of people anyway, at this point."
But keeping the store mostly empty requires changes. Normally, a cozy corner store that invited entire families to come in and lazily browse, Auntie's is emphasizing its mail-order and curbside pickup options.
Waite encouraged customers not to do a "hang out and browse thing all day, as much as we love people to do that."
Because Greenacres Vendor Mall, 16814 E. Sprague Ave., spans more than 14,000 square feet, the 25% occupancy restriction should be manageable with little impact to business. If the vendor mall appears too crowded, however, it will meter people at the entrance – even if it hasn't reached 25% capacity, Finley said.
"We have to be more conservative to make sure that we are safe, our customers are safe and our vendors are safe," Finley said.
Jan St. George has owned Whiz Kids, a toy store in River Park Square, since 2010. She recently hired a new employee to, in part, count people coming and going – an added expense in what has already been her most "challenging year." The governor's latest mandate has reduced her capacity to 18 customers at a time.
"That sounds like a huge number, but when you get a family of five or six in, I'm already pushing it," St. George said. "I definitely don't want to say leave kids at home – that's not what my store is about – but if you shop in small groups, there's going to be smaller lines and we're going to be able to help people easier."
It's never a bad idea to pick up the phone before coming in.
Gina Campbell, owner of 1889 Salvage on North Monroe Street, said customers should feel free to call and ask if she has something. If she doesn't have it, she'll keep an eye out for it.
"We'll literally do just about anything to build relationships to help somebody find what they need," Campbell said. "I send people to other stores, I'll call for them, whatever, because to me all of those things build relationships, and relationships make customers."
There are myriad ways to support small businesses like Salvage 1889, and not all of them require spending money, Campbell noted. Salvage 1889, 2824 N. Monroe St., is trying to build its online presence, by listing its items directly for sale on its website, but also by building its brand through social media platforms like Instagram and Facebook.
Simply spreading the word "is gold to me," Campbell said.
"Just sharing and promoting the business that you love in whatever ways you can, that does make a difference. Every time someone shares one of my videos, it makes my heart sing," Campbell said.
Inevitably, holiday shopping will look different in 2020.
Whiz Kids still has puppets, but they're behind the counter, and customers have to put on a glove to try one on.
Waite warned that those who wait to shop could have trouble finding what they're looking for.
"The biggest message (is), have a little mercy on these people who have to work in retail and service and help you," Waite said.
Retailers are facing real hurdles, but survival this season for restaurants, gyms and live event venues is more like climbing Mount Rainier. Lucky You Lounge is in the businesses of live music and food service, both of which have been gutted by the COVID-19 pandemic.
People can support Lucky You by purchasing gift cards – the business is still finding creative ways to offer takeout dining – or contribute to Keep Music Live Washington, a fundraising campaign to support live music venues, Lucky You Lounge owner Karli Ingersoll said.
The pitch is simple. If you miss bopping along to bands at a place like Lucky You, act now to ensure it will still be there when the pandemic is over.
"It will make a huge difference," Ingersoll said.
The annual Winter Brrrzaar would typically feature dozens of artists and craftmakers selling their wares through the corridors of River Park Square. But given the limitations of the pandemic, the Brrrzaar won't be happening this year, according to Terrain, the arts nonprofit that hosts it.
Terrain considered breaking up Brrrzaar into smaller iterations across multiple weekends, co-founder and Executive Director Ginger Ewing said, but organizers feared that would erase the energy of having every vendor together at once.
"It just didn't make sense both logistically and financially for us to move forward," Ewing said.
Instead, Terrain will focus on its retail store, From Here, in River Park Square. The store, which opened in 2019, will expand its offerings to feature goods from more than 90 artists, some of whom will be in store to meet with customers and demonstrate their techniques.
For those uncomfortable with shopping in person, Terrain is "frantically fine-tuning" its website to allow for online ordering, both in-store pickup and mail order.
At the onset of the pandemic, Mark's Guitar Shop, which repairs and sells instruments, pivoted to selling more items online. Customers have been receptive to the e-commerce shift, owner Nate Corning said.
Mark's Guitar Shop, 918 W. Garland Ave., also implemented in-store and curbside pickup for items, Corning added.
One thing that sets Mark's Guitar Shop apart from online retailers is it makes adjustments to both new and used instruments to ensure they are ready to play. It also offers a one-year warranty for future instrument adjustments, if needed, Corning said.
Because Greenacres Vendor Mall has more than 220 vendors with a wide variety of items, customers can get their holiday shopping done under one roof, Finley said.
"We have every single thing that is on your list. If you want one-stop, COVID-proof shopping, we can do it," she said. "We have something for everyone."
Uncertain times ahead for retailers
With the economy in turmoil, retailers are unsure what to expect this holiday season.
Capacity restrictions are less of an issue for the sprawling interior of Salvage 1889. Still, sales are sluggish compared to normal, Campbell said.
"It's different now," Campbell said. "I've been really humbled and pleased by the support we've gotten, but realistically, it's definitely not the same."
Auntie's essentially lost two months in sales this year, Waite estimated. The holiday season is "a big chunk" of its annual revenue.
"A lot of stores like mine, you finally make a little money in November and December. That's not going to happen," Waite said. "I don't want to plead poverty and say things are terrible because we'll be fine, but it's hard."
Normally, Whiz Kids would earn about a quarter of its annual sales in the handful of weeks from Thanksgiving to Christmas, St. George estimated. Since the pandemic began, she's only had one month – September – that was nearly equal in revenue to the same month in 2019. The others, she said, have fallen between 50% and 80% of typical sales
This year, St. George said she'd be satisfied with about 50% of her typical holiday business.
For the artists at Terrain, shopping locally is as important as ever. Artists have been disproportionately impacted by the pandemic. Many have second jobs in the hospitality or service industry, which also have been devastated, Ewing noted.
From Here is operating at an 80% deficit compared to last year's sales.
"We are seeing an uptick over the last month or so, but it's still significantly less than it was this time last year," Ewing said.
Buying local doesn't have to be expensive. Terrain encourages its artists to have multiple price points. Even buying a greeting card from a local artist instead of a major retailer can make a big difference.
"It doesn't have to be a ton of money," said Jackie Caro, Terrain's operations director.
And it has intangible value, too.
"You can feel the love and passion and dedication of our items translated from the artist's hand into a gift that you're buying for someone," Ewing said.
Washington State University's Carson College of Business released results of its annual Pacific Northwest holiday retail survey, which found that holiday shopping this year is more about community support than deals and events.
More than 71% of Pacific Northwest survey respondents indicated shopping in person is worth it to help local businesses stay open during the pandemic, and 81% said it's hard for them to watch their favorite stores have to close.
The survey indicates consumers have a strong sense of connection to local businesses, which should bring a sense of hope to retailers, said Joan Giese, a clinical associate professor of marketing at WSU.
"Holiday shopping may be the source of much-needed comfort and normalcy," she said. "A connection with local businesses is critical to not only the shoppers, but the retailers. They can stay connected and a partnership will really be rewarding for both."
Finley, of Greenacres Vendor Mall, said the new round of statewide restrictions allows small businesses to stay open, which is a silver lining compared with the first stay-home order in March that shut down all businesses deemed as nonessential.
"In the last round (of restrictions), we all saw the big box stores were the only ones that could stay open and mom-and-pop shops that employ so many people had to close. That frustrated a lot of people, including us," she said. "This time around, we have the opportunity to stay open."
'We all need to beat this'There's a universal way to support local businesses, and it's free: Help stem the spread of COVID-19.
Ultimately, people need to be aware that "no business is going to thrive right now in limited capacity," said Ingersoll, the Lucky You Lounge owner.
"We really think that long term it's best for all the businesses if we can curb the virus," Ingersoll said.
Already anticipating a slower-than-usual holiday season, St. George worries that further restrictions could be enacted in the coming weeks after Thanksgiving, when "nobody is going to be abiding by" the governor's orders.
Waite said Auntie's will continue to be "militant" about masking.
"We all need to beat this," Waite said. "I wish it could not be political, because we're going to get to the point where it's going to be ugly if we don't solve this."
Local journalism is essential.
Give directly to The Spokesman-Review's Northwest Passages community forums series -- which helps to offset the costs of several reporter and editor positions at the newspaper -- by using the easy options below. Gifts processed in this system are not tax deductible, but are predominately used to help meet the local financial requirements needed to receive national matching-grant funds.
Subscribe now to get breaking news alerts in your email inbox
Get breaking news delivered to your inbox as it happens.
---