News > Spokane
100 years ago in Spokane: New, baffling clues in the Chicken House Murder
Mon., Nov. 23, 2020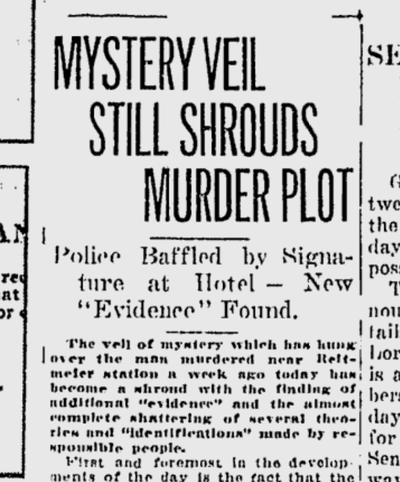 The mystery of the Chicken House Murder deepened after new evidence shattered the earlier theories.
The victim had been identified as J.F. Olson of Elk, Washington, and he was believed to have checked into a Spokane hotel the day of his murder. Yet Olson's signature on the hotel register did not match Olson's true signature. The hotel night clerk said the body "did not in any manner resemble" the man who signed the register.
The man apparently checked into the hotel after the body was found in a chicken house outside of Cheney.
The hotel clerks remembered the man distinctly, because he acted strangely and asked them to rid him of the "gang" that was following him to the hotel. One theory was that the the man who signed the register was in fact the murderer of J.F. Olson.
Police were combing the city for a man fitting his description.
From the baby beat: Mr. and Mrs. J.B. Brooks changed their minds and now said they would love to keep the 10-month-old baby abandoned by a neighbor. In fact, the couple was adamant about it.
"I will fight for the custody of the baby in court, if necessary," said Mr. Brooks. "It was given to us without our consent … but we want it now."
The neighbor, Mrs. Warm, had asked Mrs. Brooks to watch the baby while she went out to get some milk. Mrs. Warm never came back.
Mrs. Brooks checked her apartment after several hours but found it deserted with a note asking the Brooks to take good care of the baby.
Authorities still had not located the Warms. At first, the Brookses hesitated to take on the child. Several other people stepped forward and offered to take the child, but the Brookses told them no.
Local journalism is essential.
Give directly to The Spokesman-Review's Northwest Passages community forums series -- which helps to offset the costs of several reporter and editor positions at the newspaper -- by using the easy options below. Gifts processed in this system are not tax deductible, but are predominately used to help meet the local financial requirements needed to receive national matching-grant funds.
Subscribe to the Coronavirus newsletter
Get the day's latest Coronavirus news delivered to your inbox by subscribing to our newsletter.
---