This column reflects the opinion of the writer. To learn about the differences between a news story and an opinion column, click here.
Opinion > Column
100 years ago in Spokane: Here's what some local Thanksgiving dinners included in 1920
UPDATED: Tue., Nov. 24, 2020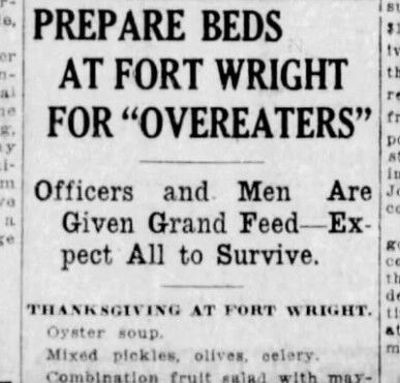 This column ran Tuesday, a day earlier than planned, due to an editor's error. Here it is again, in full. Kershner will file a fresh piece for Thanksgiving Day.
The soldiers at Fort George Wright in Spokane were ready for a gigantic Thanksgiving feast.
The menu had all of the usual Thanksgiving staples, including roast turkey, dressing, cranberry sauce, mashed potatoes and candied sweet potatoes.
Yet it also included oyster soup, asparagus tips on toast, mixed pickles and French peas. The desserts were apple pie, pumpkin pie, ice cream, cake, fruit, and, for after-dinner relaxing, coffee, cigars and cigarettes.
A reporter asked a company sergeant whether "you can serve a dinner like that and have all of your men on duty tomorrow?"
"They are good big, husky men, and I believe they will go through all right," the sergeant replied. "There might be a few on the hospital list tomorrow, but they will come out none the worse for their experience."
Meanwhile, the Spokane Daily Chronicle reported that children at area orphanages were served a complete Thanksgiving dinner, and were entertained by the antics of "Chew-Chew, the health clown."
Over at the Salvation Army Home for Women, nearly 50 women who had "passed through" the home returned to join the 100 women currently in the home for a Thanksgiving dinner and party. Many of the returning women brought their children with them.
They all feasted on 40 chickens, donated by Spokane butchers.
---
---