A&E > Food
Spokane is named a top foodie destination; also worthy of thanks – fried chicken, Thai food and pho
Nov. 25, 2020 Updated Wed., Nov. 25, 2020 at 2:51 p.m.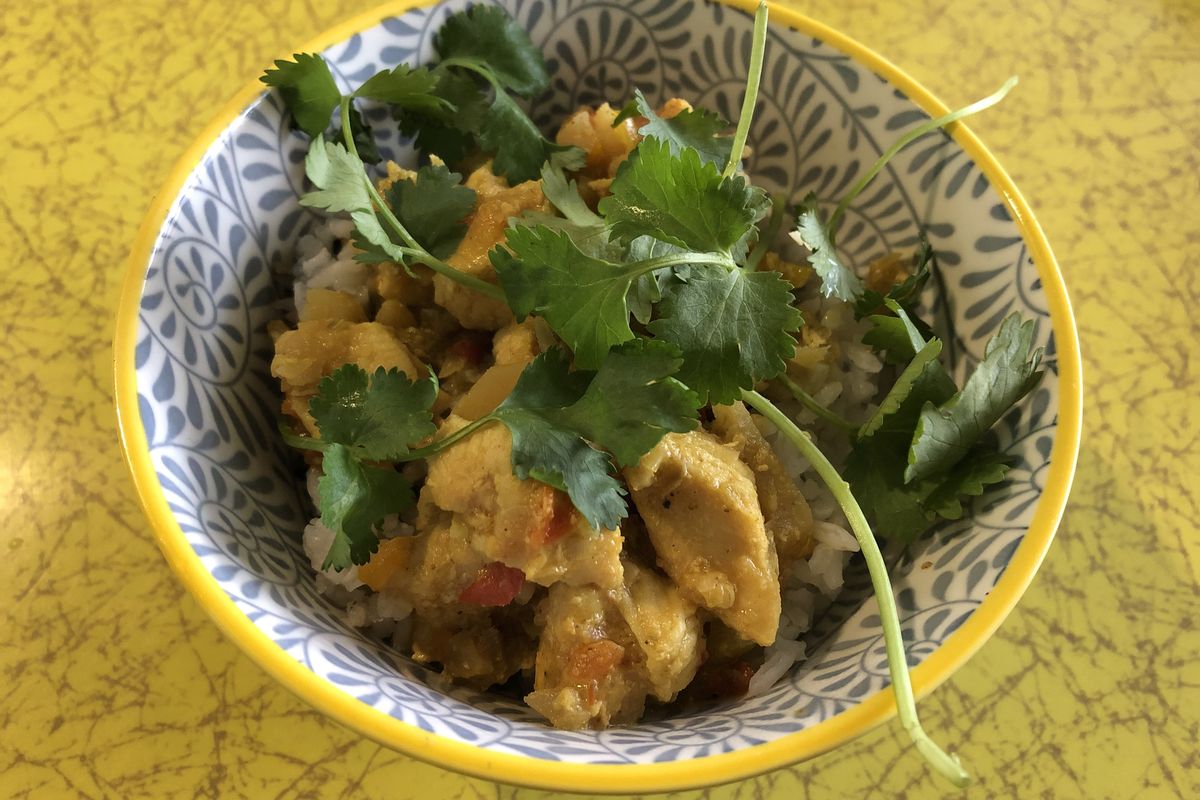 Curry chicken at Little Noodle (Don Chareunsy/The Spokesman-Review)
According to thediscoverer.com, the latest dining hotspots are not always in the expected cities – Los Angeles, San Francisco, Chicago, New York, Seattle, Portland, blah, blah, blah – and the blog has named "five remarkable and unexpected foodie destinations that are wowing those with an appetite for the unknown," with the Lilac City making the list.
Discoverer's list of exciting five food cities right now is Reno, Nevada; Houston, Texas; Detroit, Michigan; Oklahoma City, Oklahoma; and Spokane. Here is what Discoverer has to say about Spokane:
"Spokane deserves proper recognition as one of Washington's finest foodie haunts. Local restaurants highlight the Pacific Northwest's flair for farm-to-table dining, with a local ingredient-inspired menu at Luna and house-cured bacon and hand-pressed burgers at 1898 Public House.
"The city also boasts the Cork District, a wine neighborhood that has grown in tandem with the culinary scene and now hosts almost 20 wineries and a farmer's market and performance venue called the Kendall Yards Night Market that lets you shop for fresh produce before you dine al fresco under the stars."
It warms my heart to see Spokane receive this recognition, and I could not agree more with Discoverer after eating my way through this city a full calendar year now since moving back to Spokane in April 2019.
Hold your head up high, Spokane, savor the flavors of the cuisines, and enjoy the rich and refreshing libations of our region. Any city can nitpick its culinary scene, and there is room for improvement everywhere, but let us toast to what we have here that is good and great.
The culinary adventure is never-ending, so let us continue this journey – with the annual smorgasbord that is known as Thanksgiving only hours away and the hope that restaurants will reopen Dec. 14 or soon after for dine-in service.
Thankfully, there is still takeout, and there is one important thing that the following restaurants all have in common: All of them were recommended to me.
Fried chicken follow-up
Readers made my Sept. 23 story on Park Inn's fried chicken one of the most-read Food stories in a while, as Spokane residents take their fried chicken seriously. Full disclosure: So do I. I was told again and again and again to order the fried chicken at local institution Maxwell House (1425 N. Ash St.; (509) 326-6890).
I listened, and I was not disappointed in the crispy, juicy and flavorful fried chicken. Maxwell House now joins my list of top fried chicken spots in Spokane alongside Park Inn and Luna, which unexpectedly made the list after a Nov. 15 dinner in its new Snow Globe. A great recommendation, readers, and it is nice to know that Maxwell House's new owners are fellow Gonzaga alumni.
Little Noodle
Shifting the focus to Asian cuisine, kudos to Kadra Rose Evans and brother-in-law Ryan Stretch on Little Noodle Spokane (713 W. Garland; (509) 598-8635 and littlenoodlespokane.com) and for bringing diverse culinary options to the neighborhood. A recent lunch included a savory pho with tri-tip and pork belly, spring rolls, bao buns (deconstructed) and soup dumplings.
While not an authentic dim sum restaurant with carts, Little Noodle offers dim sum items on Wednesdays, including miso soup, pork and tofu buns, curry chicken, crab salad and rice pudding. Little Noodle is leasing the home of Honey Pig BBQ, so it is a mystery what will happen to Little Noodle once summer barbecue returns.
Bangkok Thai
I respectfully disagree with people who say there is no good Thai food in Spokane, but what does this part Thai and part Laotian journalist who grew up on Thai, Laotian and Vietnamese cuisine know? Bangkok Thai has three locations in Spokane, and the outpost at 1003 E. Trent Ave. – (509) 598-8635 and spokanebangkokthai.com – has become my favorite.
My lone Asian American co-worker and I cannot get enough of Bangkok Thai's fresh spring rolls, fried mini egg rolls, laab kai (the more authentic Thai dish vs. pad thai, which everyone knows and orders), noodles (pad se-ew, pad kee mao and lad naah) and curries (red and green). The view of the Spokane River and neighbor No-Li Brewhouse are pluses, as well.
Sala Thai
Within my first week of moving back here, a co-worker recommended Sala Thai (12914 W. Sunset Highway; (509) 244-4800 and salathaispokane.com) in Airway Heights. Since that time, others have shared the same praise for Sala Thai, so I finally made the drive to the area of town I only know for being near Northern Quest Resort & Casino and the airport.
And, wow, was I missing out. Yes, it is a case of déjà vu because I order the same items at every Thai restaurant, but the fresh spring rolls, fried mini egg rolls, laab kai, noodles (pad se-ew and lad naah) and curries (red and green, with a daily special pumpkin for autumn) were all flavorful and spicy. I cannot wait to return, and I will not wait months and months again.
Vien Dong
My first Running Tab column on May 28, 2019, honored my late mother, who was an incredible cook and somehow was able to make pho for us nearly every weekend despite living in Helena. Six months later, I wrote about pho again and pitted Le Brothers and Three Sisters in Spokane Valley.
Now I'm back to thank readers for recommending Vien Dong (3435 E. Trent Ave.; (509) 536-6073 and viendongspokane.com). Pho Van on Division remains my favorite pho place, but Vien Dong is at the top of my list now, too, for its top-notch pho with brisket, tendon and tripe – and spring and egg rolls for appetizers. Pho is my comfort soup for the soul in this cold weather.
Thank you for reading, dear subscribers – and for the recommendations. Keep 'em coming, and happiest Thanksgiving wishes to you and yours.
Local journalism is essential.
Give directly to The Spokesman-Review's Northwest Passages community forums series -- which helps to offset the costs of several reporter and editor positions at the newspaper -- by using the easy options below. Gifts processed in this system are not tax deductible, but are predominately used to help meet the local financial requirements needed to receive national matching-grant funds.
Subscribe to the Spokane7 email newsletter
Get the day's top entertainment headlines delivered to your inbox every morning.
---