This column reflects the opinion of the writer. To learn about the differences between a news story and an opinion column, click here.
Opinion > Column
100 years ago in Spokane: A 13-year-old learned the perils of treehouses, while police tried to identify possible suspect in 'chicken house murder'
UPDATED: Thu., Nov. 26, 2020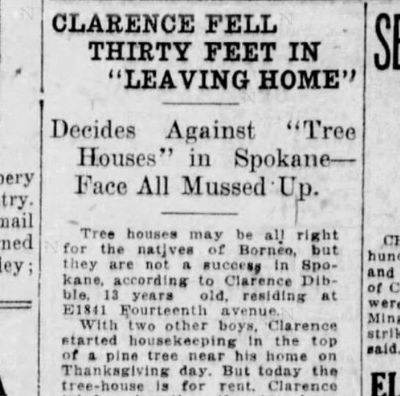 Clarence Dibble, 13, learned the hard way that treehouses can be dangerous.
He and two other boys were doing some "housekeeping" in their treehouse 30 feet above the ground when they decided to race each other down the rope ladder.
Clarence won the race, but only because he fell most of the way – hitting the ground in a face plant.
"I'm feeling pretty well, but my face is still badly mussed up," Clarence said. "It wasn't as bad as it might have been, because I can still eat."
The Spokane Daily Chronicle joked that, "today, the treehouse is for rent."
From the murder beat: The Spokane County sheriff said he had not abandoned the hunt for a suspect in the Chicken House Murder mystery.
However, every line of inquiry had so far proved fruitless.
Deputies still did not know the identity of the mysterious man who signed the name of the victim, J.F. Olson, of Elk, Wash., in the ledger of a Spokane hotel. The man appeared "deluded" and told clerks that a "gang" was out to get him. Authorities believed the signature was not written by the victim because it was apparently signed after the murder occurred. Instead, they believed that it might have been written by the murderer or someone connected with the murder, in an attempt to throw off the scent.
Deputies also continued to interrogate the operators of an illegal still found only about a mile from the chicken house where Olson's body was discovered. Police had no evidence that the bootleggers were connected with the murder, but they were closely questioning the bootleggers because they suspected that Olson had been trying to buy liquor from somebody just before his death.
Two deputies continued to work "unceasingly" on the case.
---
---