News
Bush sisters living full lives 10 years after kidney transplant
Thu., Nov. 26, 2020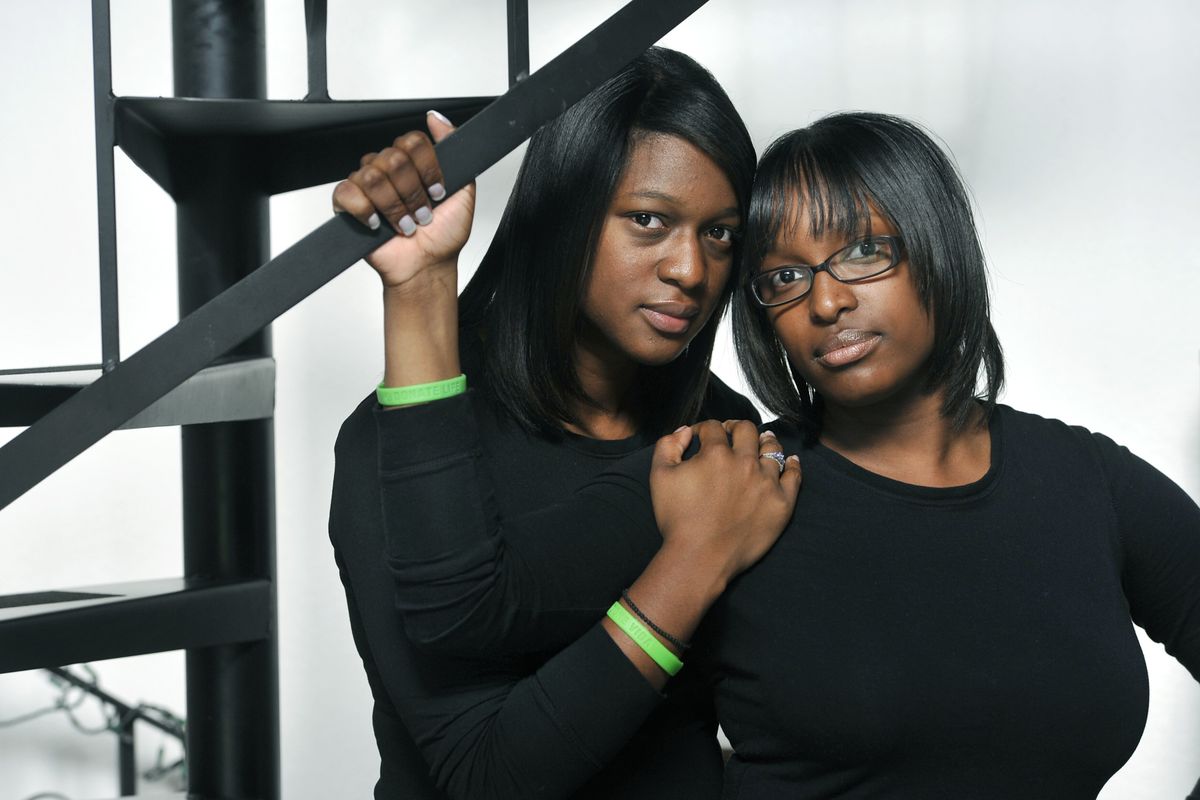 Shayla Harris and Ivy Lawrence are as close as sisters can be. Ivy donated a kidney to her ailing sister. Says Shayla, "How can I thank her enough? She saved my life." They wear green wristbands to promote kidney donation awareness in this 2010 photo. (DAN PELLE/THE SPOKESMAN-REVIEW)
Moist eyes, cracking voices and reassuring touches surfaced as Shayla and Ivy Bush shared their story 10 years ago.
Sitting on their parents' couch in Spokane that day, Shayla recounted how she struggled to ask her little sister if she would consider being a kidney donor.
Ivy said yes, of course, and the two vowed to live full and complete lives. The February operation was a success, with both chiming in, "Knock on wood."
Today, Shayla Harris and Ivy Lawrence laugh easily and finish each other's sentences, proof they are fulfilling that vow.
"Knock on wood," they say in unison, with one adding to great laughter, "That's the kidney."
The past decade has given them much for which to be thankful.
"Things have gone great," Harris said. "The last conversation we had (10 years ago), I said we wanted to continue on with life and that's exactly what has happened. Literally, from Feb. 24, 2010, from our transplant, it's been going, going, going."
For Harris, a track and volleyball star at Ferris before taking her athletic skills to Rutgers in New Jersey, that meant marrying Walter Harris, which was in the planning stage on the trip home 10 years ago. They have two boys, Kobe, almost 8, and Kyrie, 4, a dog Barkley and their own home in Burtonville, Maryland. She has her dream job as Associate Director of Administration at the American Kidney Fund.
Lawrence, a volleyball star at Lewis and Clark High and Morgan State in Baltimore, married college sweetheart Justin Lawrence two years ago and lives in Laurel, Maryland, with their puppy Solo. She closed her business as a sports-centric event planner in March and just started a job with the federal government as a privacy program analyst at the United States Agency of International Development, which combined several previous foreign assistance organizations and programs. Her cybersecurity work is a far cry from mingling with the likes of Lawrence Taylor, Dennis Rodman, Ray Lewis, Evander Holyfield, Cedric the Entertainer and Tina Knowles, Beyonce's mother.
"The good old days," Lawrence said, a nod to the current coronavirus pandemic, "when you could actually go to an event."
Transplant aside, the sisters figured they would be tight-knit even if they didn't live 15 minutes apart.
"Honestly, I think we would still be this close," Harris said. "Our parents always wanted three things, 'Be a good citizen, get an education and be close.' We really took that to heart and I obviously took being close and sharing with your sister to a whole new level. … But when the kids do certain things, I say, 'Ivy that's so you; that's the kidney.' "
Admitting they sometimes wear matching shirts without planning to, she added, "We're twins five years apart."
It turns out the whole family is close. Baby sister Oceana, who played two years of volleyball at Washington State, is almost 30 and a property manager living 5 minutes from Lawrence.
Parents Ivan and Fannie have packed up and moved east, landing in Laurel as well.
"It's all the grandkids, all the grandkids," Harris said. "You know my dad, he's loving it. Having raised three daughters, to have two grandsons, he's over the moon."
Ivan Bush, a long-time civil rights voice in Spokane, retired as the equal opportunity officer for Spokane Public Schools. He is fulfilling a promise to himself to become a better golfer.
"I have cousins in Washington, D.C.," Fannie said. "Reuniting with family we haven't seen in years, it's been a blessing."
"We were just talking about it last week," Lawrence said. "Wait, it's been 10 years, going on 11? There are so many memories, so many good times, it's just really been an easy transition."
"It's gone so fast," Harris said. "It's because things have progressed well and we've just kind of went on and tackled life and lived it to the fullest."
Being standout athletes, both surprised even themselves by getting back on the volleyball court months after the transplant and are still playing today.
Sitting side-by-side for a video interview, they proudly hoisted a championship trophy they won in their rec league last year. They were on the verge of another when the coronavirus pandemic hit. Harris acknowledged the activity takes its toll.
"You know, it's not the surgery and the transplant, it's the age. I can't recover like I used to," Harris, 38, said, mocking herself. "I play one game and I'm like, 'I used to do this for a whole day? A weekend? Back-to-back?' "
There are few restrictions for the sisters – routine blood work for Lawrence, 33, to make sure everything is functioning correctly and six-month checkups for Harris to hear that all is well.
"Knock on wood," they say again, simultaneously.
As healthy as they are, they have to be especially vigilant these days.
"We take COVID very serious," Lawrence said. "Mask, gloves, sanitize hands. We are keeping our circle close."
"One of the drugs I have to take suppresses my immune system," Harris said. "This time of year, flu season, things are heightened for me anyway. … We have our bubble. We've stuck to that since March."
When their story came out 10 years ago, the reaction was overwhelming.
"Our phones started blowing up," Harris said. "The support was absolutely amazing. People have appreciated us telling our story because, No. 1, when you look at us, you would never know. And No. 2, you hear about it, but when you know someone firsthand, you go, 'Wow, that's pretty incredible.'
"It was pretty cool, I'm not going to lie."
They were happy to share their story then and still enjoying telling it today.
"Whenever we can, we definitely want to build awareness around (transplants), especially being a living donor," Lawrence said. "Letting everyone know life goes on. I had no problems. … Just to see everything come from it. Shayla is happy and healthy. … Life after the transplant is amazing."
Harris agrees.
"One of the perks of my job is I'm also able to be an ambassador. … I'm able to tell my story about the living donation and what that has meant to me," she said. "I've been able to go to my state capitol in Annapolis and testify on certain bills that benefit people with kidney disease, those that have received a transplant and those who are living donors.
"I've also been able to go to Washington D.C., to Capitol Hill, to do some testifying, speaking to our representatives about the importance of support to the kidney community."
When she looks back to when she was struggling to ask her little sister for help, she sees that in a much bigger picture today.
"It definitely was a humbling experience to ask for help, but if you need help, ask for it," she said. "And that's for anything. Think of people going through COVID. Ask for help, ask for support, just to talk to someone."
Many people are organ donors and like Lawrence, quite a few people volunteer to help a relative. Less known is that there's a cross-transplant list, where someone in the family is willing to donate but doesn't match up. They can still donate to another family in the same situation with that family agreeing to donate back.
"These are the conversations people need to have," Harris said. "Nobody obviously knows about it or how to start having those conversations. That's what I love about my organization. They help with that process and provide information on how to be a donor."
"All (the fears) are valid thinking," Lawrence said. "Although I can't say I was really scared, I did have questions. … The support system was just so great with making you feel comfortable; you never feel any pressure. It was just a great process.
"Just do it."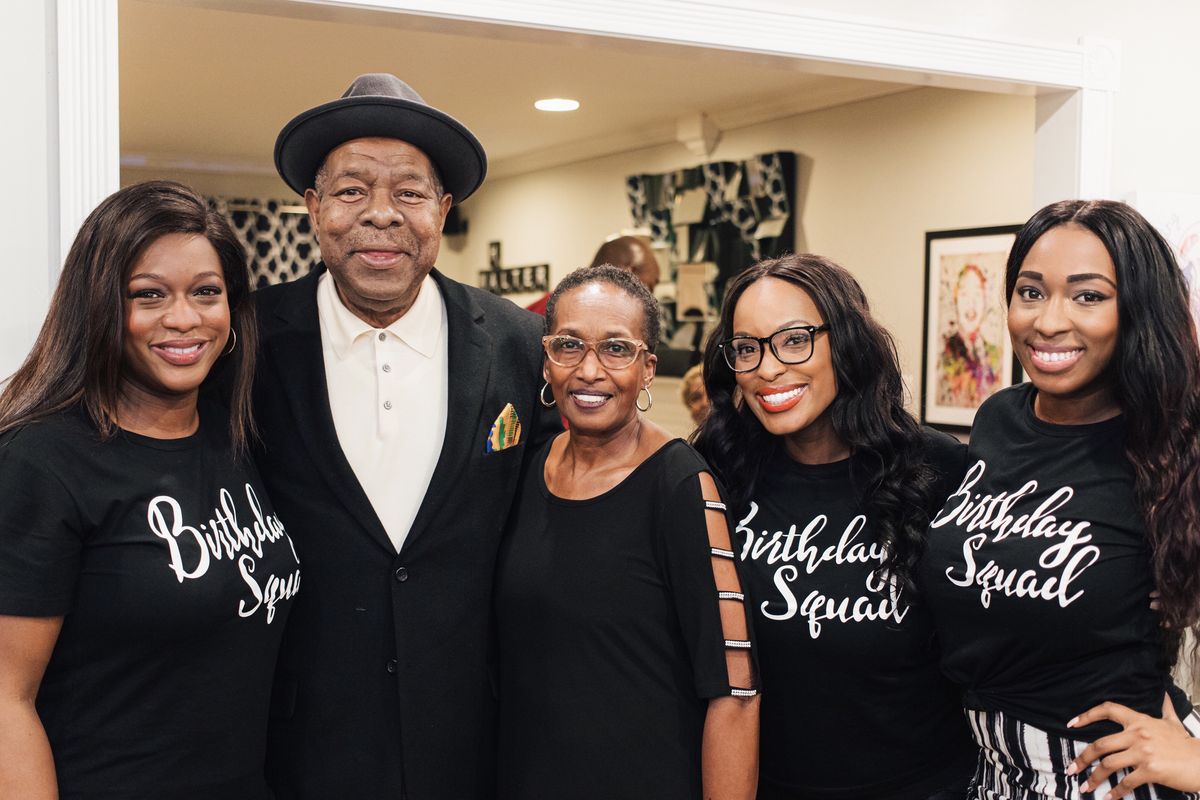 Bush family photo-Shayla, Ivan, Fannie, Ivy and Oceana. (Courtesy of Shayla Harris)
Local journalism is essential.
Give directly to The Spokesman-Review's Northwest Passages community forums series -- which helps to offset the costs of several reporter and editor positions at the newspaper -- by using the easy options below. Gifts processed in this system are not tax deductible, but are predominately used to help meet the local financial requirements needed to receive national matching-grant funds.
Subscribe now to get breaking news alerts in your email inbox
Get breaking news delivered to your inbox as it happens.
---