A&E > Cooking
Water Cooler: How to make cacio e pepe, a simple Roman staple
Thu., Nov. 26, 2020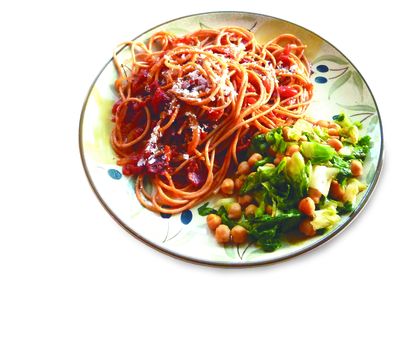 Cacio e pepe has an exquisite ring and a rich taste, but it is one of the simplest, traditional Italian dishes around. It is a staple of modern Roman cuisine, translating as "cheese and pepper," and believe it or not, that's really all there is to it. Chefs everywhere attest that Italian food is done better with simplicity and high-quality ingredients. This dish is a prime example. It's stunning minimalism makes for an effortless way to impress your friends and an excellent excuse for splurging on expensive cheese.
It requires only freshly ground black pepper, grated Pecorino Romano cheese and tonnarelli pasta, which is similar to spaghetti only thicker and with a rougher surface to better grab on to the sauce. It may be hard to find tonnarelli locally, so any thick, egg spaghetti will do, but try to find a high-quality pasta with a rough exterior.
You may be wondering, where is the butter, where is the cream? Forget what you know about creamy sauces, because much can be done with the magic of cheese, starchy water and a bit of heat.
Although many recipes call for the addition of butter or cream, ignore that if you care to stick with tradition and avoid disappointing the Romans. Pecorino is made from sheep's milk, which has plenty of fat content and funky, salty flavor to create a rich and savory sauce on its own.
One of the best parts about mastering cacio e pepe is that it can be built upon to create other signature Italian dishes. By adding guanciale, cured pork jowl (which is hard to find at the average supermarket, so pancetta or bacon can be used as substitutes), you create pasta alla gricia. By adding tomatoes to that dish, you create amatriciana, or by adding eggs, you create carbonara. So much variety from a few, but distinct ingredients.
Start by boiling salted water. Use just enough water to prevent the pasta from sticking together, but not too much because the water needs to be starchy enough to create the sauce. Cook the pasta about 2 to 3 minutes below the recommended time.
While the pasta cooks, add a good amount of freshly ground or crushed pepper to a warm pan on low to medium heat. Stir occasionally to gently toast it for about a minute, or until fragrant. This enhances and mellows the flavor of the pepper. Once toasted, ladle a bit of the starchy, pasta water onto the toasted pepper and let simmer.
Grate the Pecorino cheese, at least a cup or so, depending on how much pasta you are making. Use your intuition, but too much is better than too little. Add a small amount of pasta water to the grated cheese, enough to emulsify the cheese into a paste consistency. Once the pasta is al dente, don't drain it, but pull the pasta out of the pot with tongs and add to the pan. This reserves the water so you can add it to the sauce as necessary until you reach the desired consistency.
Promptly stir the pasta in the pan to disperse the pepper. Continue to ladle in just enough water that the pasta continues to cook for the remainder of the total cooking time. Add a bit more pepper for a fresh taste.
Once the pasta is done cooking, turn off the heat and add the cheese. Stir the cheese until it melts and incorporates with the water, creating a wet and silky sauce that covers all the pasta.
In the humble fashion of this pasta, there is no time for fancy presentation because the sauce will begin to get gluey as it cools. Serve and enjoy immediately.
Local journalism is essential.
Give directly to The Spokesman-Review's Northwest Passages community forums series -- which helps to offset the costs of several reporter and editor positions at the newspaper -- by using the easy options below. Gifts processed in this system are not tax deductible, but are predominately used to help meet the local financial requirements needed to receive national matching-grant funds.
Subscribe to the Spokane7 email newsletter
Get the day's top entertainment headlines delivered to your inbox every morning.
---