News
Spokane, North Idaho surge in COVID-19 infections continues
Nov. 27, 2020 Updated Fri., Nov. 27, 2020 at 9:01 p.m.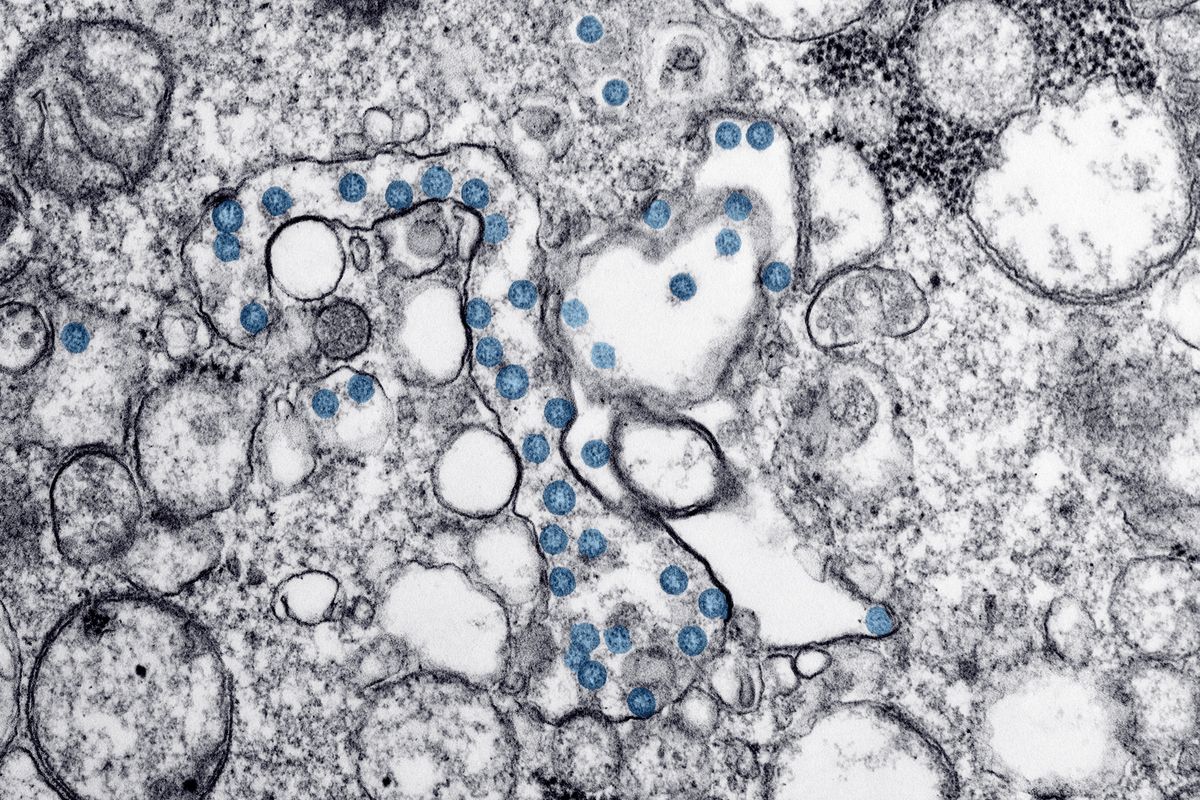 This 2020 electron microscope image made available by the U.S. Centers for Disease Control and Prevention shows the spherical particles of the new coronavirus, colorized blue, from the first U.S. case of COVID-19. (Hannah A. Bullock, Azaibi Tamin)
Spokane County has yet to see impact from pandemic restrictions enacted a week and a half ago as reports of new positive COVID-19 tests continued at high levels this week.
On Friday, the Spokane Regional Health District confirmed 409 new COVID-19 cases, and on Thanksgiving, the district confirmed 238 new cases. The first time the district reported more than 400 cases in one day was Nov. 14. It's happened four more times since.
"We don't expect to see the immediate benefit of the rollbacks right now today, but we do expect to see them in the next couple of weeks if we all do what we need to do," Interim Health Officer Dr. Francisco Velázquez told reporters on Wednesday.
The delay before reports of new cases dropping is expected because of the lag between when a person contracts the virus and when symptoms emerge and test results are confirmed.
Since Monday, health officials have confirmed 1,831 new cases in Spokane County residents. Since Nov. 16, when the new restrictions in Washington went into place, the majority, or more than 67% of positive cases in Spokane County, were in people ages 20 to 59.
Hospitalizations still are rising, despite the dozens of residents who died this week from the virus. There are 105 COVID-19 patients receiving treatment in Spokane hospitals, and 85 of them are county residents.
There are 16,358 confirmed cases in Spokane County now, and 61% of those cases are estimated to have recovered.
How seriously county residents take gathering restrictions, particularly over the holiday weekend, is predicted to impact both case counts and hospitalizations into December.
The Panhandle Health District confirmed 275 new COVID-19 cases on Friday.
Seven people since Monday have died from the virus in the district, which serves the five northern counties in Idaho, bringing total deaths to 107.
Hospitalizations continue to climb in North Idaho, with 73 Panhandle residents in hospitals for the virus.
Kootenai Health is taking care of 65 COVID-19 patients currently, including 16 people in the critical care unit.
Local journalism is essential.
Give directly to The Spokesman-Review's Northwest Passages community forums series -- which helps to offset the costs of several reporter and editor positions at the newspaper -- by using the easy options below. Gifts processed in this system are not tax deductible, but are predominately used to help meet the local financial requirements needed to receive national matching-grant funds.
Subscribe now to get breaking news alerts in your email inbox
Get breaking news delivered to your inbox as it happens.
---