Sports
A Grip on Sports: The list of what makes us cringe in sports seems to grow longer each day
Sat., Nov. 28, 2020 A GRIP ON SPORTS • We're all tired of it. And by "it," we could be referring to so many things. Even in the world of sports. Whatever "it" is in your mind, I'm sure it intruded on your joyfulness Friday. It certainly did for us.
•••••••
• Last night Oregonian sports columnist John Canzano tweeted out something that resonated.
"I am so tired of Pac-12 officiating being the narrative. This conference is a mess."
He's right on both counts.
Oregon and Oregon State matched up in Corvallis late yesterday afternoon. A fog covered Reser Stadium, muting the bright colors of the teams' uniforms and adding a label to a rivalry game that has lost its moniker. For one year, at least, you could call it The Fog Cup.
But who knew the fog would leave the field and settle, instead, around the final minute or two, obscuring the ending of what was a signature Oregon State upset? Maybe those of us who agree with Canzano. In the back of our mind we knew something like this would happen.
In many ways, the Pac-12 Conference got lucky. Oregon State ultimately scored the game-winning touchdown in the final minute, knocking the Ducks from the outer confines of the playoff picture and whitewashing enough late mistakes from the officiating crew to feed another round of conspiracy theories.
You know what I'm talking about. The idea the conference needs a team in the CFP, both for its finances and for its credibility, and Oregon was the best alternative. So decisions are made to help that along.
Hogwash. But missing a 300-pound, neon-yellow-clad defensive lineman jumping offsides by a foot, not inches, feeds such wacko speculation. Replay not correcting an obvious error on a spot for the second time in three weeks, one in which a little geometry and logic makes obvious, feeds it even more.
The last minutes were a feast in that regard. Even though referee Steve Strimling handled the chaos with patience, professionalism and a sense of calm, the same couldn't be said of linesman Bob Day and line judge Maia Chaka, neither of whom were able to discern Tristan Gebbia scoring on one play or Austin Faoliu jumping early on the next one, leading to a ugly looking Gebbia injury and a fourth-and-goal, do-or-lose play with a backup quarterback taking the snap.
The Beavers did. And won. But, as Canzano pointed out succinctly, the conference lost.
• You know who also lost that game? ESPN. The self-proclaimed WordWide leader once again broadcast a game with the play-by-play voice and the analyst remotely. It caused problems all night.
Yes, we are in a pandemic and it is probably safer for the duo to be at home. But the network – and, to be fair, just about everyone – was saving money by not sending folks to games for a while before the coronavirus hit.
The amount of detail the broadcast crew misses lessens the viewer's experience.  But that doesn't seem to matter. And probably won't in the future as we transition slowly back to what seems normal.
• There was another loss yesterday. It was suffered in the court of public opinion by our local college basketball powerhouse, Gonzaga University.
The top-ranked Zags had an opening tournament to remember on the court, taking down Kansas and Auburn with relative ease. But off the court, the way they handled reporting and dealing with COVID-19 cases within the program opened up GU to well-deserved criticism.
It's obvious the virus is running through the program. One player has it, for sure, another was held out for contact tracing and others, including possibly an assistant coach, are also out due to the coronavirus or contact tracing. And yet, with everyone aware of that, the Zags played Auburn.
The decision, even with the approval of local health officials, opened the door for criticism (USA Today walked right through) and seemed overly tone-deaf considering what's occurring everywhere. At least one of the players who was in quarantine Friday could be seen on a widely circulated video celebrating Thursday's win over Kansas in the locker room with Few and the team. You know, the same day many of Gonzaga's own supporters skipped celebrating a holiday with their families due to a social conscience.
No matter what was behind the decision, and there easily could be many reasons that haven't come to light yet, playing was at odds with most every other choice made thus far this newborn season. Games and practices have been canceled throughout the coutnry for less.
Instead of celebrating their tournament success, the Bulldogs look uncaring and out of touch. Those are things of which anyone should be tired.
•••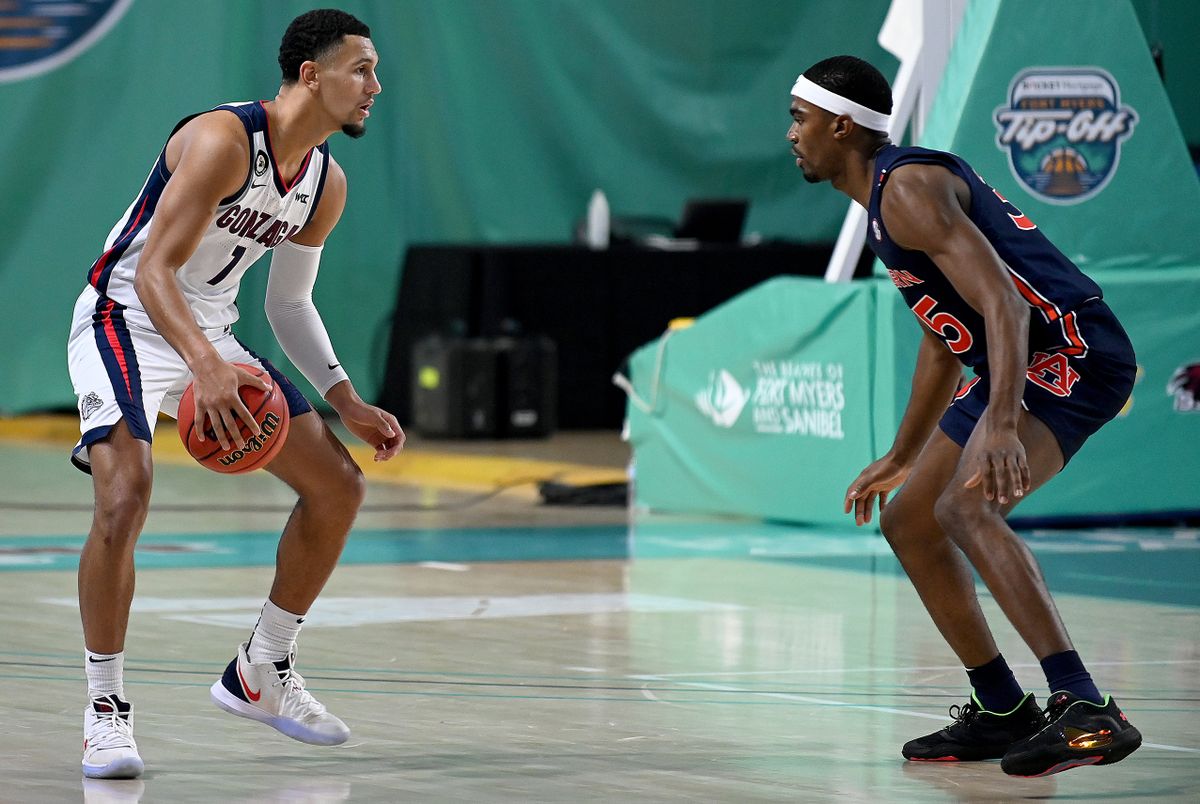 Gonzaga: On the court, the Zags dominated the young Tigers. Jim Meehan watched and has his usual in-depth coverage, including an analysis of the action and the difference makers. He also has coverage of the coronavirus news. … John Blanchette examines how the season is going to unfold with the virus casting uncertainty on every decision. … We watched the TV broadcast and shared our thoughts. … There is a recap with highlights for the game as well. And photographs. … Elsewhere in the WCC, USF struck a blow for the conference by upsetting No. 4 Virginia. … We link the stories in the paragraph below, but Pepperdine come within a hair of knocking off UCLA.
WSU: Before we get to other happenings, this news from Los Angeles is important for Cougar fans. It doesn't look as if the virus outbreak at USC will be a one-week thing. Washington State better be making plans to play someone else if it wants to get back on the field next weekend. … Around the Pac-12 and college football, it seems at odds with what was expected, but the conference is canceling a lot of games. … There were two rivalry games yesterday. And sadly neither of them was the formerly scheduled Apple Cup. But Stanford and California played the Big Game, with the Cardinal holding on by blocking the Bears' game-tying point after in the final minutes. … Most of our links to Oregon State's win are included above, but we add a couple here, including more on what Oregon lost. … With WSU sitting on the sidelines this week, Washington had to find an opponent to play. Christian Caple takes us through the road UW had to travel to play Utah this afternoon. The game is in Seattle because of, you guessed it, television concerns. … Utah has a new starting quarterback after an injury. … Colorado is playing this week as well, though USC can't. The Buffaloes will face San Diego State today. … The other conference game features UCLA and Arizona, two teams who are just trying to salvage a win or two from this season. The Wildcats take a nine-game losing streak into the contest. … In basketball news, UCLA went three overtimes before overcoming Pepperdine. … Arizona rolled over Grambling. … The same can be said for Oregon State. … Colorado defeated Kansas State. … Washington has some new players.
EWU: The Eagles travel to Pullman tonight to face Washington State. Ryan Collingwood has a preview of the long-awaited contest.
Seahawks: Will Dissly should have a bigger role going forward. … Jamal Adams is getting healthier. … Ken Norton Jr. will find ways to use Adams, that's for sure.
Mariners: Some people have better informed opinions about the M's than others.
•••       
• Playing college sports under these circumstances seems incongruous at best, ill-advised at worst. There is a pretty good chance whatever school you are interested in and/or support will be touched by the virus in some way. And let's be honest: The schools will get their money. The coaches will get their money. And the unpaid players? They get sick. Doesn't seem quite equitable, does it? Until later …
Local journalism is essential.
Give directly to The Spokesman-Review's Northwest Passages community forums series -- which helps to offset the costs of several reporter and editor positions at the newspaper -- by using the easy options below. Gifts processed in this system are not tax deductible, but are predominately used to help meet the local financial requirements needed to receive national matching-grant funds.
Subscribe to the sports newsletter
Get the day's top sports headlines and breaking news delivered to your inbox by subscribing here.
---