News > Agriculture
Hutton Settlement Christmas Tree Farm's first weekend of the season brings record-breaking sales
Nov. 29, 2020 Updated Sun., Nov. 29, 2020 at 9:16 p.m.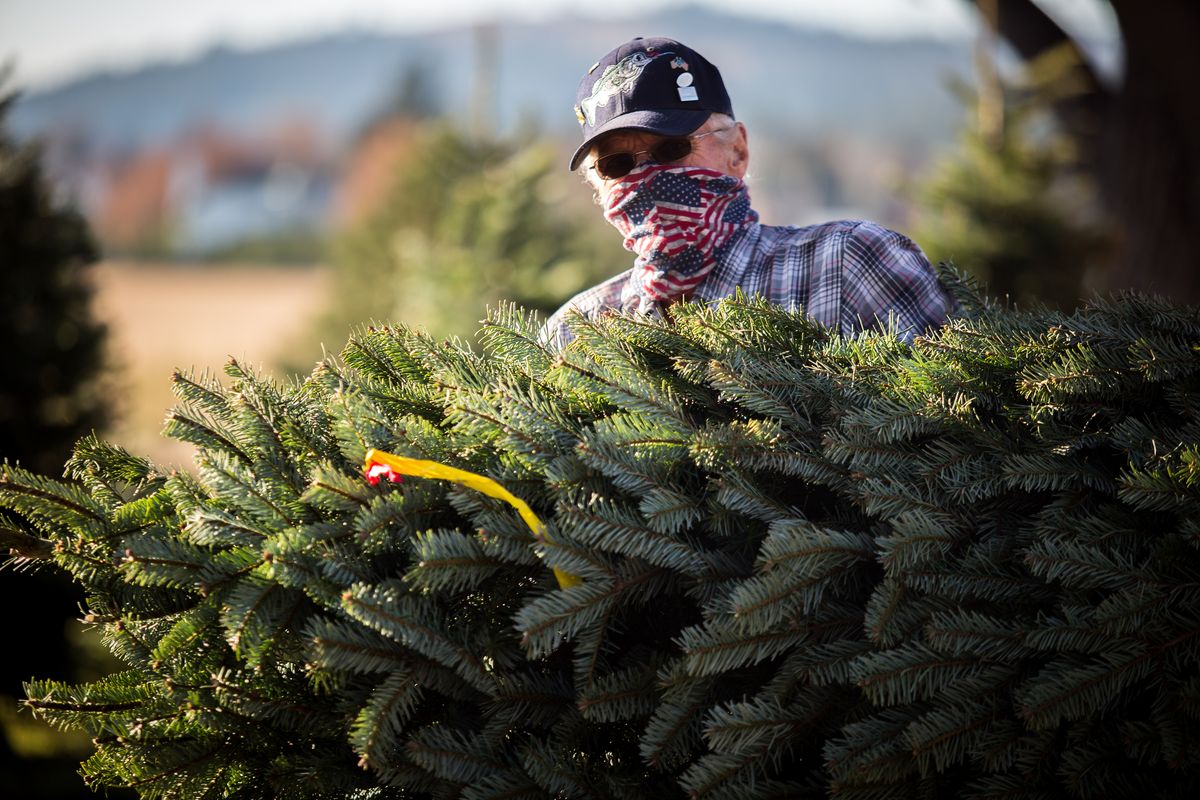 Brian Suitor lugs his just-purchased noble fir to his Ford F-250 pickup truck on Sunday at Hutton Settlement's annual Christmas tree sale in Spokane. (Libby Kamrowski/ THE SPOKESMAN-REVIEW)
Cars lined the long road into the Hutton Settlement on Sunday afternoon, some full of excited families, others with Christmas trees tied to their roofs.
The Hutton Settlement Children's Home Christmas Tree Fundraiser began this weekend, bringing record-breaking sales, despite the COVID-19 pandemic.
The children's home, more than a century old, serves about 32 school-aged children at a time. This is the 14th year Hutton has hosted the annual Christmas tree fundraiser.
"It's a workout in itself," said Roxy, a 16-year-old Hutton resident, after hauling trees around all day.
Roxy has worked the fundraiser since she first moved to Hutton nearly 10 years ago. This year she focused on stocking trees and helping the "newbies," or first-time customers, who often don't realize they can walk up and look through trees themselves.
Tanis Orellana has been bringing his children to pick out a tree at Hutton Settlement since his eldest daughter, now 20, was a toddler.
"It's just fun, you know, getting one every year to decorate the house," he said with a smile. "The Sunday after Thanksgiving is when we come to pick out a tree."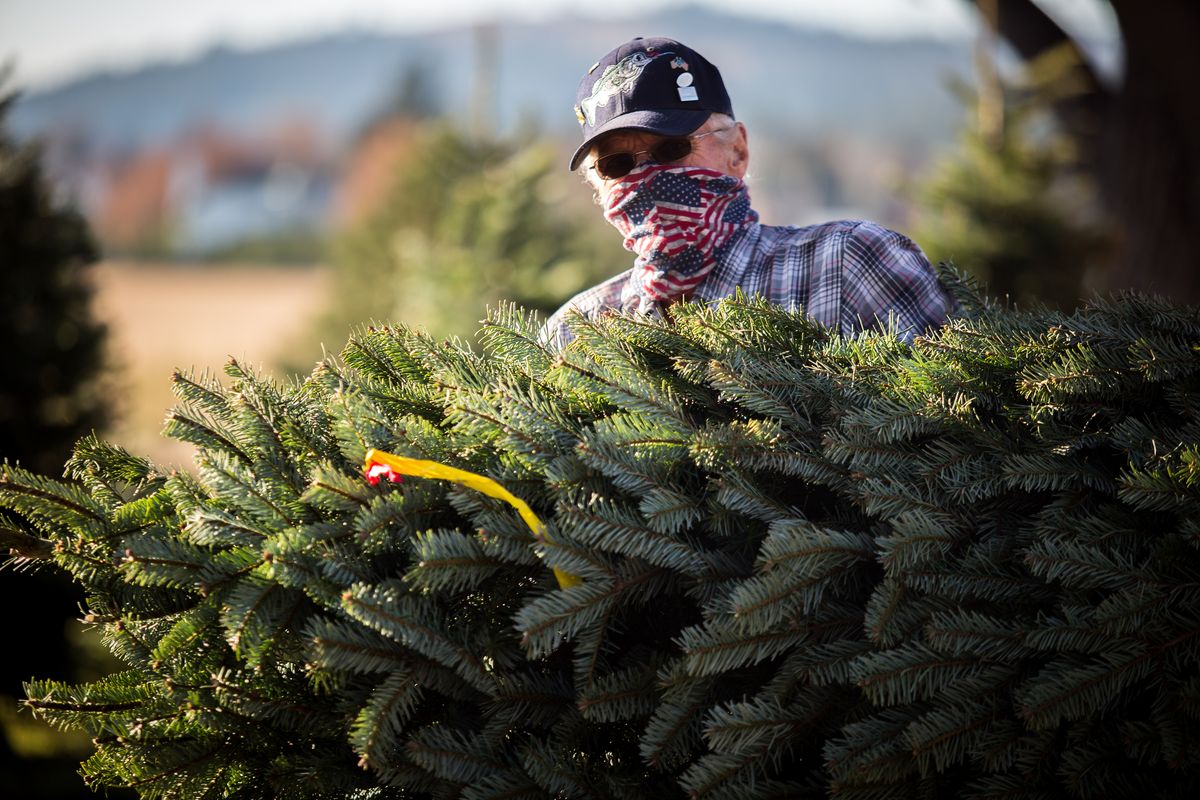 Brian Suitor lugs his just-purchased noble fir to his Ford F-250 pickup truck on Sunday at Hutton Settlement's annual Christmas tree sale in Spokane. (Libby Kamrowski/ THE SPOKESMAN-REVIEW)
Since then, Orellana and his wife have had six more children, with the youngest just under a year old. While Orellana said this year has been different with COVID-19, picking out a tree is a tradition he was happy to continue.
While normally families can cut down a tree themselves, due to COVID-19 this year, customers are limited to choosing one of the precut trees. Customers are asked to wear masks and practice physical distancing, said Jessie Laughery, director of community engagement and stewardship.
There is also a drive-up option, where customers can stay in their vehicles and a Hutton resident will select a tree that fits their needs, Laughery said.
Hutton residents like Roxy work the fundraiser for an allowance, part of which goes to a Hutton Settlement program. This year the children are putting part of their money toward a family trip planned for next summer, said Laughery.
While the kids have thrown around some ideas, including Disneyland, for the vacation, a destination has yet to be decided with COVID-19 making planning difficult.
In fact, COVID-19 has changed many aspects of life at Hutton Settlement. The campus has been closed to visitors, and children have been completing coursework from the administration building-turned-makeshift classroom, said David Milliken, campus director.
"It has gone surprisingly well," Milliken said.
With 319 acres at their disposal, the children expanded their garden and built a yurt, tea room and art room during the quarantine.
"We can still have that sense of community and connectivity that others don't necessarily get the privilege to have," Milliken said.
The pandemic has even affected Hutton's funding, said Laughery. The children's home is funded mainly through a real estate portfolio. With many tenants needing rent relief, it has been difficult, Laughery said.
"I think a lot of people perceive the people that are being hurt now are these corporate landlords, and really what it's impacting here is the delivery of services," Laughery said. "So we've had to ramp up our services with the kids here, while our income has been down."
Luckily, Laughery said, COVID-related grants and generous donations from the community have helped during the difficult time.
The safety measures have worked, with none of the residents contracting the virus. With all the time cooped up on campus, the Christmas Tree fundraiser was a welcome change of pace, Milliken said.
On Friday, the fundraiser's first day, they sold $10,000 worth of trees, wreaths and garlands, Laughery said. By Sunday they were sold out of wreaths and garland and had gone through half of their trees, Laughery added.
"We've had record sales the last couple days. We weren't really sure what to expect, to be honest," Milliken said. "I'm out here today looking at the inventory, trying to figure out how I can get more trees."
The students are very aware that this might be one of the only Christmas traditions people are able to safely do this year, Milliken said.
"It's our job to bring the holiday cheer to people when they come here," he said.
Intern Trevor McArthur, 19, is full of not only holiday cheer but passion for plants. He graduated last year from West Valley High School with an associate degree after taking Running Start classes while living at Hutton.
After years of tending the ever-expanding garden at Hutton, McArthur discovered a passion for horticulture. Over the years, he began taking on leadership roles both during the Christmas tree fundraiser and in the garden.
"I just took over some leadership roles in there and then found a passion," McArthur said.
Due to COVID-19, he is now living in transitional housing at Hutton while pursuing his degree at Oregon State University and completing a horticulture internship. Part of the internship is managing the Christmas tree fundraiser.
McArthur said he loves the "smells and the atmosphere" of working the fundraiser and seeing the joy in both customers and kids' faces, along with the "peace and tranquility and just the joy it brings everybody."
After finishing his degree, McArthur hopes to find a job teaching younger generations about sustainable horticulture, something he not only enjoyed learning at Hutton but also teaching.
Spokane resident Janie Parker-Slater knew about Hutton Settlement for years before meeting former resident Ken Dunlap.
Dunlap lived at Hutton in the late 1930s. Now in his 90s, he returns to the children's home as a "grandpa" for the current residents.
"I know how wonderful of a place it is because of Ken Dunlap," she said.
But last year, Parker- Slater decided it was time to transition to an artificial tree. She used it last year, but when she went to put it up Sunday morning, something felt off.
"I can't do this," she said she thought to herself.
So Parker-Slater drove out to Hutton and picked out a real live tree that she planned to decorate with her adult son Sunday night.
"It's just fun to come here," she said. "It makes me feel good to buy a tree from them, because I know it's going to a really good cause."
Local journalism is essential.
Give directly to The Spokesman-Review's Northwest Passages community forums series -- which helps to offset the costs of several reporter and editor positions at the newspaper -- by using the easy options below. Gifts processed in this system are not tax deductible, but are predominately used to help meet the local financial requirements needed to receive national matching-grant funds.
Subscribe now to get breaking news alerts in your email inbox
Get breaking news delivered to your inbox as it happens.
---