A&E > Music
Singer-songwriter and 'AGT' alum Cami Bradley is focused on 'Fun,' family, friends and Spokane
Oct. 1, 2020 Updated Sat., Oct. 3, 2020 at 7:22 a.m.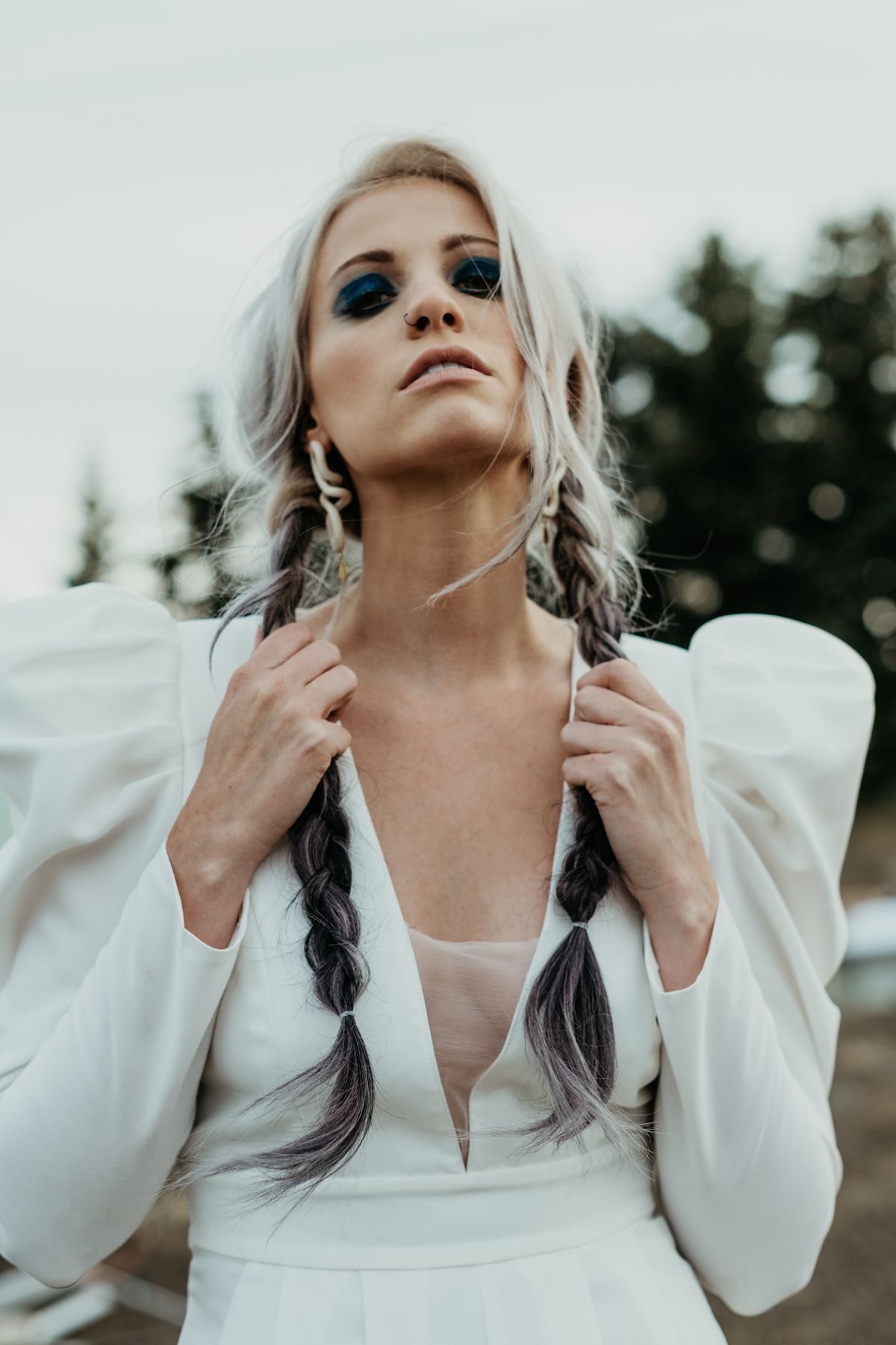 Spokane singer-songwriter Cami Bradley. (Laurken Kendall)
Many lives changed and some lost a great deal when the novel coronavirus altered everything in March. Cami Bradley was left with a huge void seven months ago when her father, Paul Miller, passed away.
The worship pastor at the family's church, Life Center, succumbed to a blood clot after being plagued by a variety of illnesses since 2012. Miller, a doting father, discovered his daughter's musical gift when she was a toddler and did all that he could to cultivate her talent.
"My dad was a musician, so he understood me and encouraged me," Bradley said while calling from her South Hill home. "I remember being 8 years old and playing the piano and writing music at home on the piano he bought for me. As I was working on music, my dad would be hearing what I was doing while on the stairs."
Miller listened to his daughter's music until he died. Bradley played tracks from her latest project, "Carmen Jane," which is her given first and middle name.
"I'm so thankful that he had a chance to hear what I was working on before he died," Bradley said. "To be able to share this music and help heal and grieve was so important for me. A lot of the music was created during the eight years of him being sick. It's very personal and vulnerable."
Bradley's latest tracks are darker than her prior solo material and what she delivered while performing on "America's Got Talent." The soft-spoken singer-songwriter has morphed a great deal since she emerged courtesy of "AGT" in 2013.
Bradley, 32, impressed "AGT" judges Howie Mandel, Mel B and Howard Stern with her inventive rearrangements of hits such as Cher's "Believe" and Bon Jovi's "Livin' on a Prayer."
" 'AGT' prepped me for music in general and the real world," Bradley said. "I hear a lot of horror stories about talent shows. It can be stressful, and you don't have a say in what you're doing. It was the beginning stages of who I was as an artist and how I wanted to go forward with this career."
Bradley, who grew up in the Eagle Ridge area, finished sixth on "AGT" and connected with Alabama-based singer-songwriter Whitney Dean in 2014. The pop-folk duo formed the Sweeplings, which crafts haunting, rootsy tunes, and released "Losing Ground Vol. 1" in March. "Losing Ground Vol. 2" dropped on Sept. 18.
"I had written songs and released music as Cami before I met Whitney," Bradley said. "I was still a baby writer. Meeting Whitney has helped hone my skills as a writer. I gained so much confidence because of Whitney. I wouldn't be where I am without him."
The prolific Bradley crafted a number of tunes over recent years that aren't a fit for the Sweeplings. The new material, which is deeper and moodier, was previewed just over a year ago at the Lucky You Lounge in Browne's Addition.
"That was so important since that was the testing ground," Bradley said. "Without the Lucky You, I don't know if I would have had the courage to fully launch this. But the audience gave me the courage to take the next step. I can't say enough about the people who came out to that show."
"Fun" is the latest single from "Carmen Jane." The catchy and baroque track is set for release on Oct. 9. The future is bright for Bradley, who could leave Spokane for Alabama to be closer to Dean or Los Angeles, where she occasionally collaborates with her younger brother, Ryan Miller.
However, the Freeman High School alum, Class of 2006, isn't planning on leaving Spokane.
"I really love it here," Bradley said. "My husband (Eric Bradley, who took over the role as worship pastor at Life Center) and I have talked many times about if we left for a music hub like Nashville or Los Angeles. But our family and friends are important to us, and so is our community. I love the size of our city. It just feels like home here. Spokane is important to me."
Bradley often taps into her memories, many of which are with her father. "I like to look back," Bradley said. "My very first show was when I was 8. My dad took me to see Amy Grant at the Opera House. Back then, you could stand in line after the show and meet recording artists without a VIP pass. I have such vivid memories of that show.
"I remember standing up at the end of the show, and my dad grabbed my shoulders and said that Amy wasn't done. I was so confused, and then she came back for the encore. I then stood in line to get Amy's autograph after the show. I still have the CD (1997's 'Behind the Eyes').
"That show inspired me. It all happened in Spokane. It reminds me how much I love it here. If I want to go to the mountains, it's 30 minutes away. If I want to go to the lake, it's 30 minutes away."
Bradley and her mother, Amy Miller, recently traveled to the lake for a special trip to the Coeur d'Alene Resort. The experience last month was to mark what would have been her parents' 33rd wedding anniversary. Bradley and Miller stayed in the room that was their honeymoon suite.
"We did nothing but watch movies and eat good food," Bradley said. "We ordered in from Dockside Restaurant. It was so cool that my mom made the request to return to that exact room where they had their honeymoon. The Coeur d'Alene Resort is a family place. I have so many memories from there."
And Bradley, who can be spotted almost every day at Ladder Coffee Roasters in Browne's Addition ordering the brown sugar and clove latte, intends to make even more memories and music in Spokane. "This is where I'm happiest," Bradley said. "This is the place for me to be."
Local journalism is essential.
Give directly to The Spokesman-Review's Northwest Passages community forums series -- which helps to offset the costs of several reporter and editor positions at the newspaper -- by using the easy options below. Gifts processed in this system are not tax deductible, but are predominately used to help meet the local financial requirements needed to receive national matching-grant funds.
Subscribe to the Spokane7 email newsletter
Get the day's top entertainment headlines delivered to your inbox every morning.
---